If I told you I knew of an online piggy bank for children that taught them about money management AND that could improve their behaviour would you be interested? If you still need a bit of persuasion, what if I told you readers of Dadbloguk have the chance of winning a £50 payment if they signed up to it?
Hopefully by now I have your attention. The piggy bank in question is Qwiddle. It's one that's featured on the blog before and speaking from personal experience, it is awesome.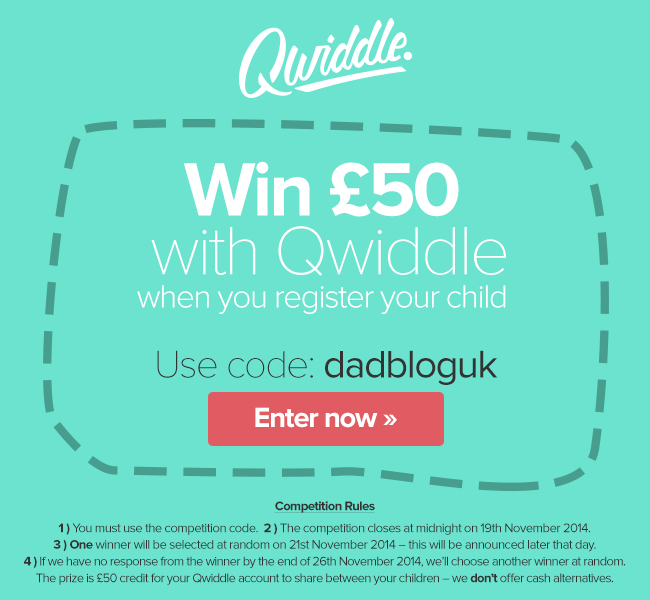 The way it works is incredibly simple. You sign your child up and set them savings goals. Perhaps they want a new bike or skateboard, something like that.
You can, if you so wish (…and you'd be mad not to!) set them a few tasks and chores to complete. Maybe doing homework, tidying up and, depending on age, washing the car etc.
As a parent, every time your offspring does something that deserves payment, you make a payment from your PayPal account straight into your child's own Qwiddle PayPal account and they can watch as their savings grow. It's as quick and easy as that and it's free. Don't forget, there is a PayPal app which means you can even do this whilst out and about!
We've been using Qwiddle for a few weeks with our eldest, Helen, who is five years old. Her bedroom has never been tidier and she's even been seen tidying the living room, knowing that if she does a good job we'll make a payment into her account. We're using it to teach her the true value of money and slowly but surely we seem to be getting there.
It's easy to set up and simple to manage once it is up and running. I'm a big fan and so I'm delighted to have teamed up with the guys from Qwiddle to run this giveaway.
It really is very straightforward. For your chance to win, simply sign up for a Qwiddle account between now and 19 November, 2014 and use the code dadbloguk while doing so. One lucky person who does so will see their child's account credited with £50, although you must use the code for your chance to win.
Don't delay! Sign up today! Very best of luck and I hope your children get a lot out of it.
This post was produced in association with Qwiddle. For more information about my disclosure policy, please visit this page.
Interested in this blog post? Well have a read of these...