As a family, we have had some shocking luck with cars. Things settled down after we took the plunge last year and bought a car from a dealership, but prior to this we'd had a nightmare.
Worse still, our biggest problems occurred when my wife was heavily pregnant with our youngest daughter. To use classic British understatement, this was far from ideal as I was incredibly worried about how I'd get her to hospital when the time came.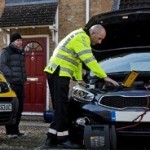 Our problems began when the ageing Renault Clio we used to own broke down in spectacular fashion while I was driving along a fast-running bypass. Unfortunately the cam belt had snapped, leaving me stranded at the side of the road waiting to be rescued by our favourite breakdown service. The only saving grace was that it was a lovely sunny day.
The car was repaired, but it became increasingly unreliable. When my wife fell pregnant, we both knew the time had come to get another car, a bigger one, what with the expanding family.
Despite issues towards the end of its life, the Clio had, all things considered, served us very well and so we bought another Renault. It would soon transpire we had made a very bad choice.
Within a short space of time we discovered the car needed a new diesel particulate filter. This would have cost as much as we'd paid for it. I was very grateful for our breakdown cover 'though because this beast was so untrustworthy you just never quite knew what was going to happen when you turned the key. If you were lucky, it might start and if you were really luck it might even complete your journey. 
With baby's arrival date getting ever closer, I knew I had to do something. In desperation I knocked on the neighbour's door and asked if we could use their car if my wife went into labour. In the end we borrowed a car from elsewhere so didn't need our neighbour's help, even though they'd been very charitable and agreed to help us.
Thankfully we're all sorted now with a reliable and relatively new, if expensive, car. Should the worst happen, it also comes with breakdown cover which is a weight off my mind.        
This post is in collaboration with a sponsor. All words, however, are my own.  
Interested in this blog post? Well have a read of these...