I'm a big fan of custom and tailor made suits. There's a misconception that tailored suits are very expensive when you can, in reality, get a basic two-piece suit made up for well under £200. In other words, you can get something made to measure at the same price as your common-or-garden off the peg suit.
I got my first tailored suit nine years ago. It was a very simple, two-piece suit made from a cheap woollen fabric. Even though it's showing a few signs of wear, I still get comments when I put it on. I was thinking of buying a new suit when I was made aware of Blackpier, a Spanish company that's operated elsewhere in Europe for a while, but that just taken the plunge into the UK market.
As summer is on the horizon, I was thinking of getting a linen or cotton suit. Blackpier has a cotton option and so I took a gamble and ordered a simple, informal-style cotton suit.
First things first, let me outline what Blackpier offers. The company makes and sells tailored suits, jackets, trousers and shirts for men and claims to turn orders around in about 15 days. It is an on-line service and so the emphasis is on you to follow the instructions and provide your own measurements. This was a new experience for me as I have always been measured by a tailor when I've had suits made.
My Blackpier custom suit review on YouTube
I think it also fair to say the resulting product is custom made as opposed to tailor made. If you haven't experienced the pleasures of being measured for a tailored suit, it involves taking a huge number of measurements and (if you're male) being asked which of your testicles hangs lowest. Needless to say, you can't go into this level of detail online.
You are, however, given a range of options regarding the style of jacket including:
Fake or real button hole on the lapel
Number of buttons on the front
Number of buttons on the sleeves and so on.
You also get the option of customising the trousers. You can choose the position of the pockets, creases down the front, turn ups etc.
Blackpier has a wide range of fabrics to choose from; wool, wool mixes and cotton. There are patterned, non-patterned and checked fabrics.
My choice was a jet-black cotton suit made from a super 120s yarn costing £172. I thought cotton would be a good choice as I can never be sure what the kids are going to fling in my direction; milk, spaghetti bolognaise, bodily fluids. In deference to this I wanted something that would clean easily and that was informal in style as I already have formal suits.
To get the informal look I wanted, I requested the jacket pockets were off-set and, in a radical move (my tongue is in my cheek) asked for three buttons on the sleeves instead of the usual four. I also asked for turn-ups on the trousers.
The resulting product was very impressive. It's a very good fit and it feels good wearing it. The trousers are properly lined and they break just over the shoe, as a well-fitting pair should. The sleeve length on the jacket is perfect and the suit has the informal feel I wanted. I should also add that Blackpier turned the order round in about a week.
When ordering, I gave the wrong measurements for the length of the jacket. The figure I gave was about 30cm too short but I got an email back from the tailor within an hour asking me to send updated measurements. To me, this suggests the customer service is very good.
As I've said, the end product was great. The website itself, however, requires a little more work. I think Blackpier has possibly taken one of its European websites and tried to tailor it for the Brits. As a result some of the English translation on the pages is a bit squiffy. I have fed-back my thoughts to the company and I hope this is just a teething problem that's ironed out in the months to come.
If you've been through the process of buying a tailored or custom made suit before and know what you want, I think you could do worse than give Blackpier a go. Alternatively, if you're on a budget and looking for an economical well-fitted suit then Blackpier could be the correct option for you. Just double check all measurements and be prepared to have some fun as you translate the website.
For more information about all the custom made products in Blackpier's range, visit the website here.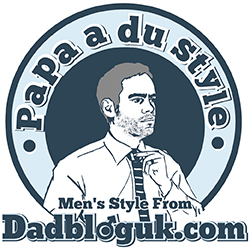 Interested in this blog post? Well have a read of these...