With promises of "endurance cleaning," "120AW strong suction" and most exciting of all, "dual vortex technology," the Eufy HomeVac S11 infinity cordless vacuum cleaner had a lot to live up. To be perfectly frank, "dual vortex technology" sounds a bit dangerous to be let loose in a family home but for the purposes of this review, that's exactly what I did.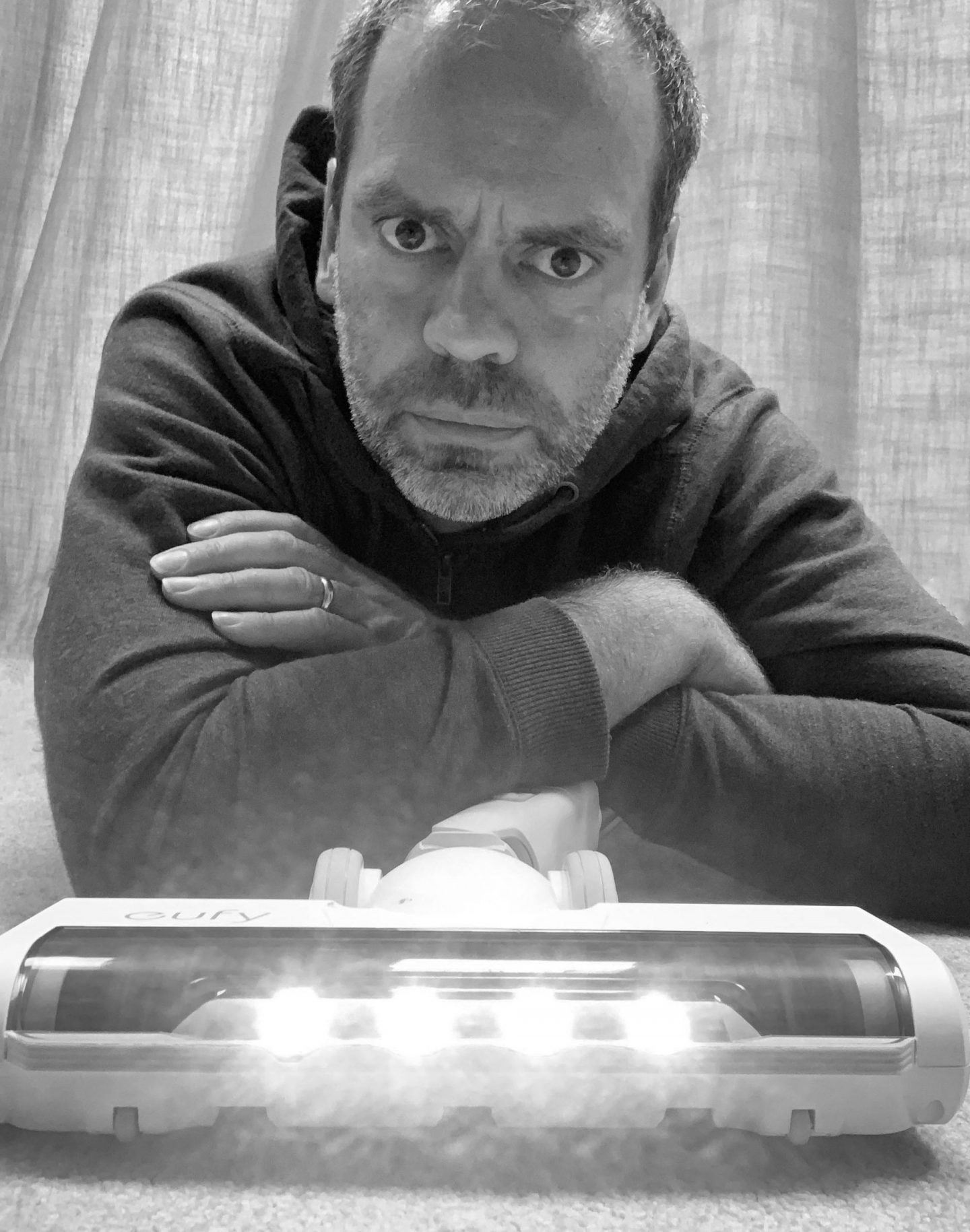 First impressions
The picture on the outside of the S11's box reminded me of the Dyson V8 Absolute. We used one of these as a family for a couple of years and it was very good. I hoped this was a good sign. As a family of four with two young children and carpets that constantly need vacuuming, it had a tough job ahead of it.
I'm not normally someone to be impressed by good packaging. In the past I've found that "wow" packaging masks all kind of serious problems with a product. On this occasion, however, I have to say the S11 Infinity was incredibly well packaged.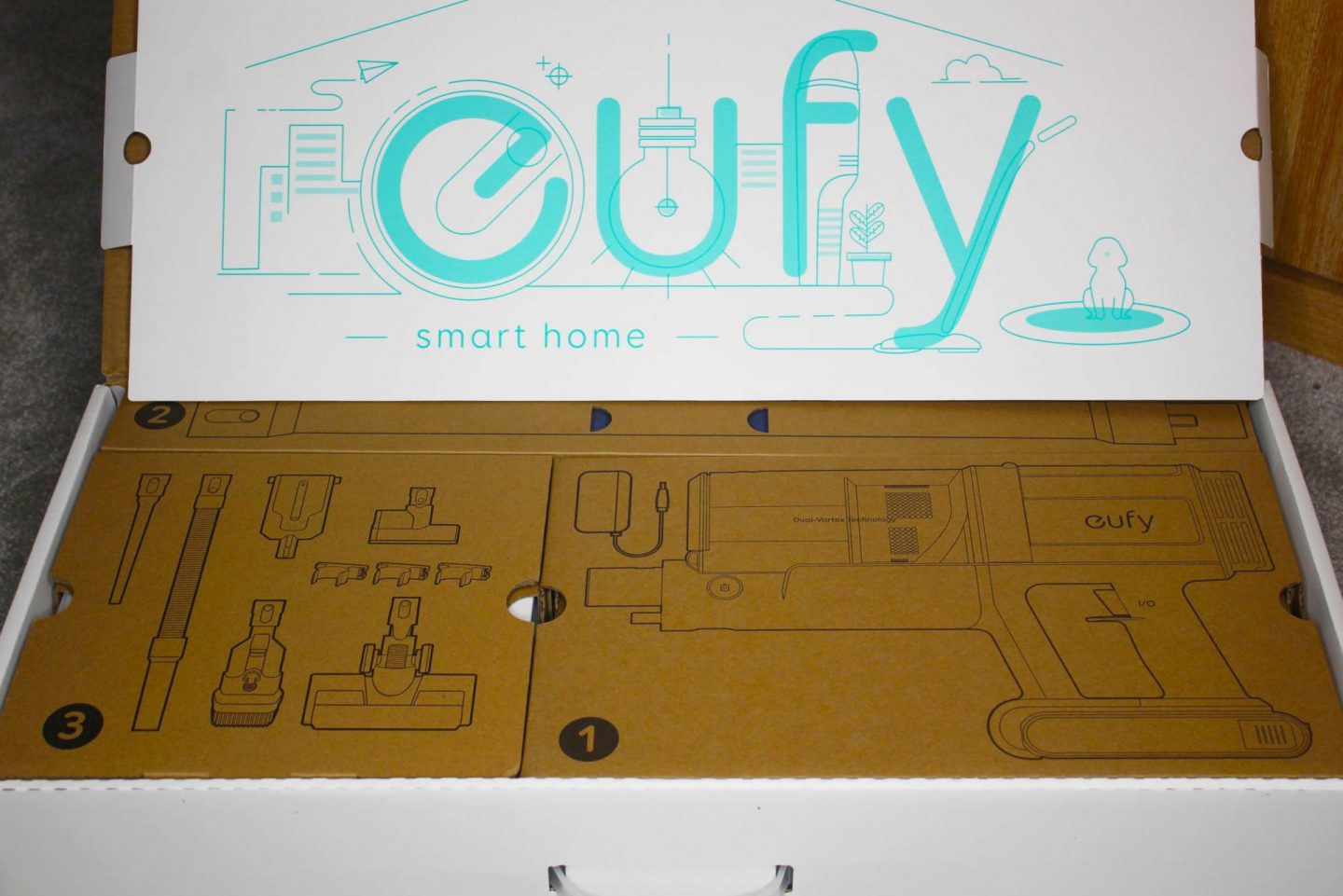 It arrived with two partially charged batteries so I was able to put it to work straight away. The second battery is a nice touch as it means you can keep one charged while the other is in use.
Attachments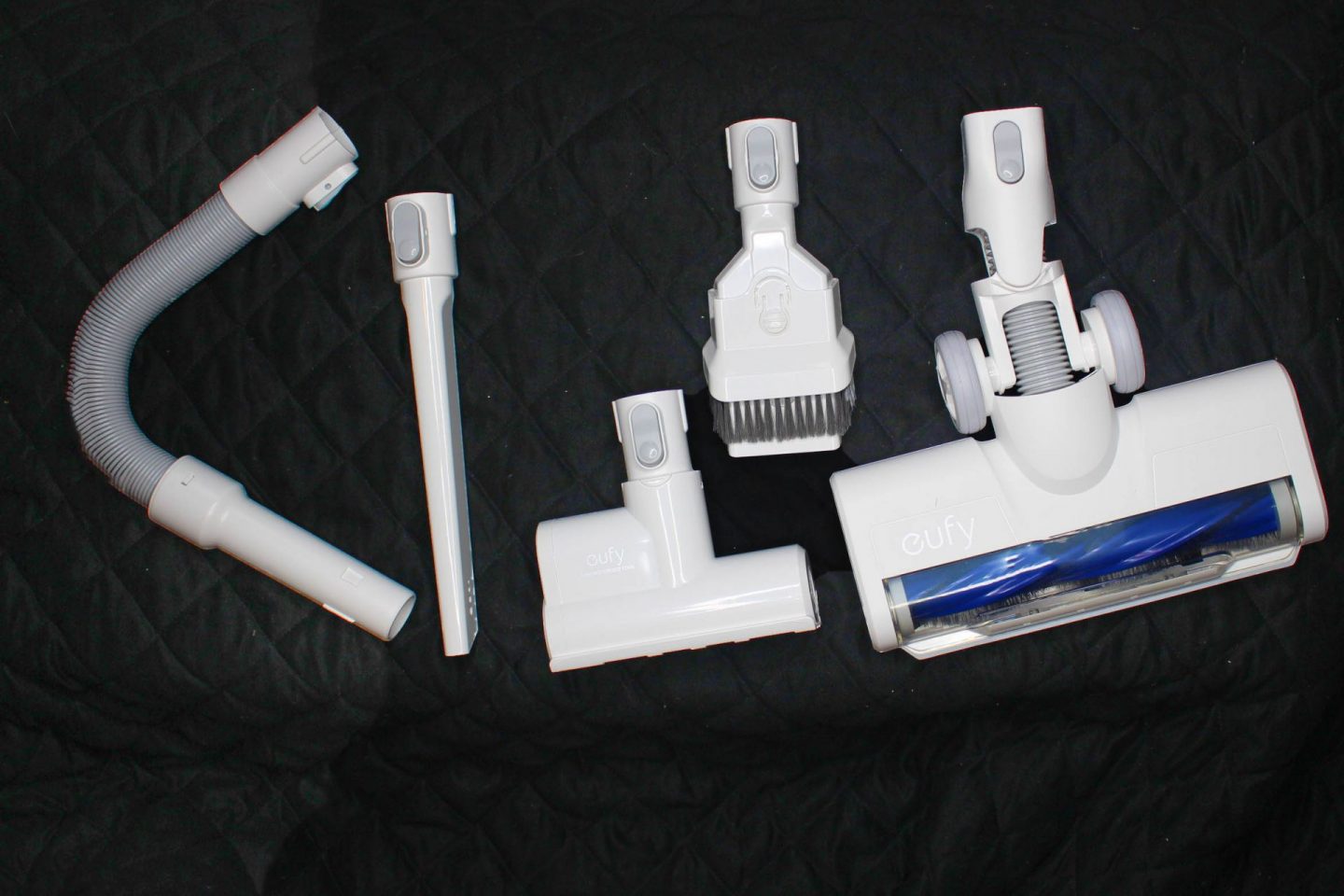 The S11 Infinity comes with a vast array of attachments. There's a crevice tool, motorised brush tool, and a couple of attachments that I can't name!
Two things impressed me. Firstly, the HomeVac S11 infinity came with a flexible extension hose. This is something I haven't seen before with a cordless vac and is very useful when using the vacuum in a car or for hard to reach places. Secondly, the standard vacuum attachment has LED lights on it. They're almost like headlights and make it much easier to see what you are doing.
In addition, you also get wall fittings for the main power unit and all of the attachments. This is great for tidying them away.
Putting the Infinity to the test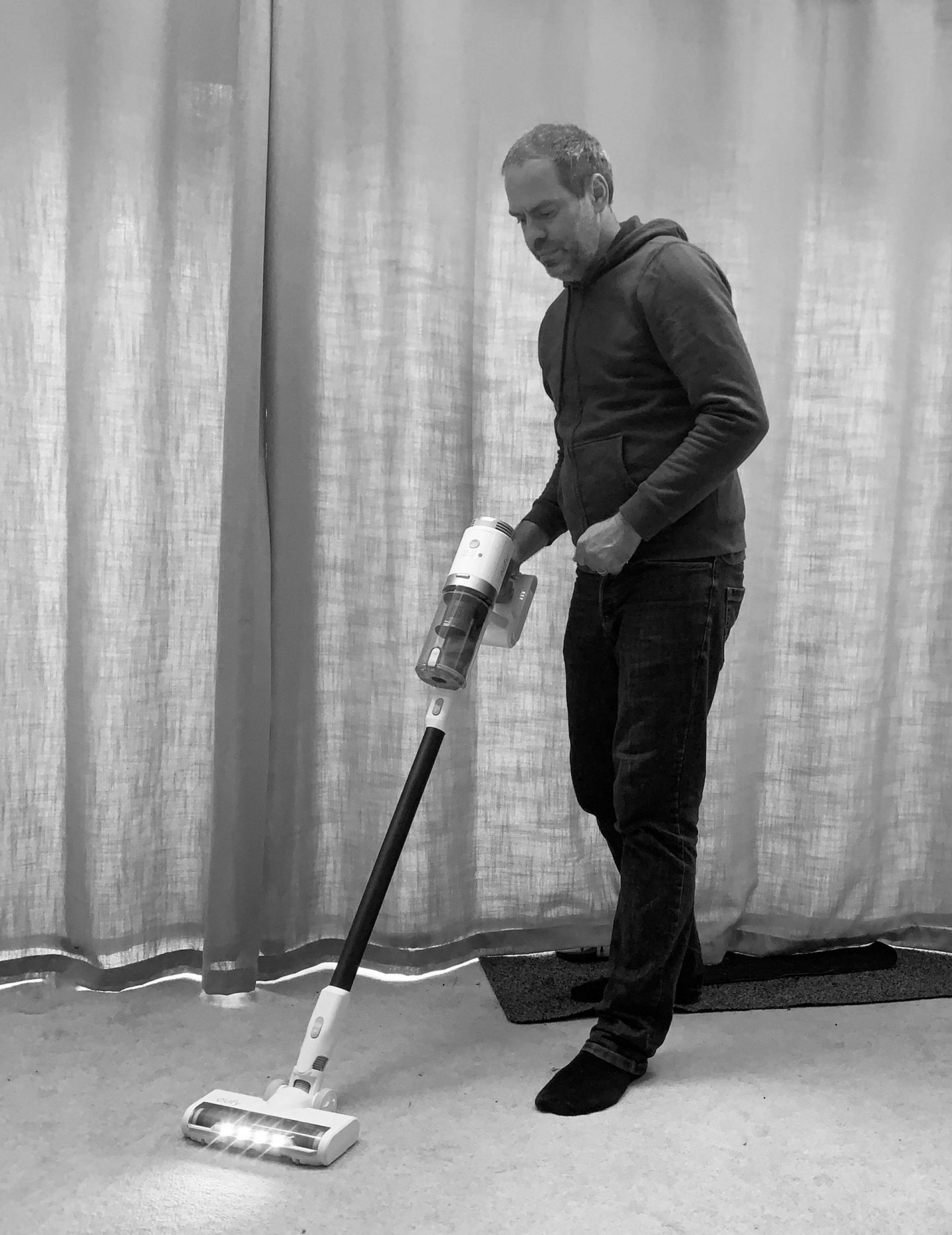 That's the background. You want to know what the HomeVac S11 Infinity is like in use, right?
There is a single button on the top that controls how powerful the suction is. When you pull the trigger to start the S11, it automatically starts in the middle power mode. Tap it once and you will go up to maximum power. Tap it twice and you will go to minimum power mode.
All the attachments have worked well. One that stood out for me was the motorised brush tool that did an astounding job.
I have been very impressed with how the S11 has performed. I would go as far as to say it's just as good at cleaning as the Dyson V8.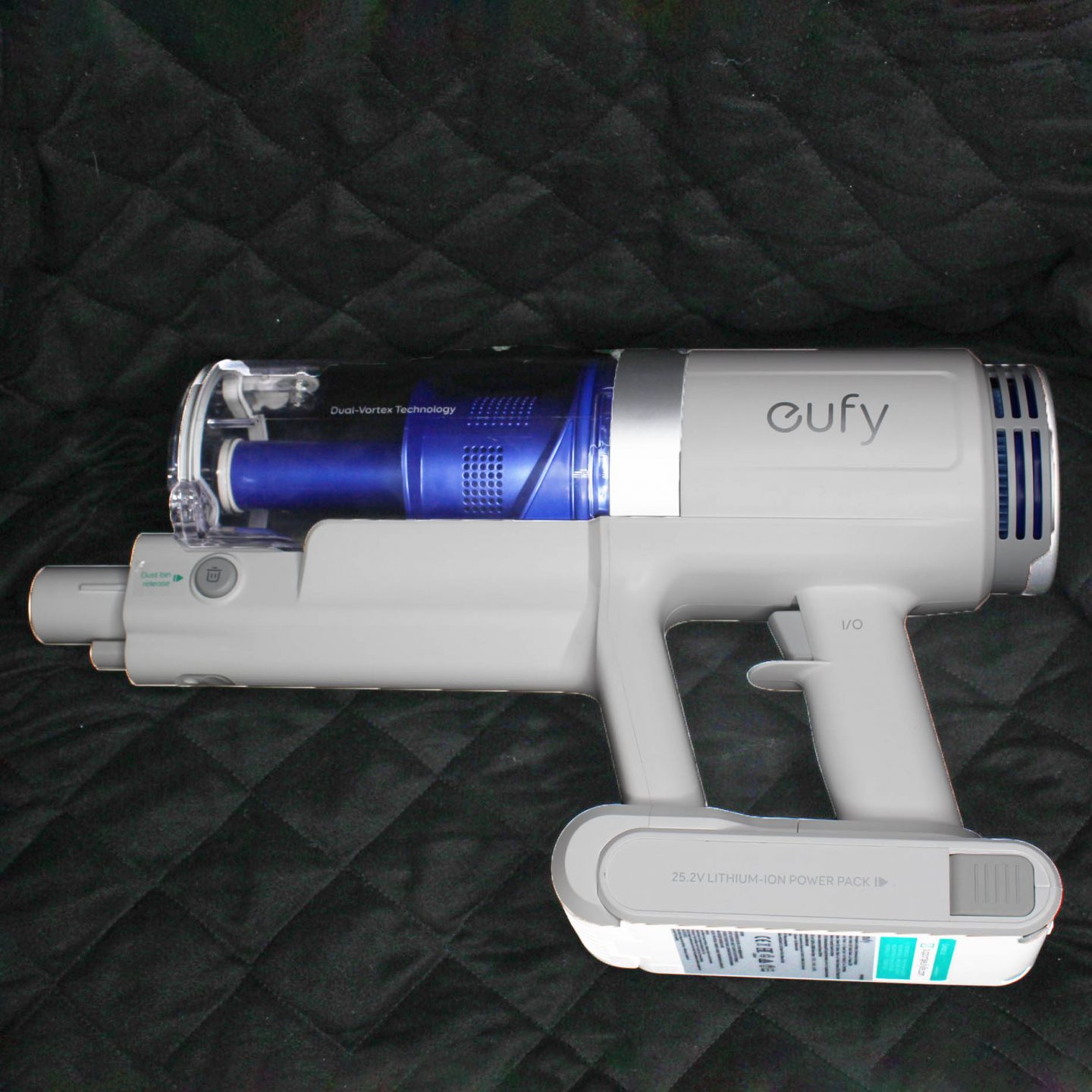 One thing I have noticed is that it excels are sucking up the smallest dust particles that get trapped in a carpet. That's not to say it doesn't cope with bigger bits and pieces (IE pistachio shells) but it copes with dust very well.
Emptying the drum can be done at the touch of a button. The drum size is a touch on the small size. It's not a problem, just be advised that it does need to be regularly emptied.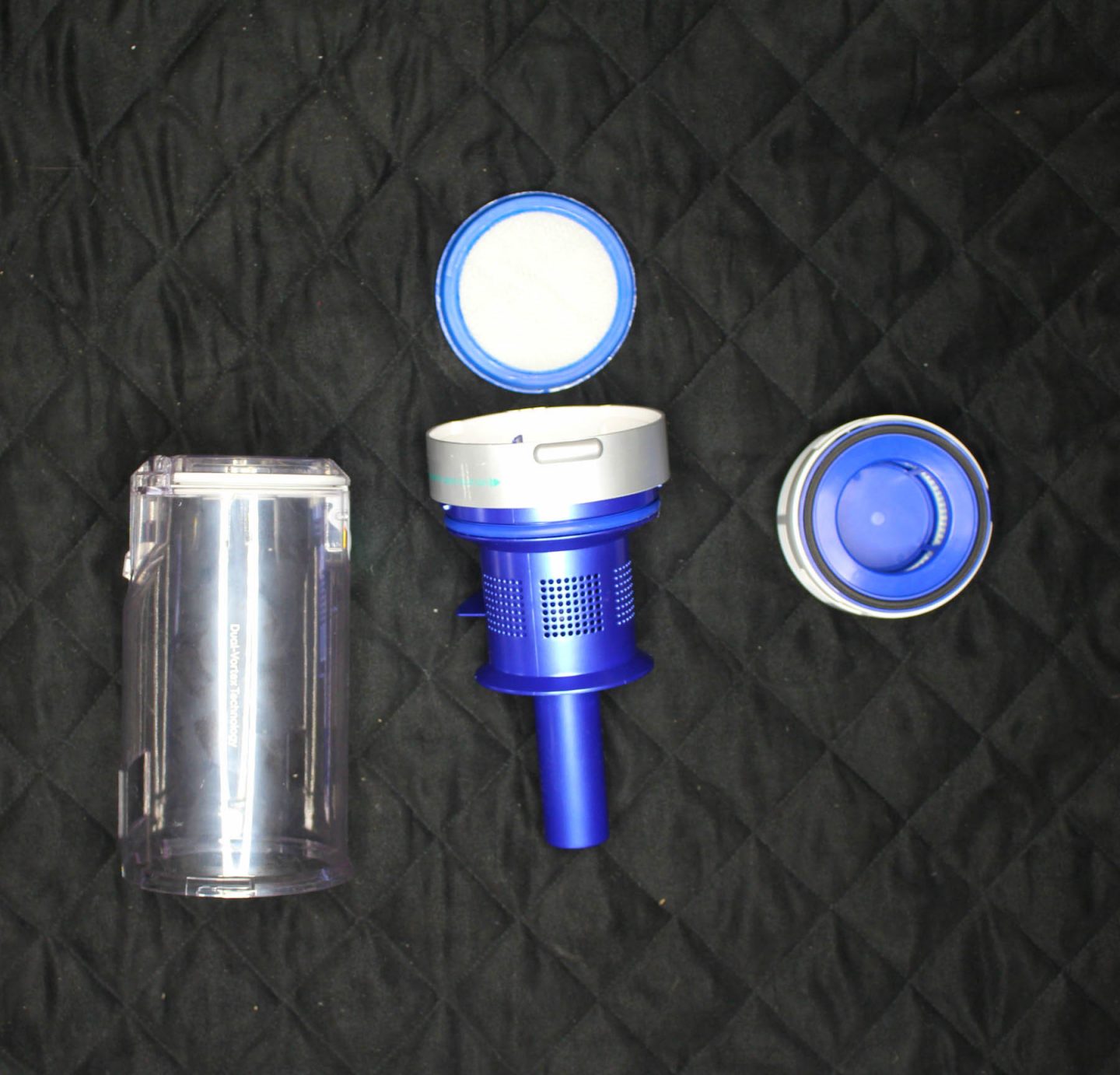 We then come on to battery life. In the lowest power mode, you can expect to get 40 minutes use before recharging. In mid-power mode, 25 minutes and in max power mode, around eight minutes.
The lowest power mode isn't all that powerful so realistically, you'll be looking at between eight and 25 minutes before using the second battery or putting the S11 on charge. If I can be entirely honest, I would have hoped for a bit longer on the maximum power level.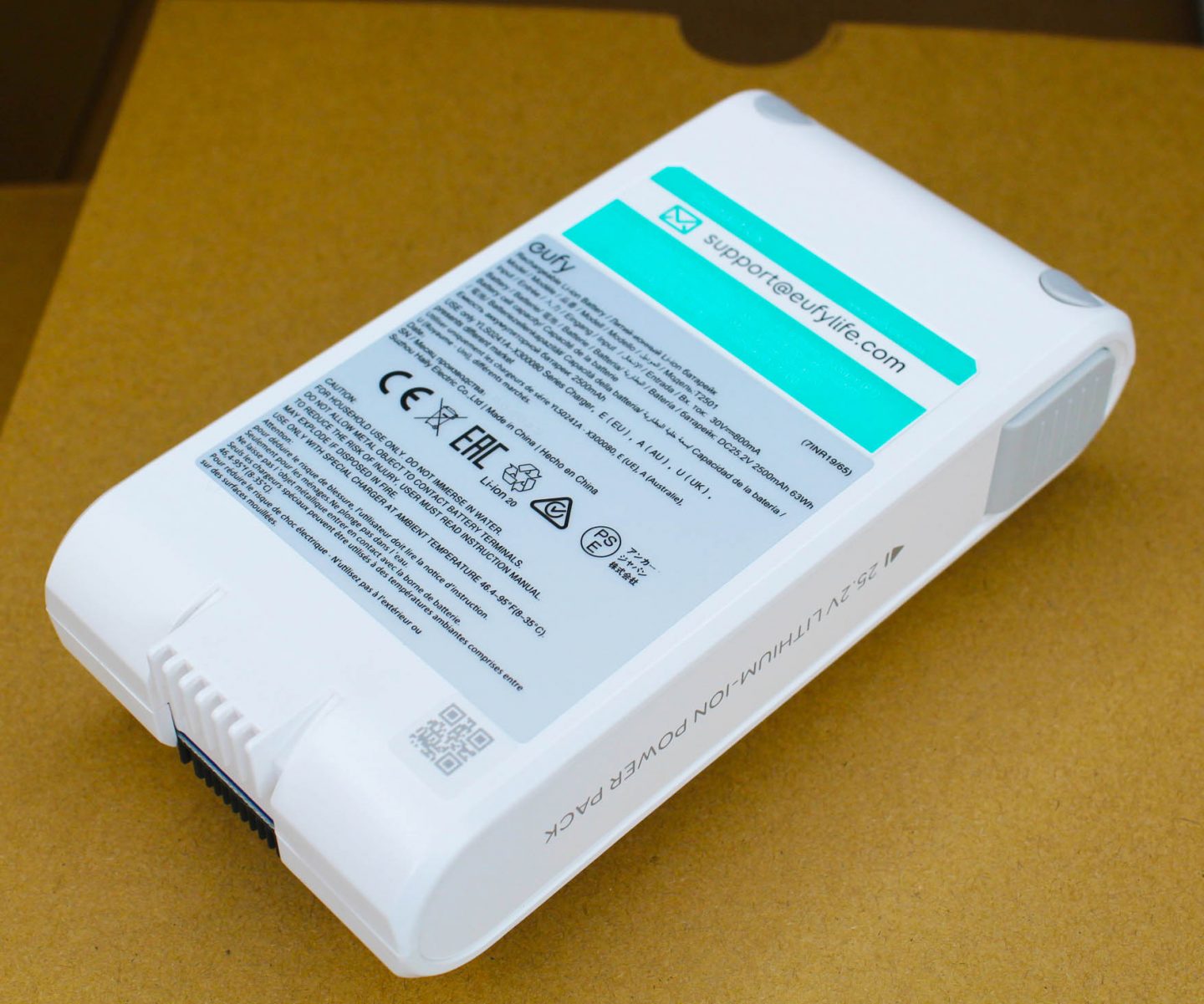 Cost and availability
At the time of writing, the Eufy HomeVac S11 Infinity was available direct from Eufy or from Amazon and had a price tag of £299.99. As a comparison, the Dyson V10 was selling for £399 and the V8 Absolute for £349.
Final thoughts
I should add that I am no stranger to Eufy's products. A little while ago I reviewed its RoboVac 11S Max. It made a very positive impression and I was hopeful the S11 Infinity would do the same. I am pleased to say it did impress me.
In an ideal world that drum would be slightly larger and battery life slightly longer. Neither, however, would put me off buying the S11 Infinity. It worked incredibly well and compared to other options, is competitively priced. I would have no hesitation in recommending the HomeVac S11 Infinity if you are looking for a cordless vacuum cleaner.
Disclosure: I was provided with a Eufy HomeVac S11 Infinity Vacuum cleaner to carry out this review. Thoughts and opinions are entirely my own.
Interested in this blog post? Well have a read of these...