How much do you know about what your children get up to at school and the curriculum they study? Compare it to the education system of your youth. How much did your parents know about your schooling? I think my parents were left completely in the dark when I was at school and this had a huge impact on my education.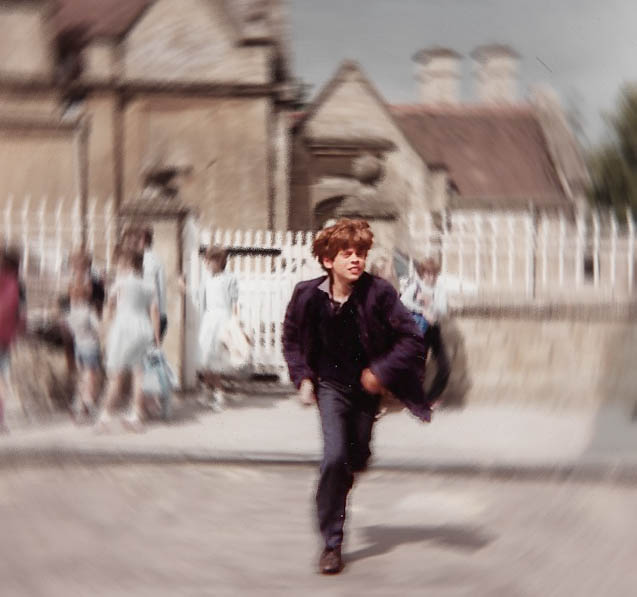 My daughters have got me pondering over this. Since the beginning of this school year, I've had many chats with Helen and Izzy about school and I've met all their teachers. There's been the odd bump along the way, but by and large they've been very happy and keen to talk to me about what they've been doing in the classroom.
Listening to them, however, has been a bitter-sweet experience. It makes me feel increasingly let down by the education system of my youth. The experiences my children are having are a world away from what I experienced as a youngster.
I started my schooling at a lovely primary school. Older kids played with younger kids and it was very friendly. Alas, I moved to a different area, changed schools and this is when things started to go awry.
I attended what should have been a lovely school within a tightly knit, rural, community. Unfortunately, this place had dreadful staffing issues. After a long period of stability, the headteacher left almost as soon as I arrived and what followed was a revolving door of temporary replacements, many of whom had day-to-day teaching responsibility for my classes.
For a while, I had a new teacher every term. I don't remember feeling massively unsettled by this, but some of those teachers were better than others.
There was one individual us kids were terrified of. He had a dreadful temper and would shout at children for minor misdemeanours and when I say shout, I mean bellow like a rabid foghorn. On one memorable occasion he even locked a child in a stationery cupboard for some tiny infraction of the school rules.
Oddly, he left the school not too long after that incident. Credit where it's due, when the school eventually got a more settled headteacher, I have very positive memories of him.
The unsettled years at primary school were merely a warm-up act for secondary school. I look back on my time at that institution and I feel like I was dreadfully let down. It was a former grammar school and liked to think it still had that status. In true grammar-school style, tests I sat at the age of 12 would have a massive impact on my education and my future, but more of that in a moment.
This school had appeared in the Sunday Times list of the 100 best state schools, something the teaching staff were very proud of. My mother, meanwhile, regularly commented about how well turned out the children were in their uniform.
This, I think, was a fault of my secondary school. It looked good on the surface with smart pupils and genuinely amazing facilities, but under that gleaming surface, it was dire. It was trading on past glories and in some respects, was stuck in the past.
As if to prove I was going to be a journalist in later life, I didn't take those claims in the Sunday Times at face value. As a youngster (how mischievous and devious was I?), I took it upon myself to take a closer look at the GCSE and A-level results and they made for interesting reading. A-level attainment across the school was above average but GCSE results were….meh.
Was this possibly a sign the school threw everything it had at the most able children? It's not a ridiculous conclusion to come to.
I cannot recall my parents commenting on the quality of the teaching or the facilities or the pastoral care of pupils. It all seemed to be about the uniform because smart kids equaled a good school.
That was the way of the world at the time. Parents went to parents' evening and that was pretty much their total contribution to the school community. They were kept at arm's length. It's not that surprising they didn't really know what I was experiencing. It was all about what they saw and what they saw was smart pupils.
As Mrs Adams and I prepare to send our eldest daughter to secondary school next year, pastoral care, facilities and teaching support are all priorities we are considering. Another key priority is how much contact us parents will have with the teaching staff. As a parent, I feel teacher / parent relationships are of the utmost importance.
Getting back to my school days, we were streamed according to ability. That was the theory, but it was done appallingly.
We were streamed at the age of 12 based on those highly dubious tests I mentioned earlier (remember, this was a former grammar school so the teachers loved a test!). Despite being a tender age, I remember thinking my results were a bit odd.
They were good, but not brilliant. I correctly worked out that my class featured a large cohort of pupils who didn't perform well in the tests. I shone out for being above average, but I was by no means showstopping brilliant. Based on the results of the entire class, I was placed in the highest stream for everything apart from mathematics.
It sounds impressive, but this was a huge mistake by my teachers. I struggled competing against kids who were far more advanced that I was. I should have been placed in a lower stream where I would have excelled. I was never offered help and it was never suggested I should drop down a few streams. My teachers were uninterested in helping a struggling pupil.
I was told I wasn't trying hard enough and I was seen as a problem. What I needed was a teacher to say: "You're in the wrong streams, you've given it a shot, but try this one instead." I was never going to speak up for myself, partly concerned how my peers would react and partly how this would be received at home (In truth, if it had come from a teacher, I think my parents would have been fine with it). Instead all I heard was "you're lazy" and that's the message my parents also received. Not surprisingly, this made home life difficult at times.
The sad thing is, I had been a highly engaged, prize-winning pupil until I was streamed. When I started struggling I lost interest in my studies. I got distracted by other things. Considering my previously exemplary behaviour, this should have been a massive flag to those entrusted with my schooling but no, I was written off as a problem.
The result was a dreadful set of GCSEs. Tellingly, I put this right by leaving the school and taking a new set of GCSEs elsewhere. Second time around I got some very good results and I sat them in a year instead of the usual two years of study. Further proof my secondary school was poorly run.
Out of curiosity, I recently visited my old school's online alumni page. It only featured a couple of pupils and was mostly dedicated to former teachers. I deduce from this that most pupils want little to do with the place.
Why have I put all this in a blog post? To be honest, I've found it very cathartic. Secondly, however, I think it's fascinating to see how things have changed and changed for the better.
As a parent, I much prefer the modern approach. I see my kids' classrooms. I have met their teachers and love to go into school and see plays or help out on school trips and so on. Various messaging services make it easier to stay in touch with school and to be better informed and if we ever feel like our kids have an issue, we're onto it straight away. It's not simply an issue for school to sort out. It's an issue we must all sort out.
When Mrs Adams comes home from work, we talk about the kids' day at school. She's unable to be as involved as I am, but we're both engaged with the school and our kids' learning. This was a massive fault of the education system of yesteryear. A lot of time has passed but I don't look back on my time at school with happiness.
I see my kids benefiting from the home school partnership philosophy. I feel like I play a part in the education and their school. From time to time, we encounter the occasional problem, every child does, but with parents who are engaged with the school, I know they'll not have the issues I encountered.
Does this ring true with you? What was your experience of school like? Maybe you are a teacher and have opinions on the way teaching has progressed over the years?
Interested in this blog post? Well have a read of these...