As the name implies, the London Sock Co. specialises in providing the modern gentleman with high quality socks. You probably won't be too surprised to hear the company is based in London.
Pictured above is the David Gandy sock selection. I've very kindly been set this trio of socks to see what I think. From left to right the designs are; limited edition Winter Houdstooth, Spotted in Shoreditch and Simply Sartorial.
You're probably aware of this, but Gandy is a model, well known for his muscular stature. Gandy is working with the London Sock Co. and the pack came with a card, autographed by the man himself (nice touch), explaining all about the designs. It's worth mentioning they came in a very good quality, stiff cardboard box. It's clear that design and packaging is important to these guys.
This is just one selection of socks. There are many, many different designs to choose from. There are patterend socks, plain socks, socks for formal occasions, casual occasions and so on.
You can buy individual pairs, but the London Sock Co. also has a subscription service. Inspired by the Dollar Shave Club in the US, so you can pay a monthly fee (from as little as £10) to recieve socks each month.
What about the socks themselves? Are they any good? The company goes to great lengths to stress they're all designed in the UK. They majority of them are also manafactured in Britain.
They're a mix of cotton and man made fibres but cotton always makes up the majority of the fabric. This is important as I can't abide socks that aren't predominantely cotton or wool.
Most importantly, they look and feel great. You don't imagine there's a huge difference when it comes to socks but you really can tell when you're putting on a decent pair. The quality was instantly apparent compared to the pairs I usually throw on if I'm simply spending the day at home.
In terms of cost, the socks represent very good value for money. I thought they may turn out to be prohibitively expensive but they start at £10 a pair while the subscription service costs from £10 – £25 a month depending on how many pairs you wish to receive.
If you're looking for Christmas present ideas, London Sock Co. has revived a couple of gift sets it brought out to mark Father's Day. There's a One For Me, One For My Dad set at £21 and a 2 For Me 2 For My Dad set at £39. The sets come as a box with either one pair of socks each for father and child or two pairs each.
If you like good quality accessories, then I would check these socks out. They're good quality, well designed and it's a great brand. For more info, see the London Sock Co. website. The father and child gift sets can be found on this page.
I'll finish with one small observation. I was in London the other day, attending a formal event. I was wearing my classic Burberry raincoat, my suit was made by British tailors and my shirt was a Jeff Banks design. I was wearing a watch from Smart Turnout and the socks, well, they were London Sock Co. Although this is too much information, my underwear was from SunSpell. I hadn't planned it, but I had accidentally dressed myself in British garments from head to toe and it felt rather good!
I have linked this post to the #brilliantblogposts linky hosted by the marvellous Honestmum.com blog. Do take the time ot take a look and see what other bloggers have been writing about.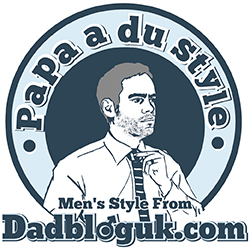 Interested in this blog post? Well have a read of these...