Smart Turnout is a brand I have only recently discovered. It's a higher-end menswear label that produces very distinctive clothes and accessories.
Although I have had the good fortune to try out Smart Turnout's autumn / winter clothes range, I'm going to focus on its accessories for this blog post. Accessories are an area the company is paying greater attention to with a broader variety being made available this season.
It's impossible to say too much about Smart Turnout without giving a brief history of the company. The label was created by Philip Turner, a former Scots Guards officer. Unable to find a jumper in his regiment's colours, Philip had one made, only to find other guardsmen wanting to order their own clothes. Realising he was on to something, Philip took orders for numerous items in various regimental colours and from there the label has grown.
The accessories range encompasses watches, socks, ties, bow ties, scarves, luggage, braces, wallets and cufflinks. My favourite items are the watches. A good example is the Swiss-made London timepiece. As with Smart Turnout's other watches, the straps are changeable so one day you could have it in the red, yellow and blue of the Royal Artillery Regiment while the next you could have a strap in the Royal Tank Regiment's green, red and brown.
Another favourite of mine from the collection are the wallets. The item pictured below is the Old Beaumont wallet featuring Royal Regiment of Scotland colours. It looks incredibly smart and is beautifully lined with blue fabric.
I also had the good fortune to try out the ties. I'm pictured here modelling the colours of the Royal Sussex Regiment and Army Rugby Club .
Everything Smart Turnout produces is distinctive. The quality is very high and everything has a classic look and feel. As a country boy forced to live in the suburbs, I can see it fitting in very well out of town, but it's accessories and clothes are certainly smart and sharp enough to wear in the city.
If you get the chance, I'd recommend taking a look at its stand alone store in Picadilly, Central London. If you can't do that, the Smart Turnout website can be found at smartturnout.com.
Where credited, images were taken by Ania from Photography for Parents, a company specialising in photography training courses for mums and dads. For more information, see its website.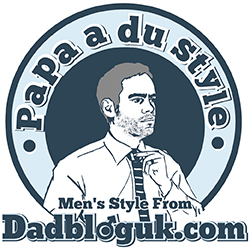 I have linked this post to the #StreetStyleSunday linky. Click on the badge for more style posts.
Interested in this blog post? Well have a read of these...
Reader Interactions