Sometimes you do an interview and it's an absolute joy to publish. This is one of those occasions. Simon Brown is the third generation of men in his family to be an unpaid carer and also the founder of the FamilyCarersNet support network.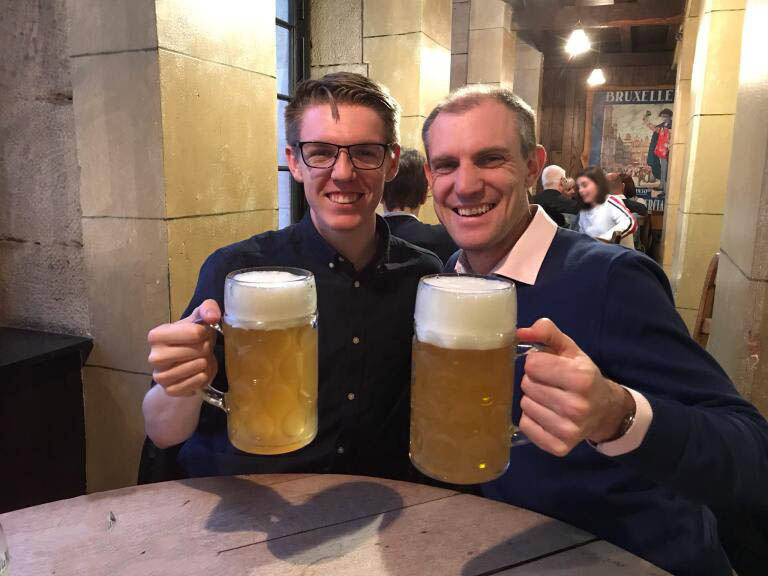 FamilyCarersNet has a website, live chat service, telephone support plus the pod app. All of it is designed to support carers, whether they simply need a quick recipe at the end of the day, accessing specialist health information for the person you are caring for or if you simply need someone to talk to.
Simon is clearly very passionate about what he does. I think you will find this oozes through in the responses he gave me.
I am also delighted to reveal that I have partnered with FamilyCarersNet. I will be working with the team to highlight the work carers do, discuss the challenges carers face and learn about the other carers who use the service. I am the main carer for my two daughters, but that puts me in a very different position to a teenager who has to look after an ill grandparent.
The best thing I can do, is let Simon tell you about FamilyCarersNet. The one thing I hope take away from this is that FamilyCarersNet is for all unpaid carers: Dads, mums, step-parents, grandparents, youngsters looking after siblings or older relatives and so on. As I say though, it's best I let Simon do the talking.
Can you please introduce FamilyCarersNet
Yeah, sure. We're social enterprise that I set-up in 2016 although the eureka moment was in 2014 and even before then, the journey began closer to 2010. That feels like an age ago. I've just realised that 10 years ago!! What the… wow. I didn't really think about that until now.
Anyway, I wanted to create something that would be life-impacting for people and really help change lives. There's so much on the internet, yet there's so little on the internet. If you know what I mean. Lots of white noise. As an unpaid carer if you search stuff, like funding support, you don't get anything that really helps. There's lot of people who want to help and do, but it is so hard, time consuming and exhausting to keep pushing through as an unpaid carer.
I just wanted to make that easier. It shouldn't matter where you are in the UK, that support should be there and after 5pm!! I work. How do I get support after 5pm?! And I don't want to call someone up or have a visit. Why can't I use the internet???!!!! Aaaargggghhhhh….
I did some research with 879 unpaid carers: 69% said they had feelings of depression through loneliness and isolation, 82% said they wanted something online. It was all of this coming together when the brain just went: "Oh, yeah. Why don't I create an online community, platform website for everyone?" So I did. And a bit more now, as we've grown, which is great.
There have been some exciting developments at FamilyCarersNet recently. Can you tell me what's been going on?
It has been exciting, we have a different approach to how we support unpaid carers. We work in partnership with charities at local, county level, such as Devon, Norfolk and the Isle of Wight, I'm up in Manchester a lot as well; well, I was until Lockdown obviously. And not forgetting our own county, Suffolk.
Then Brexit happened and now Coronavirus. Things on the partnership side have held, but we've gone through the roof in providing support. It's amazing. We are 7 days a week, 12 hours a day. In the past 3 weeks I've had one day off. I even worked on my wife's birthday.
We've got a new website rolling out, a brand new outreach and engagement plan (thanks Jess) plus a new social media platform and app, called the pod. First in the UK like it. I can't wait to deliver this, it will help so many unpaid carers, families and support charities locally.
There's more in the pipeline too. You'll have to wait on that though. I'm like Tigger wanting to tell people, but get told I'm not allowed.
You've built up a great community for carers. What support can you provide them?
We focus on bringing others together to provide support. Whether that is other unpaid carers supporting each other or charities and professionals, such as a GP, Counsellor or Health Worker. That's the key thing missing for unpaid carers; accessing the support and knowledge, expertise and information. It's out there, just difficult to get to or know. Our community is about bringing this all together.
For example, if you have a question about Dementia, you can ask someone in our community on the website or the pod. Same for cancer, autism, mental health. Anything to do with a health condition. There are others who have similar experiences, they will help. As well as a Dementia specialist.
Can you explain a bit about The Pod and how carers can make use of it?
Without mentioning other social media apps because I'm not allowed to, think about somewhere dedicated to unpaid carers and their families where you can post 'how you feel today' or ask a question and chat in a real time feed. Post photos, videos. Watch other videos and get support 24/7. It's a central place you can go to; for a chat, to escape or get expert advice.
Very important question. How do you define a carer and who can call upon your services?
Funny you say this, I was having the same discussion with someone from Devon Carers recently. Unpaid family carers are everywhere. We're not couped up and only come out at night or retired people aged 70 years plus. That's the stereotype. In every walk of life there is an unpaid carer. At work, the leisure centre, football club, on the till at a supermarket, doing the school run, teaching, serving a pint, working in a solicitor's.
A young adult going to the supermarket for an alcohol dependent relative can be an unpaid carer. I know this as one of my closest friends had to do this for his nan and that sometimes involved buying her small amounts of alcohol to stop her going out and buying larger quantities. It was a tough call, but he was an unpaid carer for his nan and alcohol dependency is a real problem.
If you have someone in your family, a friend or neighbour who needs some kind of support, FamilyCarersNet is here for you. You may only have one question. It doesn't matter. If that person needs a bit of support and you want to help, just ask. That's what we're here to help with.
Over recent weeks, have you seen a surge in demand or any changes in the support your service users need because of the lockdown?
An increase yes and a lot through digital. Phonecalls went up to begin with, but now it has levelled out more as people are getting used to the change and what we need to do; all of us in the country. But the Live Chat is still busy with questions. Peopole can ask a question really easily, at a time that suits them without having to wait on a phone. Sometimes, the person they care for won't allow them to use the phone. That really happens.
Do you think COVID-19 could raise the profile and stature of carers?
It will now. We are going to make sure! Along with other charities, community groups and some good eggs in the press and media, yes. We've got a big campaign coming on this.
Impact of the lockdown aside, what big issues are carers facing at the moment?
Three big things:
• Not being able to leave their home. As a family member is typically in the 'High Risk' cateory.
• Getting recognition they are the same as a 'key worker' and need that extra support, such as visiting a supermarket or getting food delivered. Just imagine what would happen if unpaid family carers were not able to provide support or the person they care for needed hospital treatment. The money they already save the Government is the equivalent to another NHS.
• Many unpaid carers don't want to visit a hospital because they don't want to catch something when there. If they do, they are even more susceptible to catching Coronavirus.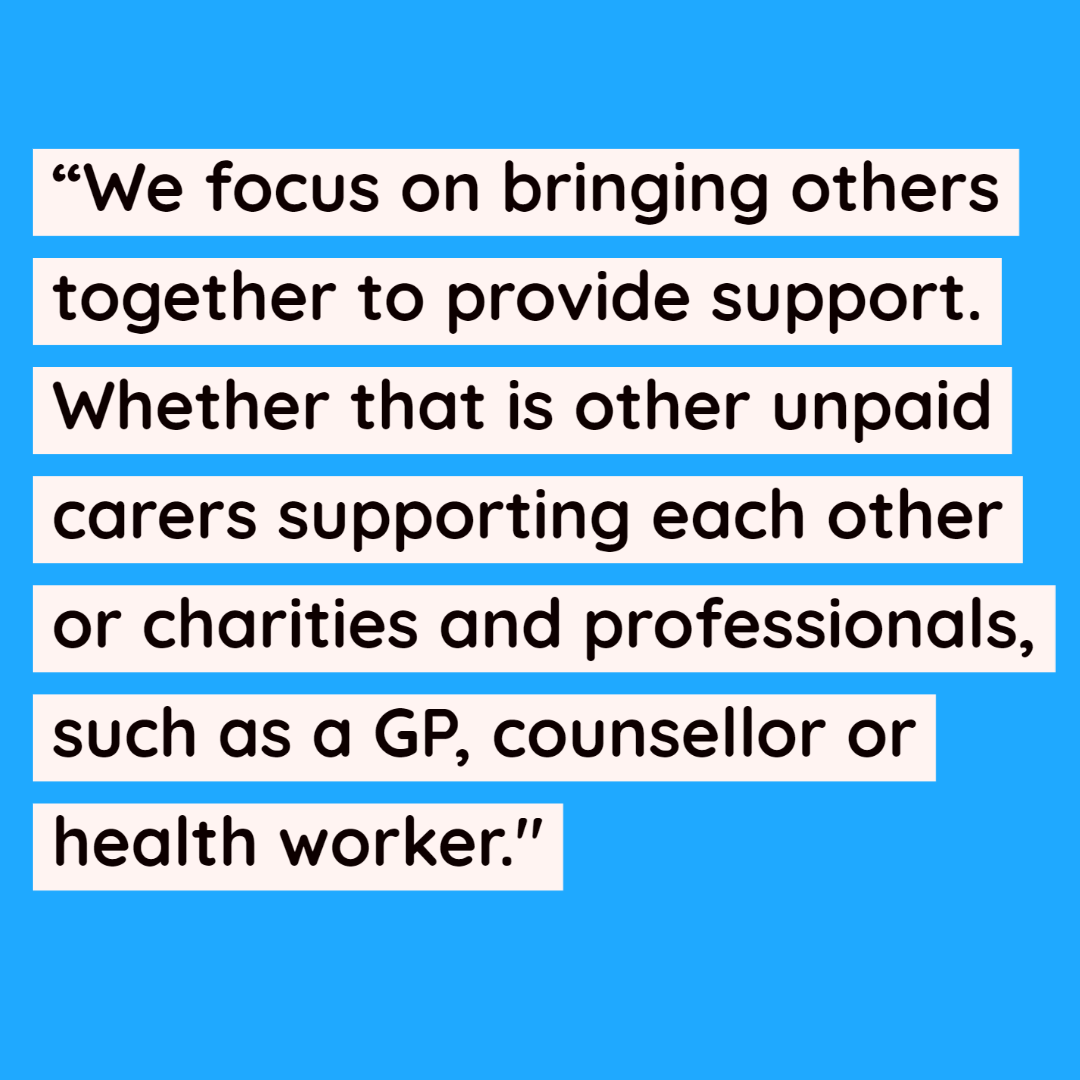 I think we all know carers don't get the recognition they deserve, but do you think men can face particular challenges to be accepted as carers?
Typically men are not the parent who stays at home to look after family. You and I are different to most, although I'm lucky to be the CEO of FamilyCarersNet so I can have flexibility, but I have that for all staff here (over 65% of staff here are unpaid carers).
Men are more often at work. We did some support work with a very well known pet food brand for their staff, of which 99% were men. They all pretty much knew of each other, as they lived local to the manufacturing plant. One of them said to me: "No-one will speak to you if they're a carer. They don't want other people to know their family situation. It's personal. Word will get out. Men like to keep things to themselves."
That's so true. I do though, think it is a barrier that is easier to overcome than men talking about their mental or emotional health.
I love the fact your website features recipes! What was the thinking behind that?
Ha ha, that came about from family carers telling us they had no time to cook, but they liked watching cooking programmes. My wife and I used the Jamie Oliver 30 minutes and 15 minute meals, as we both worked. I thought of the family carers, but with his menus we never had half of the spices from Morocco or Lebanon. And I couldn't always be bothered to try and find them in a supermarket. So we used something else from the cupboard.
This sparked the realisation that carers are the same and couldn't we create 'Quick Food for Carers'? So we did. Our first video had 47 views, 12 months later we reached 16,000. How nuts is that!
We've got a lot more to come and we actually would like people to send us in their recipes, with a photo and if possible, a video. This would be great support for family carers.
Complete the following sentence: I went into caring because. . .
I didn't, it found me! My nanna had Alzheimers, I was 13yrs old living in Suffolk and would travel with my dad to Wales and back, a 546 mile round trip. He was a family carer. So was his Dad; three generations of us. Odd really. All men. Also for my Auntie, who was alcohol dependent.
He never got support. Nor did he ask. He just got on and did what needed to be done. Not much different to us all now. I hope though, that we can open up the support and awareness though. If there was someone in Wales who could've helped, that would have taken the stress out of it. My Grandad passed away before my Nanna. The stress and exhaustion was too much. He served in the army and fought in the war, survived that. But this was too much for him and his health. Not right really is it?!
If a reader was thinking of going into caring as a career, what advice would you give them?
This kind of world, certainly for paid carers or unpaid is something driven my passion, care, kindness. Same as a nurse or doctor. It isn't a career, it's a life thing because you want to help others. One thing our telephone advisors do though, is speak to each other after tough calls and never take things home with them. Otherwise the mental and emotional baggage can be too much. Leave it at work. Get it out and speak to people. Don't ever bottle it up.
If someone suddenly finds themselves caring because a close relative is ill, or there is a bereavement, what three tips would you give them to adjust to the change?
Talk to someone, don't hold it in. We all need to release the pressure valve. I was out with my rugby mates a few weeks after my dad died of Cancer. I was in my late 20's. A few beers in and it all came flooding out. I'd held it all in. Right in the middle of the pub, it all came out. Having my mates helped cope with the change. Even to this day.
Don't try to fill the void. I don't believe you can and shouldn't. Find new things to do in life and continue with the things you enjoy. But, life is different now. It will always be different. Accept the change and work with it.
Have some 'me' time. That can be hard for those on their own or with family far away. But there is and will be someone who can help, even if it's 15 minutes a week. You need time to yourself. You can find it if you want to and it's worth the effort finding it and keeping to it.
Where can people find out about FamilyCarersNet online?
Visit us online at FamilyCarersNet.co.uk or download 'the pod' app
Anything further you'd like to add?
I really want to create a group, gathering and gaggle of men who are unpaid family carers. Can I call us a 'gaggle'? I'm going to now. If there are some Dads, Sons, Grandads, Uncles, Brothers and men out there who will be up for doing stuff that'd be great. From a video catch-up with a beer or wine, talking a load of cobblers, to cooking or when lockdown is relaxed, going for a walk out somewhere. I'd also like us to come together in our own local area to kick-off a new campaign to raise awareness and support of man carers. We need a catchy #hashtag though.