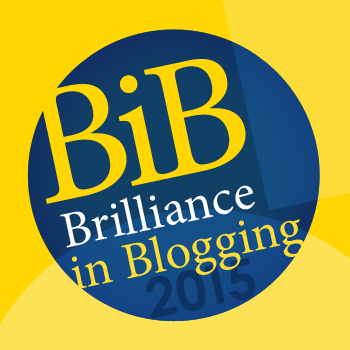 If you're a blogger, you've probably heard the news; nominations in the 2015 Brilliance in Blogging (BiBs) have opened!
For those unaware, the BiBs are organised by Britmums and celebrate the diverse world of parent and lifestyle blogging. There are 12 categories in total:
Fresh voice
Food
Inspire
Social media
Writer
Photo
Video
Travel
Style
Crafts
Family and
Outstanding
This is the point where I am going to be cheeky. I don't beleive in giving people the hard sell in these circumstances, but, If you like my blog, I would be delighted if you would consider voting for me. I'll gratefully receive votes in any of the categories but I'm particularly seeking votes in the writer and family groups.
Last year I was shortlisted in the Commentary and Campaigns category. Alas, I didn't make it through to the finals but hope this year I can maybe do a bit better.
Right, that's the cheeky bit dealt with!
You can vote by following this link. Nominations close at midnight on 12 April. Finalists will be revealed on 22 May and the winners announced at the BiBs ceremony at Britmums Live on 22 June.
I think awards like this are important. Us bloggers are a very creative bunch and we all put a lot of work into our blogs. It's great to receive some recognition for what we do.
That's my public service announcement out the way. I hope I've said enough to persuade you to vote. If you are a blogger yourself, very best of luck. I hope to see you on the shortlists.
Interested in this blog post? Well have a read of these...