Here is a landscape shot of the famous Belle Tout Lighthouse and Seven Sisters cliffs in Sussex. I took them on a recent family day out to this glorious spot.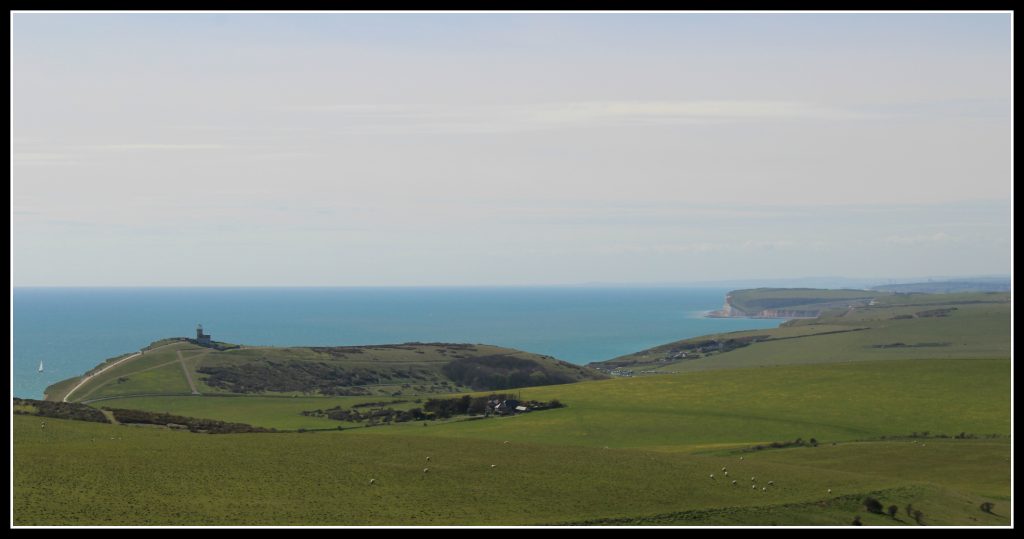 The picture was taken with Beachy Head directly behind me. Starting at the left, you have Belle Tout Lighthouse. This landmark is famous for many reasons having appeared on television numerous times and having been used for various photo shoots.
It's most famous moment arguably took place in 1999. The lighthouse was in danger of falling into the sea because of coastal erosion. In a stunning engineering feat, the entire structure was lifted up on hydraulic rams and gently moved back from the cliff edge.
To the right of the picture you have the Seven Sisters Cliffs. Seen from the beach at nearby Burling Gap (just out of sight in this picture), the cliffs look stunning. The fields and landscape in between are equally picturesque.
I can also confirm that it's a great spot for flying kites. My kids wanted to use their boomerang as well but I decided it was a bit too windy and not particularly safe. Far from returning, I suspect it would have gone over the cliff edge!
It is a beautiful spot, certainly when caught in glorious weather like this. I suspect we will return in the future.
I have linked this post to the #MySundayPhoto linky. Click on the badge to see some amazing photography from other bloggers.
What are your favourite coastal spots to visit with the family? Please leave a comment below.
Interested in this blog post? Well have a read of these...