Vuelio's inaugural Online Influence Awards has just taken place. This event will stay with me forever for two reasons. There's the obvious reason: I came home with the award for Best Dad Blog, which I shall talk about in more detail in a moment. Secondly, there was a hilarious incident in the bar that I shall call #Sporrangate when I unfortunately had to consciously uncouple my sporran from one of the other award finalists. Here's what happened.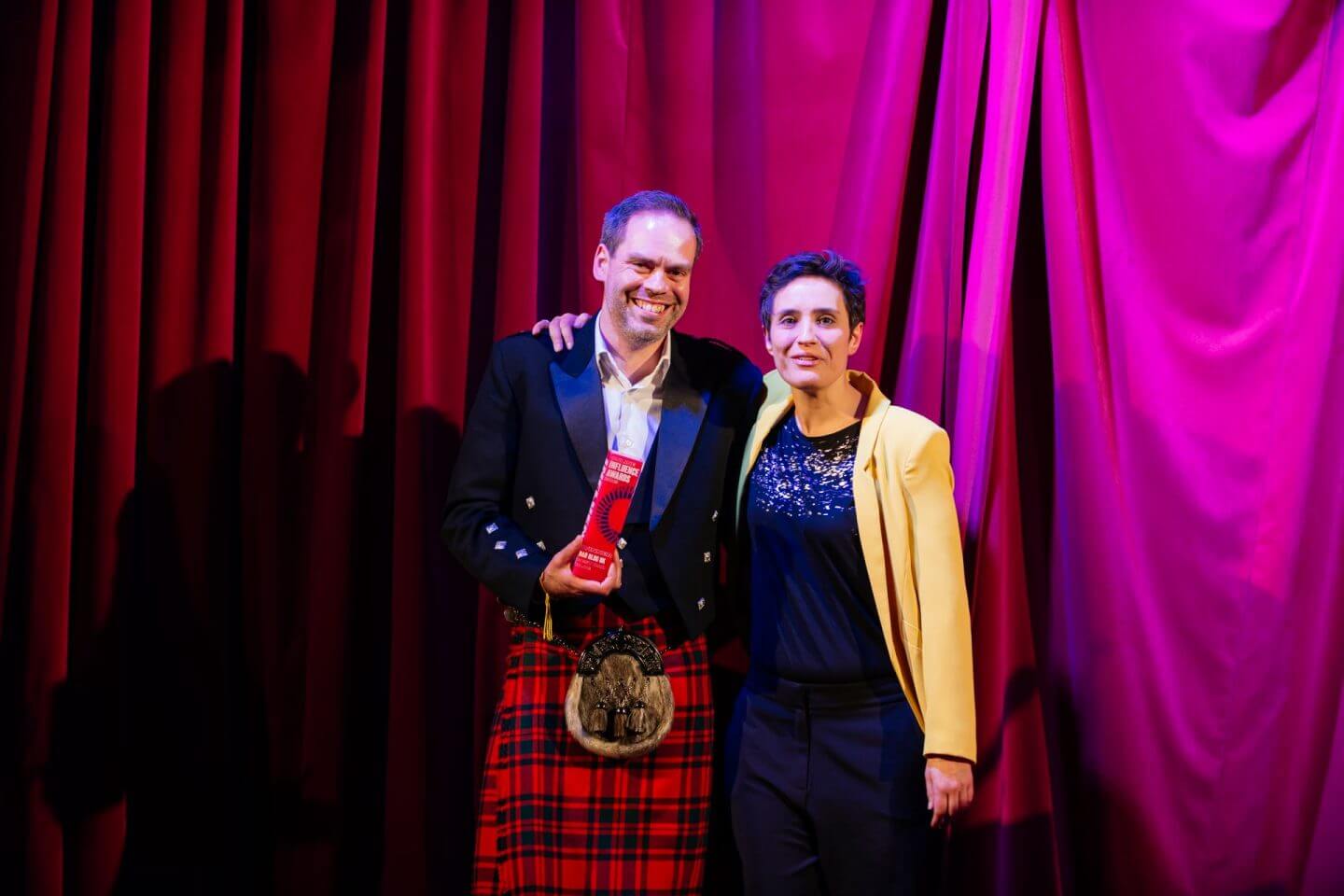 If you can picture the scene, I'm in the bar of the Bloomsbury Ballroom in London with several hundred people from the world of content creation. It's a delightful setting. The lighting is low and there isn't much space because the room is full. The atmosphere is one of excited anticipation.
I had been chatting with a group of people, among them Tim Liew who writes the Slouching Towards Thatcham blog and a fellow finalist in the dad blog category. We'd decided to have our pictures taken by one of the professional photographers in attendance. I was dressed in full Scottish attire: Kilt, sporran, Bonnie Prince Charlie jacket etc. I took a step to the left and felt a strange tugging sensation around my groin.
I looked down and instantly saw the problem. To my horror, someone's clothing was stuck to my sporran. This was a tightly packed bar. People were trying to make their way through the crowds and in the low lighting, I couldn't quite figure out who I was attached to.
It soon became apparent it was Tim. At least it was someone I knew. "Tim," I said, "Don't move, your jacket is stuck to my sporran."
He hadn't heard me. I was now getting a bit panicky because it would only take someone to try and force their way between us or for Tim to take a step in any direction for this to end in disaster. Either his jacket would get ripped or, courtesy of my sporran, I'd end up being dragged across the bar. This wasn't good. I spoke up again, this time a bit louder and thankfully, second time around, Mr Liew heard me.
I can't quite describe the expression on his face, but it was a mix of derision and utter disbelief. Whatever was going through his mind, he realised this was a sensitive situation and didn't move a millimetre while I untangled us.
Once uncoupled, we made our way over to have our picture taken and things returned to normal. For the life of me, however, I can't explain how that happened and I don't mind admitting, those were a tense few moments.
Quite what it must have looked like, me frantically fumbling around with my sporran and Tim's jacket, I dread to think. Seeing as I was in a room full of social media junkies, we're both lucky no one filmed the incident and uploaded it to Instagram or YouTube.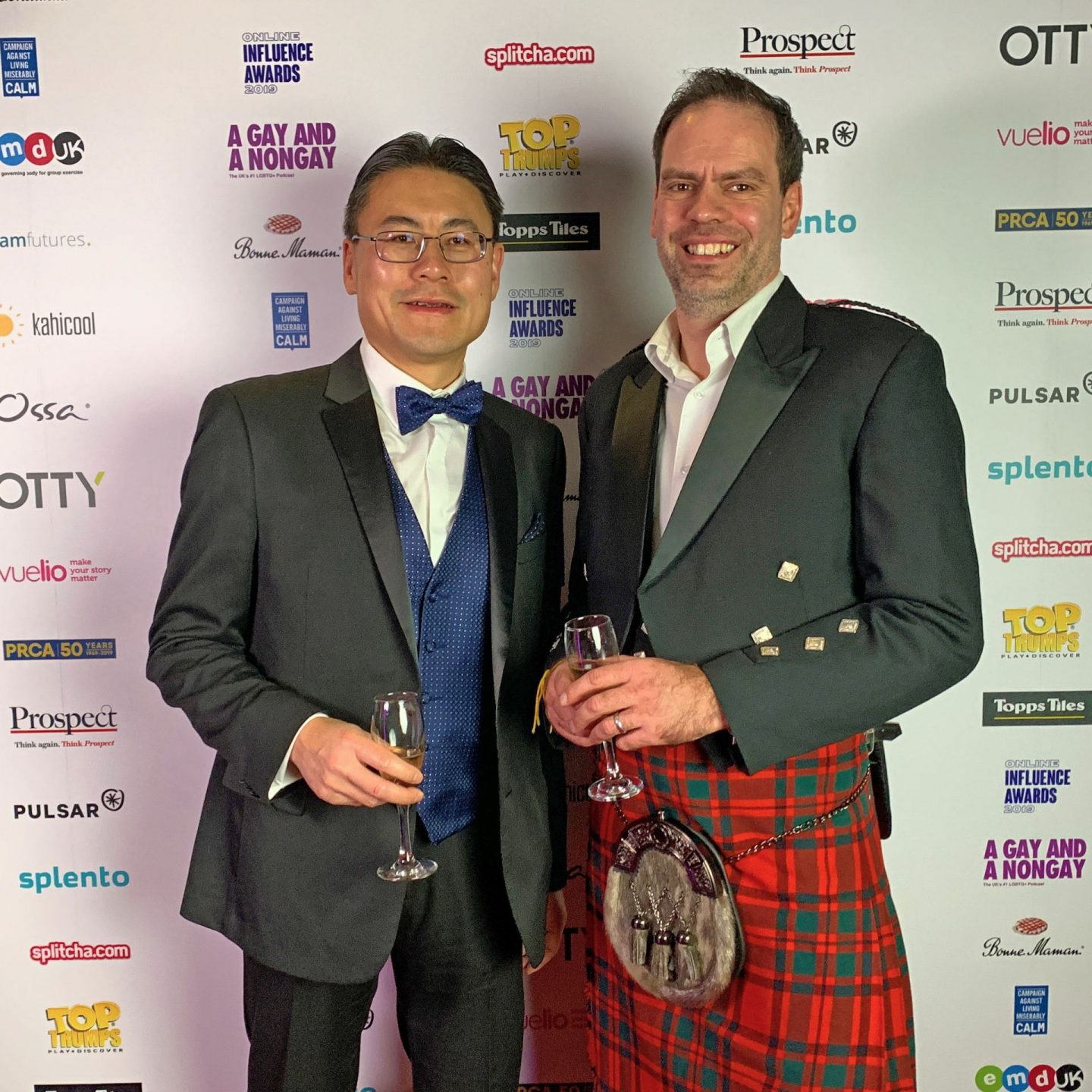 The Online Influence Awards
That was my fun story for the night and the tale I hope to tell my grandchildren. Let me get down to the serious business of saying a few words about these awards and what it means to have returned home with one of them, in addition to an intact sporran.
The Online Influence Awards supercede the Vuelio Blog Awards (Vuelio being a market-leading PR software and media monitoring company). In recognition of how the world of content creation has changed, the categories had been broadened to include, among others, Best Instagrammer, Best Podcast and Best Cause-Led Influence Campaign. Recognising the fact influencers work closely with the PR world, there was also an award for Best Content Agency and Best Influence Campaign.
Another new element was the establishment of a Hall Of Fame, which I felt was a shrewd move. Influencer marketing is often spoken about as a new phenomena but in reality, it's been round for many years. It seems only right and proper that the pioneers and innovators receive some form of acknowledgment for the long-term impact of their work.
The ceremony was held in a smaller, more intimate venue. The finalists represented the best known, most professional names in the industry. Just to have been a finalist was an award in itself.
My kids are staggered their dad has featured in an award ceremony at which Dan TDM and PewDiePie were finalists. While in different categories, I'm staggered to have been a finalist alongside massive names like Caroline Hirons, Ciara of My Fussy Eater fame and the Brexitcast team.
The judging panel was also amazing. I was more than a little terrified knowing representatives from creative and PR agencies such as Ogilvy, FleishmanHillard Fishburn and Taylor Herring had been pouring over my blog in addition to the guys from Vuelio.
To quote Vuelio Chief Executice Joanna Arnold, the award's guests "Are setting new standards of quality in our industry."
The feeling I got from speaking to others was this means more than producing good content. It also means having strong ethics and adhering to the various regulations content creators must follow, from GDPR and Advertising Standards Authority guidance and everything in-between.
To be quite frank, this simply recognises how the online world has changed since I started blogging back in 2012. Marketing spend has increased hugely in this sector and you have to be honest, authentic, creative and innovative. The influencer world is much more highly regulated than it used to be and if you're going to be taken seriously, you must operate within that framework.
Thank you for YOUR support
I want to congratulate all winners and finalists. A full list can be found here and each one is extraordinarily talented.
To have come home with Best Dad Blog award feels like a massive achievement and is amazing recognition for all the hours I put into my blog and social channels. I have to thank you, my readers and followers, for all your support. The fact people read, comment and follow what I do (even when they disagree with me) means a huge amount.
I have to thank the other bloggers in my category. Each one of them is known to me IRL, as the cool kids say. Do go and take a look at their blogs. They are all lovely guys who produce very different content.
Tim Liew of #Sporrangate fame has three kids, one of whom has just started secondary school and you can read about Tim's adventures as a dad here. Vuelio Blog Awards winner Dave Hornby is a stay at home dad with two kids and writes The Dadventurer. Nigel Higgins, meanwhile, has five kids ranging from seven years of age to daughters in their twenties so there isn't much he hasn't dealt with as a father. You'll find him at DIY Daddy Blog.
Huge thanks to Mrs Adams, Helen and Izzy. I've also got to say a massive thanks to my agents Leigh at The Artists Partnership and Kaye at Andromeda (want to work with an award-winning parenting and fatherhood blogger? You'll find Leigh and Kaye's details on this page). Massive thanks also to Vuelio for organising such a great event.
Just a casual observation, but a common complaint from the dad blogging world is that we're under-represented at many award events. Not so at the 2019 Online Influence Awards. Not only did we have our own category, but it was awesome to see Dads Delicious Dinners feature in the Newcomer Category (which went to the super-lovely Kelly and Zoey of My Transitional Life) and Jamie and Tom of Daddy and Dad in the best LGBT+ category (that award going to the equally awesome LesBeMums).
One further observation. If there's one thing Vuelio did right it was select a diverse bunch of finalists. Among the content creators and influencers I've mentioned in this blog post are: A single dad, two stay at home dads (one of them being me), a lesbian couple, a same sex male couple, a trans couple, a dad blogger of Asian descent and a white, working dad and a white, working mum. That, remember, is just a small selection of the award finalists.
And relax. . .
The evening was huge fun. The awards were a great opportunity to meet with old friends and make new acquaintances.
The mum bloggers were represented by Cerys of the Rainy Day Mum blog. That award went to Mum in the Madhouse but Cerys did a great job of representing the other mums who couldn't attend.
I also had the great pleasure to meet the super-inspiring Gina Martin. Gina launched a successful campaign to make upskirting illegal in England and Wales after she caught someone taking photographs up her skirt at a music festival (I really can't compute such behaviour). It took a major effort for the legislation to be passed, not to mention two attempts to get it through the House of Commons. Gina and the Ministry of Justice deservedly won the Best Cause-Led Influence campaign award.
Why was I wearing a kilt?
Of course, you're possibly wondering why I was wearing a kilt. It's true, I'm considerably more Cotswolds than Scottish. Nonetheless, with a Scottish wife and Scottish heritage, I own not one but two kilts and all the accessories.
Knowing that room was going to be full of exceedingly stylish, well-dressed people, I thought a kilt was the only way to go. Like a fool, however, I didn't wear a kilt belt and so I spent the entire evening having to adjust it and stop it falling down (when I wasn't detaching myself form Tim Liew, that is).
Despite difficulties with keeping the kilt in place, the decision to wear the kilt was definitely the correct one. As I was leaving, I swapped a few words with influencer powerhouse and Hall of Fame inductee Victoria Magrath of In The Frow.
Victoria very kindly said it was the "Outfit of the evening." Coming from Victoria, it was almost like winning a second award!
Interested in this blog post? Well have a read of these...