I have a little news. I've returned home from the Surrey Digital Awards 2018 with an award!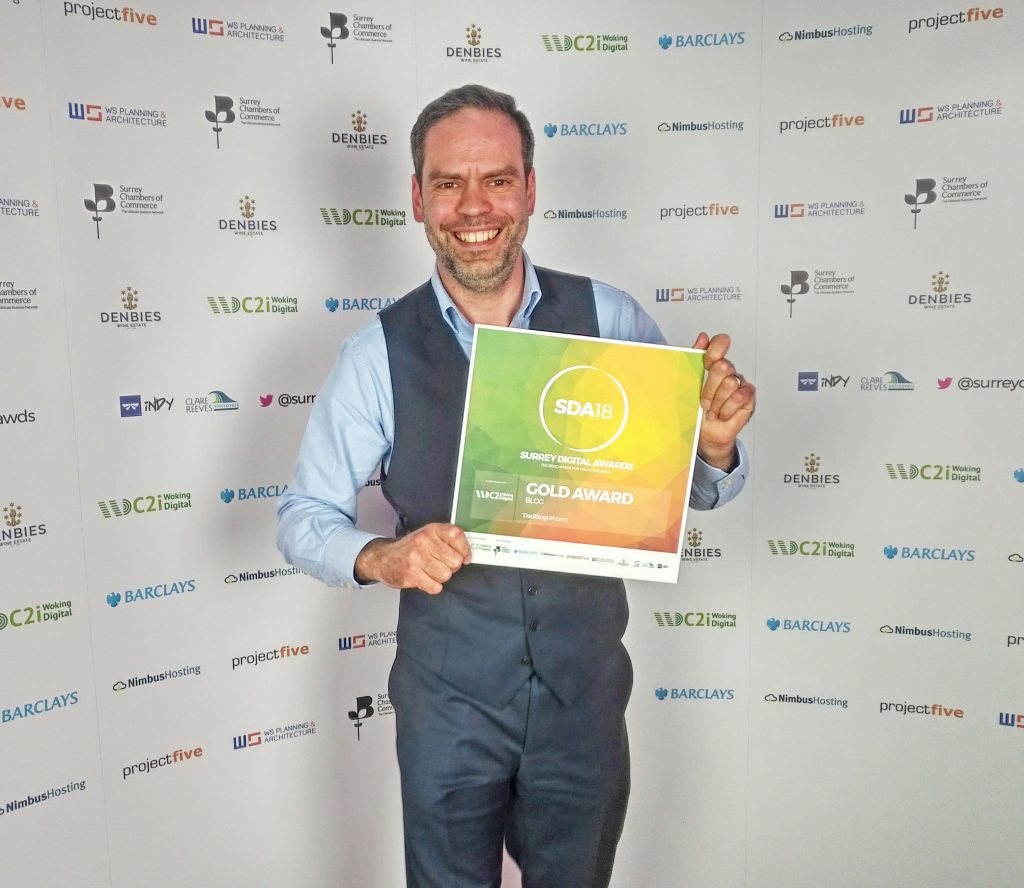 I am delighted to reveal Dadbloguk.com received the Gold award in the Blog category. This came as a very pleasant surprise, more like a shock to be honest, as I won the same award at the Surrey Digital Awards in 2017. I didn't think for one moment I'd achieve this two years in a row.
It's amazing recognition for the work I put into my blog, YouTube channel and other social media platforms I am active on. The award states it is "The benchmark for online business".
This is something that I really like about the Digital Awards. This year there were 12 categories ranging from Best Use of Video for Business and Best use of Social Media for Business through to Best Blog. All awards are judged on business potential and growth in addition to quality of output and, in my category, quality of content.
I had to talk about all of this in relation to my blog when I went on stage to collect my award, Don't, however, ask me what I said because it was all a bit of a blur!
Numerous people support my blogging activities. I have to say a massive thanks to my readers, family, friends and all the tech specialists and people who provide me with admin support. I couldn't do it without you. Thanks also to the award organisers for putting on another splendid event.
I must also say a massive well done to all finalists and award winners. It takes a lot of effort simply to get on to award shortlists so that is an achievement in itself.
This year there were seven blogs in my category, which was sponsored by Woking Digital. You'll find a full list of finalists here.
Taking the Bronze Blog award was the very popular Experthometips blog. This is a lifestyle blog providing suggestions for saving money, crafting, recipes and so on. I do recommend taking a look as you'll learn all sorts of new ways to run your household and keep your domestic life under control.
The Silver Blog award went to a very interesting blog called Rejuvage. I hadn't heard of this blog until the finalists were announced and I saw it on the list, but Rejuvage has a very interesting selling point.
It is a lifestyle blog for 'midsters', people in their 50s and beyond. In a digital world that is sometimes obsessed with portraying the lives of individuals in their twenties, it was great to say a blog serving this market get some recognition.
The awards were held last night (March 15, 2018) at the HG Wells Conference and Events Centre in Woking. It was a great night and it was wonderful to mix with and meet so many other people active in the digital world.
Nonetheless, I do have a shock confession to make. I very nearly didn't make it to the awards ceremony.
I've been under the weather all week and have a dreadful cough, among other symptoms. Having spent the afternoon rushing round doing the school run, taking my daughters to their gymnastics class and so on, I was absolutely drained come the evening. It was very tempted to go to bed and keep an eye on events from my twitter timeline.
I'm glad I found a second wind and went along. When Izzy, my youngest daughter saw the photo above she said it was "very big smile" on my face. She's right, it shows it was definitely worthwhile making the effort to attend in person. Oddly, I feel a little bit better today as well!
Interested in this blog post? Well have a read of these...