Last night I found myself in Woking. It's a town I've been to a few times, but never explored in any great detail.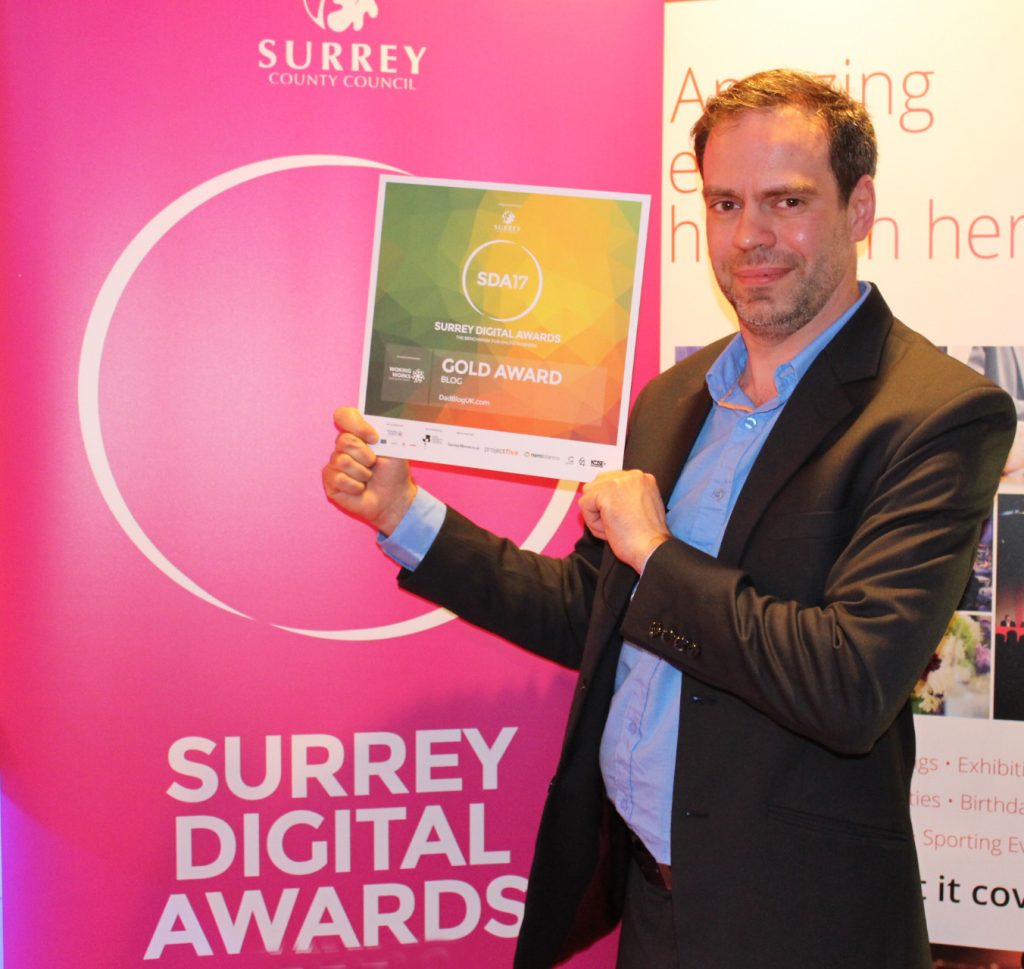 The occasion? I was attending the Surrey Digital Awards as I was a finalist in the Blog category.
I didn't think I stood much of a chance of winning. I've always blogged from a UK and international perspective and thought a well-known Surrey-focused business would win.
Prior to the award ceremony, my good friend Andy, who accompanied me for the evening, and I busied ourselves checking out several H.G. Wells-themed sculptures which can be found on Woking's streets. Wells lived in Woking and apparently wrote his classic tale War of the Worlds while resident in the town.
Catching up with an old friend, checking out some sci-fi themed sculptures and making it to the finals made for a great evening. Little did I realise things were going to get much better.
It seems Andy and I were sat on a very lucky table. Somehow, our table won the ice-breaking quiz that everyone was encouraged to participate in shortly after arriving. We were all called up on stage to receive bottles of wine for our efforts. This was before the formal ceremony, which was held at the H.G. Wells Conference Centre, got underway (As you can see, Wells gets everywhere in this part of Surrey).
When it did get underway, one of the first awards went to Catherine Beck of interior design specialist Deco Baby, who was sat immediately to my left. Catherine took the Silver award in the Online Retailer category.
The Blog category came very soon after. The Bronze award went to Expert Home Tips and Silver to the travel blog Enjoy The Adventure. Considering the quality of the other finalists, I thought I was done for at this point. I really didn't think I would go home with the Gold award.
Sure enough, Dadbloguk's name was read out and I was invited on stage to receive my award from a representative of Woking Works, the category's sponsor. I left Andy in charge of my video camera and he caught it all on film. Click on play below to see what happened.
Cliché it may be, but no blog is an island. I must thank Mrs Adams and my daughters Helen and Izzy. Without their support I simply couldn't write this blog and there would have been no award.
I also have to thank you, my readers. Your support makes it all worthwhile and winning an award like this is wonderful recognition for all the hours I put into Dadbloguk.
I must also add this was a very interesting award ceremony to attend because it wasn't focused on blogs and blogging. The Surrey Digital Awards take in every aspect of the digital world from websites, apps, online retailers and so on. It was a noticeably different crowd from a blog award ceremony
Last night I was driving so I couldn't really celebrate. This weekend, however, I may allow myself a glass or two of something special.
Well done to all the other entrants, finalists and winners. I hope you had a great evening and may our paths may cross again soon.
Interested in this blog post? Well have a read of these...