My interview with Cerrie Burnell took place in circumstances that were a little challenging. Cerrie is known as a champion of diversity and she had an amazing new book to tell me about called The Ice Bear Miracle. On the day we spoke, however, I had both my children at home from school, one with a flu bug and the other with a vomiting bug.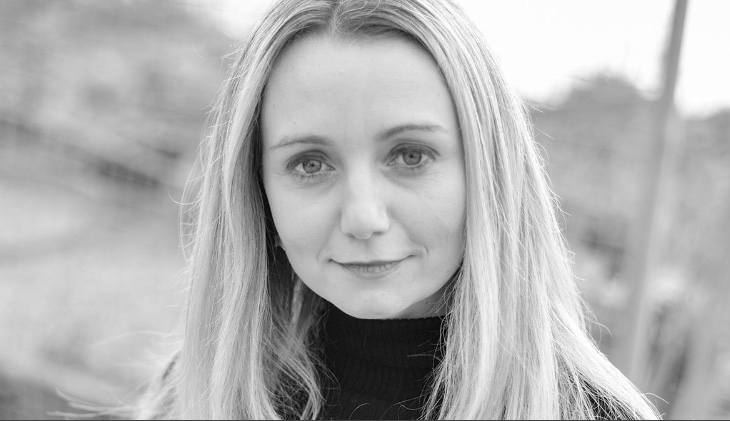 As a result, I hadn't been able to do all the research I wanted on Cerrie's career. I explained the chaos that was going on around me and apologised to Cerrie for not being as prepared as I'd have liked.
A solo parent to a tweenage daughter, she's clearly dealt with similar situations. She brushed off any concerns I had making me feel at ease.
"We're all just doing our best," she kindly said.
The Ice Bear Miracle and other work
Cerrie Burnell is well known as a television presenter, she's also a very well-established children's author and is presently Writer in Residence for children's literacy charity the Book Trust.
Aimed at nine to twelve-year-olds, The Ice Bear Miracle is different to her previous titles such as Snowflakes or Harper and the Sea of Secrets. It doesn't feature the character of Harper, who is in many of her other books. It is set in the magical Isle of Bears and was inspired, in part, by Cerrie and her daughter's love of ice skating.
While keen to learn more about the book, I also wanted to speak to Cerrie about the issue of diversity. Cerrie, who Is missing part of her right arm, worked as a Cbeebies presenter between 2009 and 2017.
It was a pioneering role and created a lot of discussion about the lack of disabled individuals on the small screen. It says a great deal that she was listed in the Observer's Top 10 children's TV presenters in 2011. The role also gave Cerrie a platform to discuss diversity and it was fascinating to hear what she had to say, but I'll let you read about it for yourself.
I'll start with the obvious question. In your own words, can you please tell me about The Ice Bear Miracle?
"It's a story about friendship and belonging and finding your place, or creating your own place if there's not a community for you. It features a five-year-old boy called Marv who is really into ice hockey.
"He lives on a fictional island off the Canadian coast called The Isle of Bears. There is a polar bear migration that passes through every winter.
"It's fictional, but it's loosely based on a real place in Canada called Churchill. There are lots of different stories about this place. People who've been there, they've encountered bears. They've opened their curtains to find there's a polar bear outside!"
Cerrie explains she read about Churchill in the Guardian newspaper. In one article she read, two people were attacked by the same bear but chose to remain living in the town.
Cerrie stresses that "none of this is in the book," but the details are very relevant. She goes on to tell me a great deal about the story. So as not to ruin it for potential readers, I'll give a brief overview.
Nobody on the Isle of Bears locks their doors in case they have to escape from a bear. One night, Marv hears a baby crying so slips out his unlocked house to investigate. He finds the baby, but is confronted by a bear cub and its mother.
He is attacked by the bear, but is rescued by members of the local community. Marv, who was wearing his ice hockey helmet during the attack, was left with a scarred cheek. Following his rescue, he asks after the baby, but mysteriously, nobody knows anything about it.
It transpires the baby did exist. The baby and bear cub grow up together as part of an ice-skating act that performs in a carnival. When Marv is in his early teens, all three of them meet up again.
"The rest of the book is for you to read and enjoy!" Cerrie surmises.
I was going to ask what the inspiration was for the Isle of Bears but it was Churchill wasn't it?
Cerrie again mentions the bear attack in Churchill she read about, but there was a further, major influence on her writing: Ice skating.
"My daughter and I were ice skating and we started having classes and just really fell in love with it. She now does ice hockey as well and we started going to ice hockey games.
"We just became spellbound by the world of ice and the ice rink. They are whole communities in themselves. Ice skating is a sport, but its also enjoyable for everyone. You can be any size, any age, any gender, of any background, you know, you don't have to have any skills as such.
"Literally anyone can do it. You just have to be brave enough to get on there that first time.
"It really is massively inclusive. There is wheelchair skating, there are inclusive ice hockey clubs and I know a couple who didn't take it up until they were in the seventies and they're now competing.
"It's such a welcoming environment. In those countries that have ice eight months of the year, you know different places in Canada, Iceland, Norway and Sweden, there is such a huge culture of skating and that becomes a part of your childhood but also part of your determination and the way you measure everything. It's intrinsically joyful."
While researching The Ice Bear Miracle, Cerrie visited Canada. She was amazed to see people ice skating with pushchairs and this skating culture had a big impact.
"They skate before they walk, almost. It's just magical to me and I wanted you to include all those things in the book."
I had assumed there was an environmental aspect to the story, but it sounds more like it's an exploration sort of relationships and community?
"It's about relationships, friendship and Community. I didn't really set out to write a book specifically about the environment. But, of course, if you're writing for children, that has to feed into it."
There's nothing of Harper or the other established characters in the Ice Bear Miracle?
"No, it's a completely different style of writing, really different, and a different publisher. It's a standalone title so it won't be a series or anything.
"There is a hint magic in it, but it's far-more magical realism. Apart from little sketches, it's not an illustrated book because of the age range.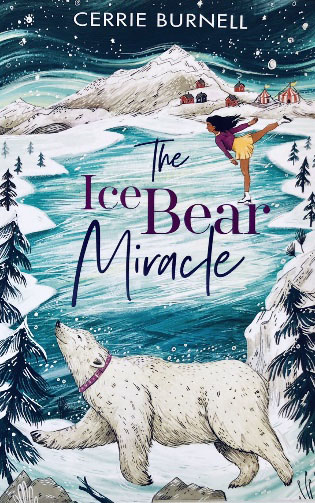 I didn't appreciate quite how many children's books you've written. What number are you up to now?
Amusingly, Cerrie isn't entirely sure.
"I think it's 10. I wish I could say but I've no idea!"
After a little further discussion, she settles on the figure of 10.
The Ice Bear Miracle is aimed at an older audience compared to Cerrie's previous titles. I wonder if she's writing for older children as her own daughter grows up.
Do you find that you're compelled to write books that would appeal to children your daughter's age as she grows up, or is that not really a conscious decision?
"That must feed into it somewhere. It's more about finding the right format for that idea.
"The Ice Bear Miracle has some quite complicated themes. They're not going to be as suitable for a younger child."
Of all the titles you've written, are there any you're you're particularly fond of or that stand out for you?
"I think probably the first one."
That would be Snowflakes, which was published in 2013. It tells the story of a mixed-race girl who leaves the city to live with her grandmother in a more rural setting.
This leads to a brief discussion between the two of us about whether it's easier to write about a subject you know or write about a subject you know nothing about. I'm not sure we decided which was easier so I asked about Cerrie's TV work!
You're well known for your TV work. Any new projects that are in the pipeline?
"You'll see me on Great British Menu."
The long-running series sees chefs from across the UK battle it out to create the best menu of food. Judges Andi Oliver, Oliver Penton and Matthew Fort all have a background in the food industry and they are joined each week by a guest judge and this is what Cerrie is doing.
It turns out the theme for this series suits Cerrie perfectly.
"This year's theme was literature," she said. "We've done the judging already, so it's just the final episode."
Having asked about Cerries' TV work, I was keen to ask about diversity in the media. Cerrie is well known for working as a Cbeebies presenter, a high-profile role that got her both positive and negative attention.
Do you think there is a need to improve diversity in the media. In particular I am thinking of representation of people with disabilities?
"We've turned a page."
Is there a long way to go?
"Yeah, you know particularly with the current government we've got at the moment. I think our perception of disability is still really, really limited. A lot of disabilities are hidden, such as mental health.
"It seems to be all about what you can and can't accomplish. Nothing's ever that black and white."
Cerrie goes on to tell a story about a recent visit she made to the V&A museum in London with her daughter and a friend. She used an 'accessible entrance' to get into the museum but was stopped by a staff member who seemed to think Cerrie was 'too' able bodied.
"The guy said to me 'No you can't come in here because it's an accessible entrance.' I asked, 'Is it a disabled entrance?'
"He said 'yes' and I said 'well, I'm a disabled woman so I think I can come in here.' And he said 'you are very naughty.'
It sounded like a totally bizarre exchange. Cerrie went on:
"You don't get to decide what my disability is or how it affects me. If this is a disabled entrance and I'm a disabled person. I'm coming in the door. That man's man response 'though, well, he's expecting someone in a wheelchair.
"We just lump disability into one thing. No one should get to call the shots on it apart from the disabled person. We're not at that point yet. People still needed me to be educated."
Cerrie is known for speaking out on the issue of diversity and she is clearly passionate about it. She expands on the idea of educating people by saying more diversity is needed on television. This approach, she said, would be a great way of promoting diversity and educating people and it brings me nicely on to a point I wanted to raise.
When I watch children's TV with my children, there are often disabled characters and they think nothing of it. When I was their age (primary school), you just didn't see any disabled characters at all.
Cerrie agrees, but only up to a point. The way disabled people are represented is often unrealistic.
"It's always the worst possible thing that can happen."
She mentions a storyline involving Harold Bishop from the soap opera Neighbours having a heart attack and rapidly recovering. It's a criticism I have heard before of the way issues are dealt with on the small screen. Something awful happens in one episode and by episode three, it's dealt with and everyone is happy.
Cerrie goes further still. She says the he disabled community is one of many that requires better representation.
"We still we still haven't got to the point where we have gender-based equality," Cerrie said.
She takes me completely by surprise by highlighting the TV mini-series Big Little Lies. You're probably familiar with it, but in case you aren't, Big Little Lies has an amazing cast including Nicole Kidman and Reese Witherspoon. It's based on the book of the same name written by Liane Moriaty.
It follows the story of five women living in a coastal town in the US and how they get caught up in a murder investigation. Along the way it explores various issues the characters face such as domestic violence and abusive relationships, living in blended families, troubled teenagers, adultery and so on. It's very relatable as most people have dealt with these issues in some capacity.
It is compelling viewing and Mrs Adams and I are big fans. What I hadn't appreciated until I spoke to Cerrie is that the series almost never happened.
"To get Big Little Lies made, Kidman and Witherspoon had to buy the rights. The studios didn't think people would be interested in watching a story where all the protagonists were women.
"You just think 'are we still at that point, you know, of people just having to fight to get stories made for a general audience?'. It's not something like Sex and the City which was aimed at women, this was aimed at parents. It just happened that the protagonists were women."
"It's ridiculous that Witherspoon and Kidman needed to set it up in that way. She's doing the book industry a great service, all of all of us really, in the process. If you talked to an actor or a writer who is non-white, they would say that representation isn't enough.
"I want to change the story and that means changing the storyteller. We need more people of diverse backgrounds in power, writing and producing and telling those stories. Yes, my interest falls under the umbrella of disability."
More information about The Ice Bear Miracle
It was at this point in our telephone conversation the inevitable happened. I was joined by one of my daughters who needed my attention. I had to wrap things up, but not before Cerrie recommended a TV documentary called Life in Polar Bear Town about Churchill and how people in the area live with bears. Although we haven't yet watched it, I have tracked it down and we have set aside time to watch it this coming weekend.
The Ice Bear Miracle by Cerrie Burnell is now on general release so available from all good book retailers. It's published by Oxford University Press and at the time of writing had a cover price of £6.99 (Cerrie Burnell is represented by Andromeda Talent).
Interested in this blog post? Well have a read of these...