What a week it has been! I think this photograph makes a great metaphor for the past few days: The calm moments represented by the sunflowers and the sky representing the dramatic moments, of which there have been one or two.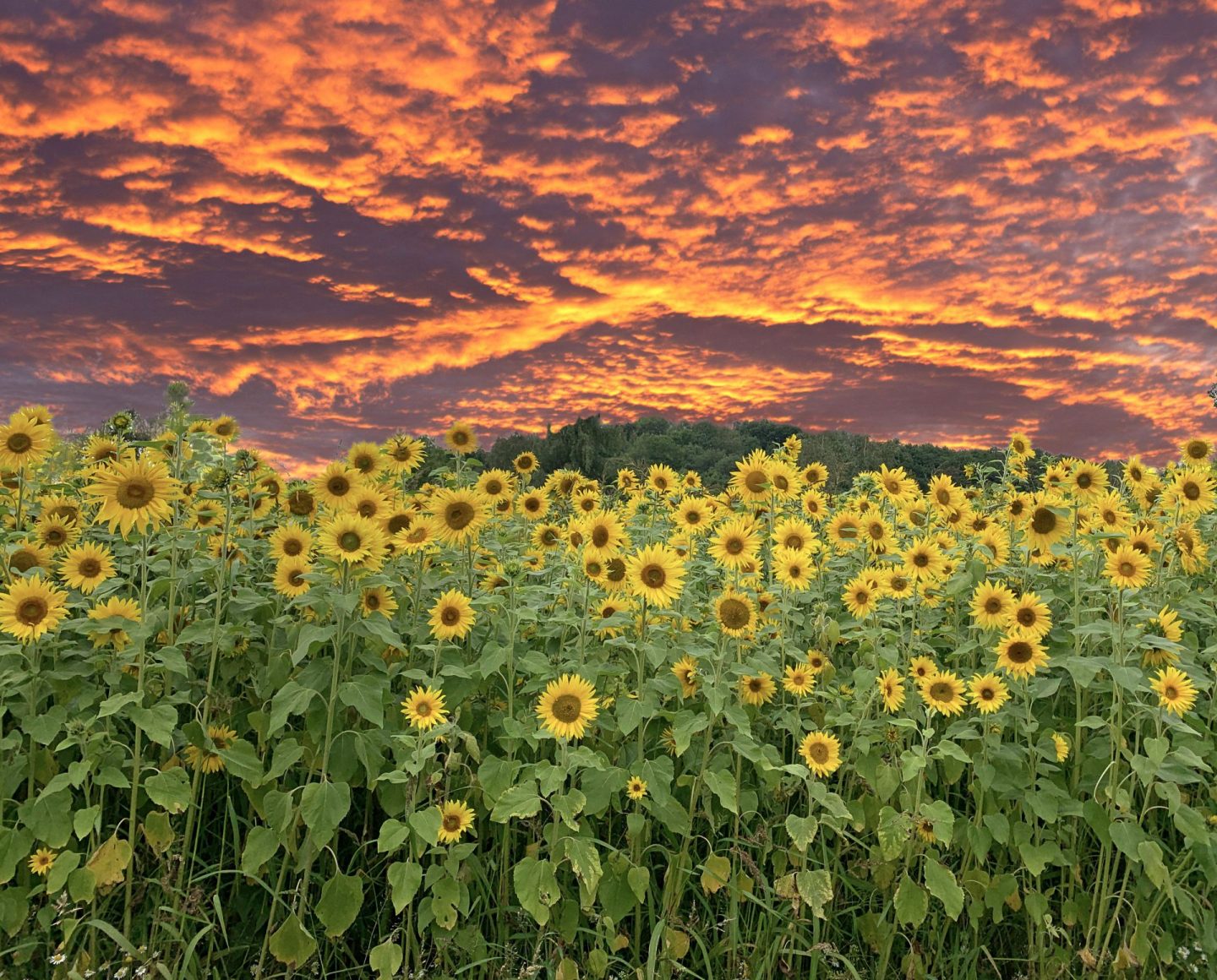 You want to know about the drama don't you? Well both Helen and Izzy had their first full week back at school. Izzy has taken the return to school and socially distancing measures in her stride. Helen is also doing a great job of adjusting to life at secondary school and all that involves during The 'Rona Era.
In a sign of the times we live in, however, Helen was sent home on Wednesday because she had a sore throat. It turned out to be a false alarm, but I did my best to get her a COVID-19 test to be on the safe side.
Oh my word, have you attempted to get a COVID-19 test? You've no doubt seen the news headlines this week about the testing system being unable to cope? I was briefly immersed in that world and I did not enjoy it.
Remember that "computer says no" Little Britain sketch? I called the helpline. No, couldn't help because the helpline relies on the online system to book a test and the online system had crashed.
I made repeated attempts to book a test online. On the odd moments when the website was actually working, I was told, time and again, that no home, drive-through or walk-in tests were available.
I think there's going to be a huge amount of this. Kids haven't mingled in such large numbers for months so run-of-the mill bugs giving you a headache or sore throat, maybe a mild flu or cold, are going to run rampant. School staff, quite rightly, will be hyper-cautious and kids will be sent home (again, quite rightly) but the testing capabilities don't seem to be in place to cope with what is a highly predictable situation.
Enough of the drama. What of the calm moments? On Monday and Tuesday of this week, I gave myself a treat.
I took myself off to a nearby lake and undertook a British Canoeing Paddle Explorer course. With the high season having ended, it was just the instructor and I on a massive lake in water that was surprisingly warm.
After what has been a very demanding six months, I just wanted to do something totally different. it may sound like a cliche, but having been living with the impact of COVID-19 for some time now, it was great to get out on calm waters (although I may write something about this in more detail in a week or so).
Oh, and as for the photograph, I took it when we visited a 'sunflower jungle' last weekend. It should have been a sunflower maze, but to reduce the risk of people bumping in to each other, a one-way path was cut into it that you simply had to follow.
if you haven't figured it out, it's actually two different images that have been merged. The gun-metal sky in the original was just too boring so I added the red sky. It's not a perfect edit. It's a skill I need to improve but I quite like how this one turned out.
As I often do with my photographic posts, I have added this article to the #MySundayPhoto blog link-up hosted by the Darren Coleshill photography blog. Follow this link and show your support for other bloggers.
Interested in this blog post? Well have a read of these...