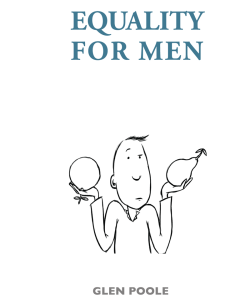 It's International Men's Day and the theme this year is keeping men and boys safe. To coincide with this event, men's rights campaigner Glen Poole has published an ebook called Equality for Men.
I've had the good fortune to meet Poole. Far from being some firebrand men's rights campaigner of the superhero-costumed variety, he's softly spoken with moderate, well-argued views and he knows this subject incredibly well.
You may be asking if there is a need for a men's equality movement. This is a question Poole answers in his book very succinctly. He highlights the following issues that affect men:
Have a shorter life expectancy
Worse educational outcomes
Greater chance of being excluded from school
Greater chance of being a victim of crime
Greater risk of being a victim of violence
Greater risk of being homeless, have an addiction problem or imprisoned
Greater risk of being unemployed
Greater risk of dying at work
Greater risk of suicide
Unequal parental rights.
Poole covers a huge amount in this book and doesn't dodge controversial subjects. He tackles head-on the issue of domestic violence committed against men by female partners and female-on-male sexual abuse (both more prevalent than you might imagine). The book also puts forward a compelling argument that society is simply more tolerant of violence against men and that men are frequently seen as being problems whereas women are seen as having problems.
Poole also looks at the positive impact having an involved father can have on a child's life. The chapter about male prisoners and the effect on rates of re-offending when the prisoner stays in touch with their children was particularly enlightening.
From the outset Poole stresses that he isn't interested in placing men's rights above women's rights. He argues for greater equality for both genders but states that men's equality is often overlooked and that a more equal world for men would benefit everyone.
I could go on and on and on about Equality for Men but I'd be in danger of giving too much away! This is a very accessible book written in very plain language and I read most of it in one evening.
It's a great introduction to the issues facing men and I'd recommend it to anyone interested in equalities issues. If you aren't interested in equality issues then reading it should be mandatory.
To download a copy or to find out more go to: http://equality4men.com/book/
Oh, and one final thing. May I wish you all, male and female alike, all the very best for International Men's Day.
Interested in this blog post? Well have a read of these...