Professor Elemental is many things. He is an award winning hip-hop artist, steampunk legend, host and also a dad. Just in time for Father's Day 2021, this pith-helmeted dad of two has released an album called The Good Dad club which was inspired by his experiences of fatherhood and middle-aged life.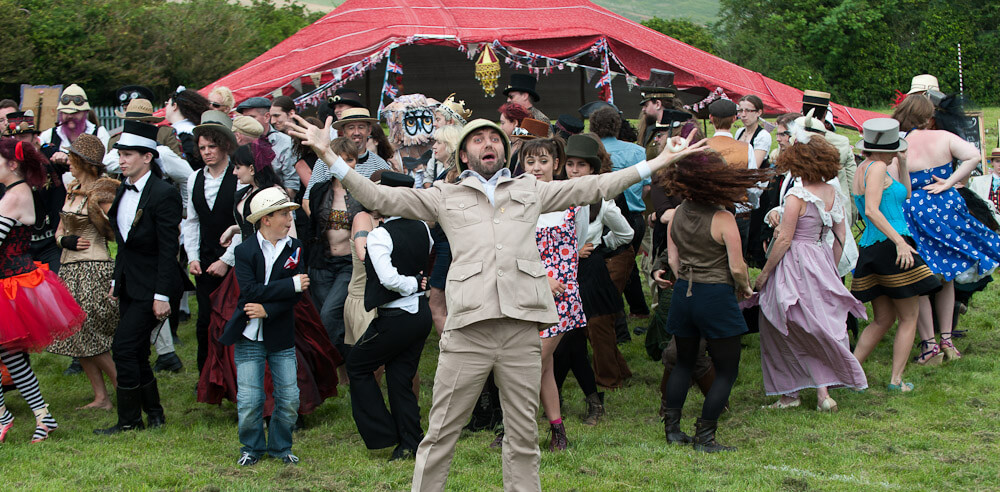 The Professor is living proof you can change careers later in life and make a success of it. He didn't start rapping until a decade ago when he put together a song called Cup of Brown Joy. It took off and Professor Elemental has made appearances everywhere from Cambodia to the Netherlands and he has lent his voice to Disney cartoons and written books and other merchandise.
The Good Dad Club, however, explores issues related to fatherhood and masculinity, as well as the joys of being middle aged. In this interview, the Professor tells me all about it.
Professor, welcome to Dadbloguk! As this blog is all about family and parenting, can you outline how many children you have and their ages?
I live in sunny Brighton with my partner and two lovely girls aged 9 and 12. Not that they admit to living with me when I am wearing a pith helmet and shouting on stage about trousers.
You have a new album out called The Good Dad Club, another collaboration with Mr Frisbee. Most of the 12 songs is based on a dad experience. Can you give readers a flavour of what to expect?
There's a great quote from Gary Shandling where he says that: 'The more personal comedy is, the more universal it is'. We wanted to take our own experiences of life in the middle ages, particularly fatherhood and celebrate/commiserate with our fellow dads. When you're a middle aged man, no one gives you a round of applause or says 'hey well done for keeping this whole thing going'. This album is your round of applause.
Plus, we are two Hip Hop devotees in our mid-forties, so we know how to make that glorious golden age sounding rap music that evokes happy memories of the Beastie Boys, Native Tongues and London Posse.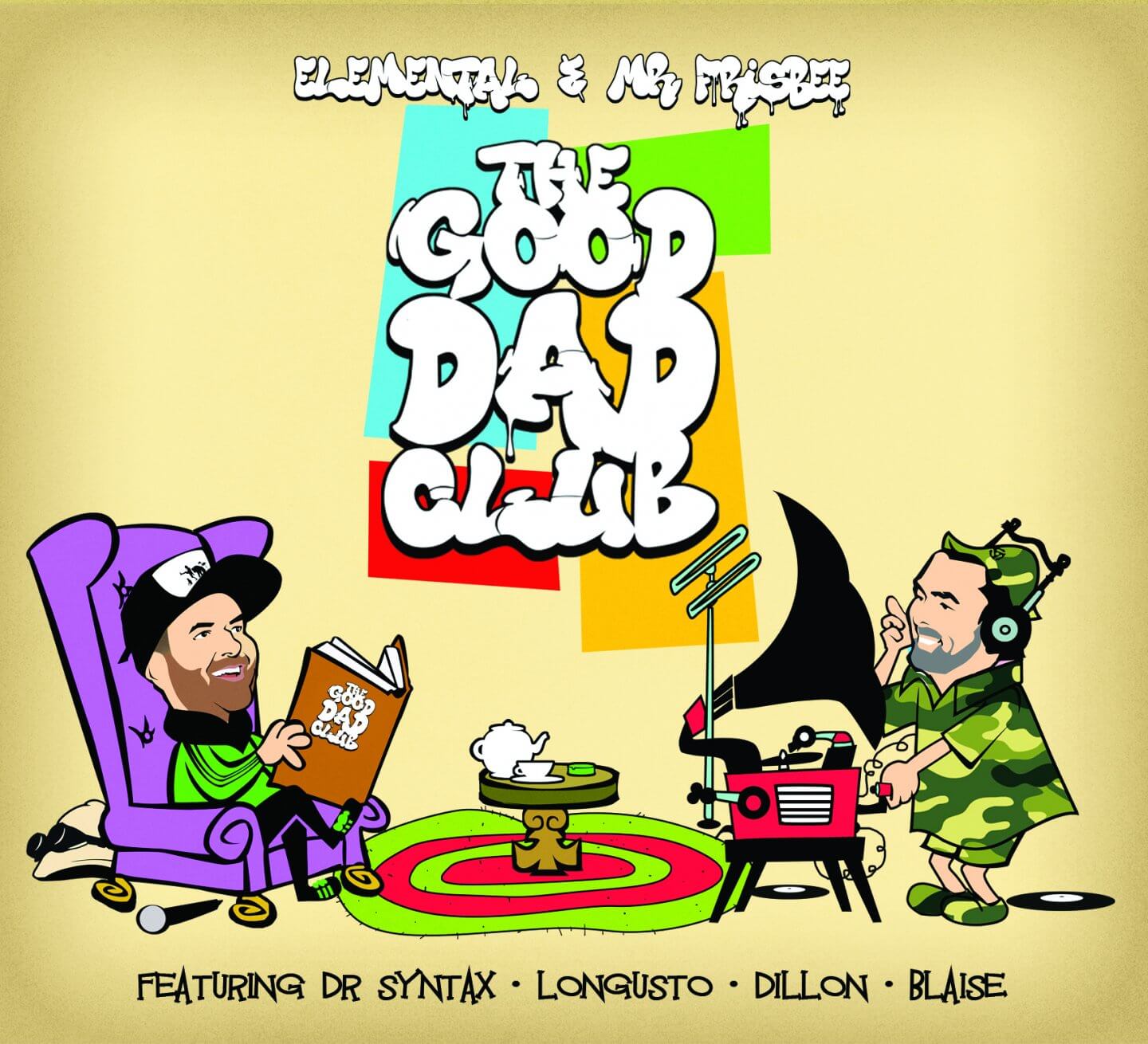 You've released the one song in time for Father's Day, The Golden Age of Dad. While humorous, it's actually quite deep and a comment on how masculinity and fatherhood has changed. Care to say a few words about it?
In the 70s and 80s, there's no doubt that the man was at the head of the traditional family. This was very much the case in our household; dad ran a business, mum did the housework and the roles were set. For most father's today, this couldn't be further from their experience- we try and take the kids for equal amounts of time, do our share of the housework and keep our careers going at the same time.
But while a life of being in charge and heading down the pub for a pint while the wives cooked the roast dinner can sound enviable for a bloke in today's world, I think there was a lot of pressure on fathers in those days too. Being a sole bread winner, keeping your feelings to yourself, not to mention the incredible imbalance on your partner. A lot of men in previous generations worked non-stop and missed their kids growing up.
In many ways, its more complex and tricky being a dad today, but the rewards are greater too. I've had so much more involvement in my kid's childhoods and I wouldn't trade that for anything.
On the subject of dad experiences, what is the strangest dad experience you have had?
Keen to get my kids involved in a life on stage, I was hosting a faery festival in the Netherlands and took the family along. For the headline act they had a band of pirates on stage and convinced the kids to introduce them in front of thousands of people. They were only seven and five, so were understandably terrified. As we took to the stage, both they and I forgot the name of the band, and I panicked and left them on stage alone for five minutes while I dashed back to get the band's name. We did it in the end, but those few moments on stage did not do them a lot of good! They haven't been back on since. It took a lot of sweets to get over the trauma.
Maybe not the strangest experience per se, but one of those endless attempts at being a good dad and then it backfiring horribly into something they'll probably be telling a therapist about one day.
Do your kids think it's cool their father is a pith-helmeted rapper, or are you an embarrassment to them?
Yes. There is a grudging respect when their friends see me at Glastonbury or somesuch, but largely they do not want me freestyling in front of their pals. I did a rap assembly in my daughter's primary school a while back and, while I was waiting in the staff room – she and her friends stuck post it notes to the window with 'AliCeS DaD pLeAsE Do NOT dO a RaP' written on them as she was so embarrassed. Needless to say I did exactly that and spun a freestyle about it during the assembly. We dads are pretty put upon in our roles in life, so embarrassing the kids is one thing that we need to hang onto.
You recently wrote something very interesting for The Steampunk Explorer encouraging constructive, healthy online debate as opposed to online trolling and hateful arguments. It's a message I very much support, but why did you feel the need to write such an article?
I'm a middle aged white cis bloke who spends a dispropportinate amount of time in subcultures with a younger demographic, so I often find myself stumbling clumsily through territory that I appreciate but don't always understand. I also do this while creating music of traditionally black origin, infused with hard left politics and wearing a pith helmet while talking in an exadurated posh accent. Inevitably, it gets complicated. Not least of all for me.
Over the years, along with so many beautiful experiences and friendships online, I've been trolled, attacked, insulted and shamed. It's been horrible and upsetting, but I've got a good support network and a good life outside of being on the internet. Many people get a lot worse than me, and don't necessarily have the support or mental health to brush it off. It bothers me greatly that we are failing our young men (because it is mostly young men) and allowing this kind of bullying to carry on unchecked. We can and should do more to stamp it out.
You're known for supporting anti-bullying charities. Was this part of the inspiration for speaking out about online trolling?
I'm a nerd. Pretty much all nerds have been bullied at some point in our lives and it makes me sad when powerless people try to exert power by bullying someone else. I think that accountability, finding ways to tap into people's empathy and compassion and empowering each other positively, can help break the cycle and make the internet and wider world a better place to be.
It's definitely something I've seen in the world of rap. hip hop provides a lot of solace to young men coming through difficult circumstances. I've worked with a lot of organisations providing rap workshops, particularly AudioActive in Brighton. The comeraderie of hip hop provides a level playing field for anyone taking part. I think we're pack animals and need the support of fellow men to bring out the best in ourselves. Even if you're a middle class nerd.
Moving on, COVID will have scuppered your chances to don your trademark goggles and pith helmet and perform live. Do you have any dates in the diary to promote The Good Dad Club?
It has indeed, but I've been incredibly fortunate to carve new creative opportunities and collaborations in the gloom of lockdown. The shows are coming back (details of a new tour is here), and I am super excited to get back out there. After a year of lockdown, I shall never moan about an eight hour drive and a night in a premier inn by myself again.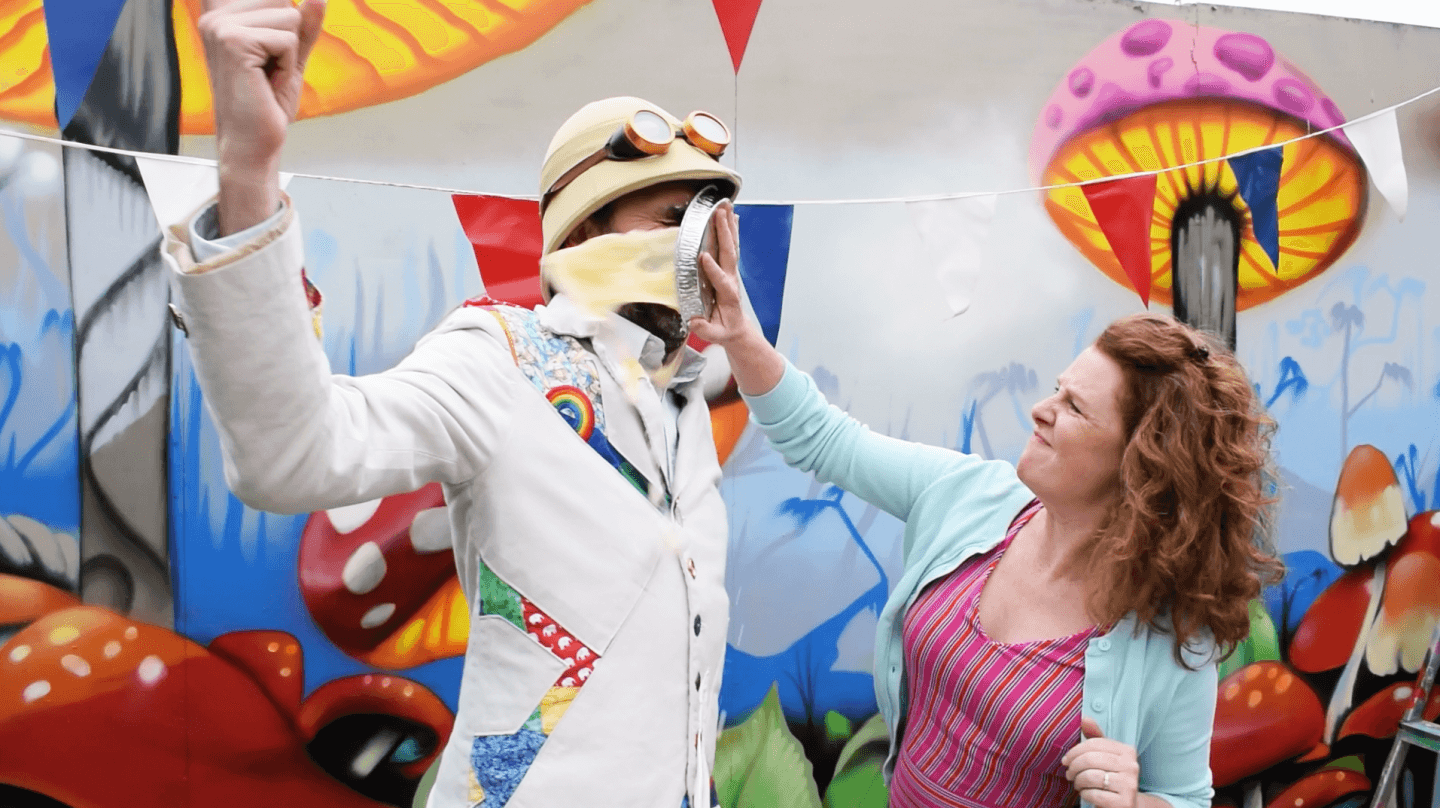 What was the writing process for The Good Dad Club? Presumably you and frisbee had to write apart and only come together for the recording?
We didn't even get to do that. Another silver lining of lockdown was to force me to learn to record at home, so Frisbee took the rough vocal tracks and polished them into gold. We then had Flevans (a brilliant musician in his own right) master the whole thing. Fortunately for me, Mr Frisbee is also an acclaimed artist, so he created the artwork for the merchandise and cover too. We're meeting this week to film the video for Nothing says cool (like a middle aged man) which is my favourite song on the album. I cannot wait to give that man a hug and thank him for the incredible music and art.
The tracks themselves were written off and on over the course of a year. Nik (frisbee) sent me the beats and they inspired the words. I polished them off in a precious night to myself in the Sussex woods. For those dads struggling with getting a moment to yourself, I can't recommend a single night away camping. It's empowering and, best of all, quiet.
I know there are lots of guests on the album. Who will listeners hear in addition to you and frisbee?
There's my longtime collaborator and UK rap legend Dr Syntax on songs about parties and death, Lincoln wordsmith Longusto on the joys of being a Beta Male, plus Blaise and Dillon on 'Old Dog' a song about not understanding the new rappers, but also not really caring that you don't understand them.
You must feel like you've come a long way since Cup of brown Joy?
It's been the luckiest, most amazing journey. I think getting into a full-time rap career in my mid thirties has made me appreciate it more, while being completely independent and the family breadwinner keeps me focussed and creative. There's nothing like the terror of having to return to full-time office work, to ensure you make a success of the next creative project.
To finish off, what do you think you will be doing this Father's Day?
Using it as an excuse to eat three breakfasts in a single day. I think I am going to go the full Ron Swanson this year. All washed down with a cup of brown joy of course.
Further information
If you'd like further information about Professor Elemental, go take a look at his website. Alternatively, you can visit the Professor's Patreon page by following this link.
Good Dad Club Giveaway!
(Editors note: Please be advised the giveaway has now ended) Here are the details of the Professor Elemental Good Dad Club Giveaway. I have five signed copies of the CD for lucky winners. Enter via the Gleam below. To win you, simply leave a comment below explaining why you'd like a copy and/or retweet the tweet.
The giveaway will close at midnight on Thursday, 1 July at midnight. Entrants must be UK residents aged 18 or over. Winners will be notified via email and must acknowledge they've won within 72 hours or else an alternative winner will be selected.
Good luck!
Interested in this blog post? Well have a read of these...