Bad Dad is the latest offering from self-confessed writer and "all round daydreamer" Derek Munson, who is based in Washington State in the US. Munson hopes to build on the success of Enemy Pie, a children's book about friendship he published in 2000.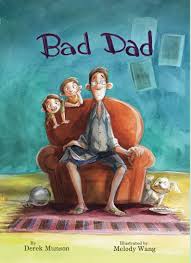 The notes inside the front cover say: "Looks Like Dad's in trouble again! The library books are overdue (again), the kids are late for school (again) and the last cookie is missing from the cookie jar. Again. And somehow Dad always seems to be in the middle of it all. But is he really all that bad?"
When I saw this, my heart sank. My daughter was already sat in my lap ready for a story and I thought I was about to read her a tale about the stereotypical, incompetent father.
Thankfully, my fears were misplaced. This is a picture story about a dad and the fun and games he gets up to with his young son and daughter.
Along the way Bad Dad causes a certain amount of mayhem; he breaks a bed by jumping on it with his kids, creates a mini-Krakatoa at a science fair and gets told off by "mom" for playing ball in the house (as an aside, mom has an implausibly thin waistline). By the end of the book, however, you have fallen in love with this hapless character. He's not so much incompetent as simply very keen to spend time with his kids at the expense of the hum drum of every day life. The tale ends with his kids making clear they don't think he's a bad dad.
Bad Dad is well illustrated by Melody Wang. There are nice details in all the images and I was very surprised to note this is the first children's book Wang has illustrated.
Bad Dad is published by Cannonball Books and is listed on Amazon. It isn't yet on general release, but will be available very soon and Munson embarks on a publicity tour this week to promote the title.