The Dino Supersaurus brand is a new offering from Parragon. It's a set of activity books and you probably won't be too surprised to hear that it's focused on dinosaurs.
The books are all set in the fictional land of New Dino City. They follow the escapades of four dinosaurs (namely Trix, Steg, Terra and Doc). They all have superpowers that have to be used as they protect the city from an evil gang known as the Sinistaurs.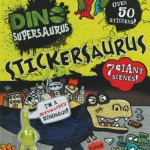 The range is a departure from any Parragon titles I've seen in the past which have tended to be classic picture stories. The Dino Supersaurus range, meanwhile, features a couple of sticker books and a couple of drawing books. All include stories that have been produced in the cartoon style.
Does it work? I can only tell you that as soon as my daughter caught sight of the the books, she dashed off with them and I've barely seen them since!
My daughter is five and the range is meant for kids aged six and above. As a result the language is a bit complex for my little one, but she seems to be having great fun looking at the pictures and doing the activities.
The range is available from a variety of outlets including Amazon, Toys R Us, Debenhams, WHSmith and Sainsbury's. Prices range from £3.99 to £14.99.   
Interested in this blog post? Well have a read of these...