On several occasions I have recently found myself struggling with a pushchair stuffed full of children's items. The sun and heat has necessitated carrying hats and sun cream for the toddler and her big sister in addition to drinks, snacks, nappies and all the usual paraphernalia associated with youngsters. This back seat and pushchair organiser from Lindam looked like it could solve my storage problems.
As the name suggests, this item can be attached to the back of a car seat or a pushchair. It's versatile, it's very simple to remove it from the car and attach it to your pushchair and vice versa so there's no need pack and unpack bags etc. 
It's very simple to install in a car. There are two straps, both going around the seat in front. One goes around the headrest and one at the bottom wraps around the entire seat. There are pockets of various sizes and shapes allowing you to store all manner of items.
When it came to attaching the organiser on to a pushchair I was absolutely flummoxed at first. I just couldn't figure out how to fix it in place. This probably had as much to do with the fact my daughter had run off with the box and turned it into a car while on a 'junk modelling' escapade, thereby leaving me with no instructions.
It is in fact very simple to attach to a pushchair, if not totally obvious at first. It's a bit tricky to explain in writing, but you ignore the straps at the very top (please see images below). Instead you use a couple of velcro fastenings that are lower down. When correctly fixed in place, the large, zip-up pocket at the top of the organiser folds over on itself. I'm assuming it's been designed this way so that your wallet, phone, keys etc can be kept out of sight when the organiser is used with a pushchair.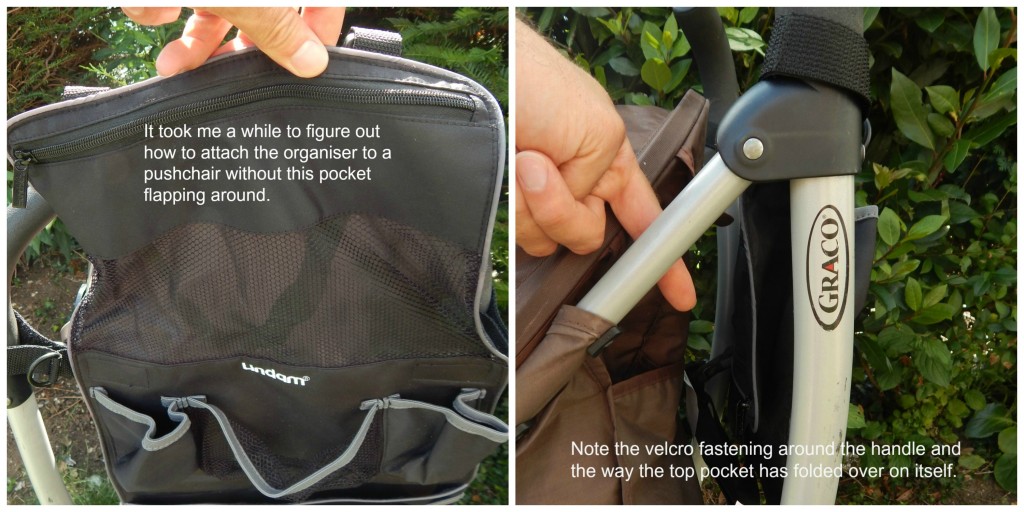 I tested it with four different buggies; two Maclaren buggies, a Gracco and the heavy-duty Silver Cross Surf we usually use. It worked fine with all of them but it performed better with the smaller, lightweight chairs because their shape made it easier to attach the organiser.
Selling on the Lindam website for £10:49, this is a cost effective way to create storage if you need it while travelling or out and about. It's also available from other retailers including Amazon, Boots, Tesco and Argos.