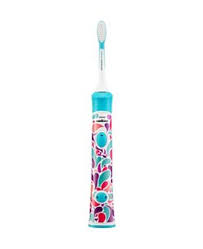 Dental hygiene is something I take very seriously and it's something I want to instil in my children. I think it probably comes from the number of fillings I have!
We've been lucky as a family in that both our daughters are quite enthusiastic tooth brushers. Despite this, the enthusiasm with which our eldest took to the Philips Sonicare for Kids came as a huge surprise!
I'm not sure exactly what the appeal was, but I think the customisable, plastic panel on the front of the toothbrush had something to do with it. The toothbrush comes with a range of stickers that can be placed on this panel and Helen had great fun selecting the sticker she wanted the world to see.
In addition to being customisable, the brush has a few additional features that are not found on the adult version of the Sonicare. It has two modes, a gentle one for young children that may need a little encouragement to brush their teeth and another one for kids that are more confident.
Both modes have a timer that beeps when the child should move to another part of the mouth. It also stops the brush altogether after a pre-determined time, thereby ensuring your little one's teeth are properly cleaned.
The difference between the two modes is that the mode for younger children is shorter and the brushing less vigorous. The mode for the experienced brusher is longer and slightly more forceful.
This particular Sonicare is designed for those aged four and above. It has a larger, "easy grip" handle to make it easier for little hands to use and after three weeks of use still hasn't had to be charged so the battery life is clearly very good. Helen doesn't have braces, but the packaging states the Sonicare can make light work of them.
The Sonicare for Kids is available from a number of retailers including Boots and Argos. It has a price tag of around £50 so it isn't the cheapest electric toothbrush on the market. It is, however, very good quality and should last a long time. If you're looking to invest in an electric toothbrush for your children, you could do a lot worse than consider this model.