I think most parents would agree family life is like a circus performance. Circus performer Nina Bambrey has taken this theory one step further and written a book called Spirited which aims to be a "creative workbook to help you prepare for the adventure of parenting."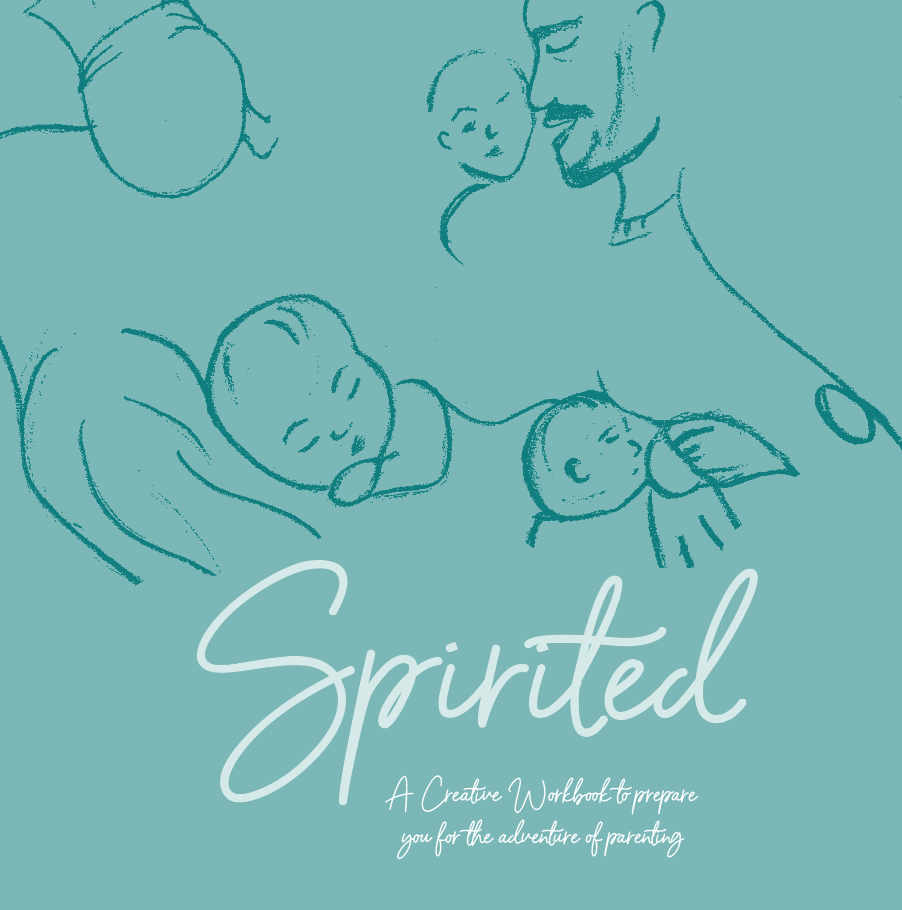 Bambrey is a very interesting character to write such a book. There's no doubt she has a lot of life experience to call upon.
She has an MA in philosophy and is about to embark on a Phd. She's also a qualified teacher and a founding member of the Whispering Wood Folk performance arts company, Bambery herself being a specialist in cord lisse (a form of aerial acrobatics using ropes).
What parenting experience does Bambrey have? Well, she's a single mum to her son Seb. The story of how she became a single mum (and cord lisse performer) are laid out in the early pages of the book. Essentially, she split up with Seb's father while she was pregnant, moving in with another family who also had a baby. She then admits in a moment of "impulsivity" to buying a camper van and disappearing off on an elongated road trip with her son. On her return, she was inspired to start an outdoor performing arts company.
The experiences of lockdown, and presumably lack of opportunities to perform, inspired Bambrey to write Spirited.  In the opening pages it makes clear this is a "participatory" book with exercises at the end of each chapter to complete, the aim being that you take eight weeks to read the book and complete the exercises.
In this comment, the author outlines what readers can hope to get from Spirited:
"Becoming a parent for the first involves a shift in identity and the development of new skills and capacities. This can be a shock to those who think that their lives will carry on largely as before. I am excited about helping people find the emotional resilience and support they need to thrive in their new role. This is even more relevant during the current global crisis."
What's in the book?
In total there are eight chapters with titles such as Parenting with Compassion, The First Six Weeks and Relationships. Each chapter not only comes with a set of exercises to complete, but has a useful, brief summary in a break-out box at the end to help you digest the crucial points.
This brings me on to one point to make about Spirited. At 86 pages long it is a clear, concise read and you could, if you wanted, dip in and out of it when you wanted (although you would need to keep in mind that you're supposed to complete the exercises to get the full experience).
Throughout the book, there are numerous references to an organisation called Flip Turn. Flip Turn is a parenting community established by Bambrey where you can get support from other parents. If you are inspired by Spirited, you can, for a fee, take things further and book a parenting course with Flip Turn or even have individual coaching sessions with Bambery herself.
So what of the content and exercises to be found in Spirited? The book is very well referenced. Bambrey name-checks all manner of parenting, relationship and behaviour specialists including John Gottman and Dr Gordon Neufeld to name but two.
I won't go through every chapter, I'll instead provide highlights. Chapter one is very short. Entitled Letting Go, it makes clear that your world will change when you become a parent. One of the exercises at the end is to sit facing your partner and take it in turns talking through all the things that worry you about having a child and finishing off at the end with a positive affirmation such as saying; "I Love you."
Chapter two stresses how all parents should look after themselves. It highlights the importance of understanding and stresses (…my choice of words) that we all have hang-ups from our own upbringing.
Chapter four stands out as it is more of a practical chapter focusing on the first six weeks of a child's life. It starts with Bambrey admitting her emotions ranged from "intense joy to panic" during the first 24 hours of motherhood (I can't honestly say it changes much after more than a decade of being a parent, but that's just my opinion!).
The chapter encourages parents to learn their baby's cues and stimulus such as sound, touch, taste and so on. I did feel, however, that Bambrey made a bit of blunder at the end of the chapter.
For the most part, Spirited is written in a very gender neutral way, tackling issues and offering tips and advice for both mums and dads. In a section called Primed to Care, Bambrey says mums go through neurological changes when they become mothers which "prime you to care for your child."
I don't doubt this, but it totally overlooks the fact men go through similar changes when they become parents. It's a message men need to hear more often so that they are encouraged to take on more caring responsibilities. I felt this was a missed opportunity to strengthen that message.
Nonetheless, there is a good exercise at the end of this chapter. It encourages you to "build a village." Clearly a reference to the saying It takes a village to raise a child, you are encouraged to list all the people you might be able to call upon for support and also to list all the ways you might need support following the arrival of a child.
If there is one thing that will change when you become a parent, it's your relationship with your partner or spouse. The chapter focused on relationships makes this quite clear and outlines how things may change. In a nod to Bambrey's own background, there are also sections focused on single parents and parents who may be dating.
Final thoughts on Spirited
When I first read about Bambrey's background and the approaches outlined in Spirited, I confess I was a little bit suspicious about Spirited. To be completely blunt, I wasn't sure if it was meant to appeal to a hippy audience.
Sure, there are elements of the book that present alternative ways of looking at being a parent and some of the exercises definitely require an open mind. That said, I think the balance is about right: It introduces you to different approaches and ideas but has been well researched and quotes some well known and established academics.
The other thing I would say is that Spirited focuses solely on the early years of parenting. Yes, you could apply some of the idea and techniques to older children, but there is little in here that I could use for dealing with friendship issues my 11-year-old might have or issues with getting a reluctant school child to do their homework.
Spirited is written by someone with a very interesting background. It's an easy to digest book with some interesting and thought provoking ideas and approaches.
Spirited by Nina Bambrey is published by Flip Turn. It costs £13 and is available direct from the Flip Turn website.
Interested in this blog post? Well have a read of these...