I have some history with remote control helicopters. My wife bought me one as a joke a few years back. I flew it a few times but it's one of those items that, slowly but surely, has become the property of my eldest daughter who loved to use it.
After repeated crash landings, my old flying machine has begun to look increasingly worn and used. It's held together with sticky tape and is quite difficult to charge. When I was given the opportunity to review this magnificent little beast I couldn't turn the chance down.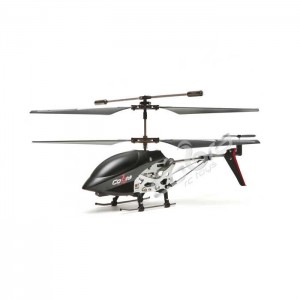 I'm no remote control buff, far from it, but this is a well-built toy. The gyro on the top keeps it relatively level and the controls are sensitive so it's very easy to keep this helicopter hovering in the one place, something you couldn't do with my old toy. The controls are sensitive and the helicopter has a number of bright, LED lights attached to it so you can always see where it is and they also make it look like an appealing toy.
The controller itself requires six AA batteries. The helicopter has to be charged separately but it can be done via USB cable which is a genius idea. According to the instructions you get six minutes of flight time when fully charged. I'm sure we got more time in the air than that so I think this claim is a bit on the conservative side.
My daughter has had great fun with it and, yes, I confess, I've enjoyed flying the helicopter too. Ironically it wasn't until we got home from our first flying expedition that I noticed this toy is aimed at children of 14 years of age and older. Helen's five and I'm considerably closer 40 (I won't say which side of 40) so make of this what you will!  
It's a great little toy. I think I can safely say it's one that appeals to all ages. Expect to pay around £35.
For more info go to http://cobratoys.co.uk.
Interested in this blog post? Well have a read of these...