I stumbled across a website the other day that got me reminiscing about my childhood. Rather amusingly, the article made reference to knitted dollies sitting on lavatory rolls.
Apparently Northerners are more likely to remember these dolls but I clearly recall such an item at my grandmother's house in the Home Counties. I think it's become a bit of a family heirloom and has been passed on to my aunt! I'll have to check next time I see her.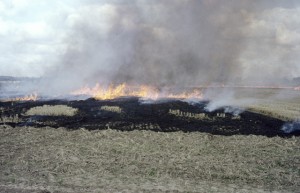 Another very vivid memory is of the farm right next to my grandmother's house. It involves a practice called stubble burning. You don't see this happening any more because it was outlawed some time ago. Most readers are no doubt city dwellers or townies and no have no idea what I'm talking about!
I am, you see, a country boy. If you go back about 30 years, it was common practice for farmers to burn off the remaining stubble in a cornfield after the crop had been harvested. I can clearly remember as a young boy watching a field go up in flames.
Stubble burning was a risky business and the fires often got out of control, but I can still see the huge walls of flame as they spread across the field at frightening speed. You have to bear in mind the stubble was completely dry and very flammable so once it was lit there was little you could do to stop it. I also recall the smoke billowing up into the sky.
It wasn't good for the environment and the smoke was foul and would choke you. All things considered I can't say I'm sorry the practice has been consigned to history but it was a majestic sight, especially for a young boy.
In contrast to fire, I also have fond memories involving water, in particular of sailing dinghies down the River Thames in the height of summer. On one occasion I sailed up past someone's house as a drinks party was underway in the garden.
The garden came right down to the water's edge and one of the younger guests walked over and started splashing water at us, despite the fact she was dressed up for the event. I was with a friend at the time and we didn't feel we could take this lying down so we sailed towards her and retaliated, sending water in her direction.
The young woman who instigated this battle seemed to think it was hilarious. Unfortunately the party's host, who was considerably older, didn't find it amusing at all and she soon strolled over with a face like thunder and made clear we were to row away, back where we came from!
I must end this post here or else I will turn into a complete bore. If, however, you have any interesting childhood memoires to share, please leave a comment below. Bonus points if you have any memories of stubble burning.  
Interested in this blog post? Well have a read of these...