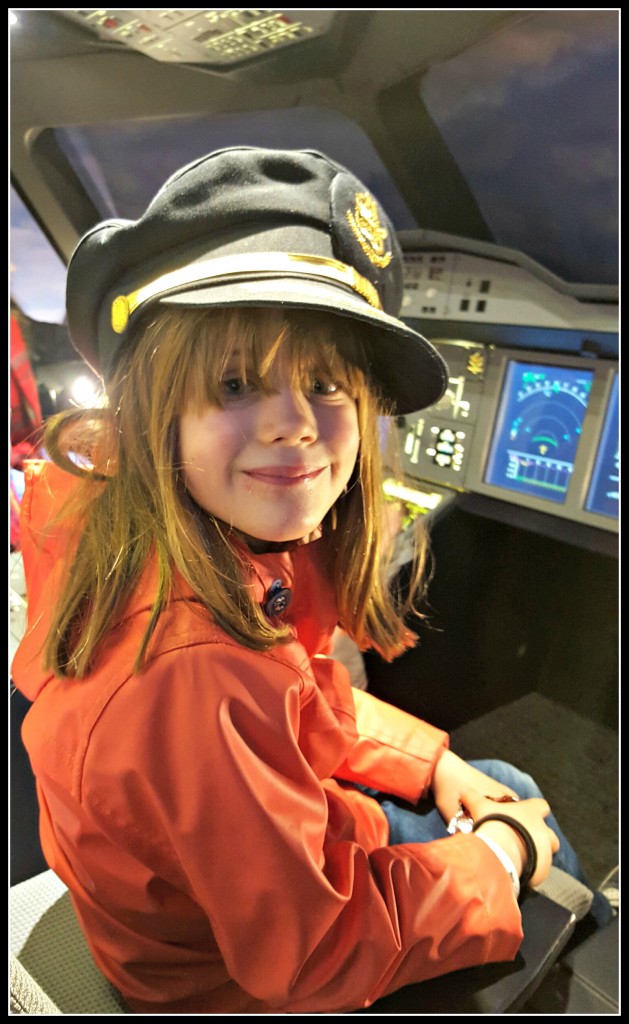 Imagine you're at the helm of an Airbus A380, coming into land at Hong Kong International airport. It's night time and it's raining. Do you think you would manage to bring it down gently and safely or would you do what I did and crash?
Thankfully this didn't actually happen. It was all in an aircraft simulator at the Emirates Aviation Experience in Greenwich, East London.
It's based a short walk from the 02 Arena. The whole experience enables you to learn a bit more about aircraft, the science of flying and the Emirates aircraft fleet.
The main part of the experience are the four simulators. There are two Boeing 777 simulators and two Airbus A380 simulators.
On the day itself I was supposed to be heading over to the Aviation Experience with my friend Andy, his daughter Phoebe and my eldest, Helen. As luck would have it, Mrs Adams caught the flu and so I also ended up taking Toddler Adams with me.
The staff at the Aviation experience were very accommodating and understanding of my predicament. Even so, I had to keep Toddler Adams under control. NO matter what I did, she was intent on exploring several million pounds worth of aircraft simulator and managed to play with the controls having broken lose a couple of times.
Phoebe and Helen waiting for their daddies ot take the helm in the Airbus A380 simulator
Being slightly older, Phoebe and Helen had a very brief go at the helm of a Boeing 777. Elizabeth, however, was simply too small. I had to placate her with some sliced apple and a bag of crisps. With her attention fixed on food, Andy and I were able to get behind the controls.
You get around 30 minutes during each simulator session. During that time you can take off and land at several different airports including London Heathrow, Istanbul, Dubai and both the new Hong Kong International airport and its predecessor, the notorious, now closed, white-knuckle Kai Tak airport. For those unaware, it was dubbed white-knuckle because the approach involved banking, turning and flying through Hong Kong's notoriously cramped high rise flats.
Now TAHT is a departure board!
Andy nominated me for captain while he was co-pilot. This is where things got interesting. As pilot I was basically responsible for altitude and direction. Andy, meanwhile, was responsible for speed and, seemingly, telling when I was getting things wrong.
With the Airbus A380, you steer and control altitude with a joystick. Yes, pretty much exactly the kind of thing you would expect a gamer to use.
Keeping an eye on the dials while also looking out the cockpit for visual signs was very tricky. You have to take it an awful lot of information.
Taking off was reasonably straightforward. Landing was a different matter altogether. While Andy seemed to control the speed perfectly, I did struggle a bit with the keeping the wings straight and keeping at the correct altitude.
I nearly ditched us in the sea in Dubai. I successfully managed to land at London Heathrow, albeit alongside the runway, not on it. As for Hong Kong International, well, I killed all passengers and crew, not once but twice.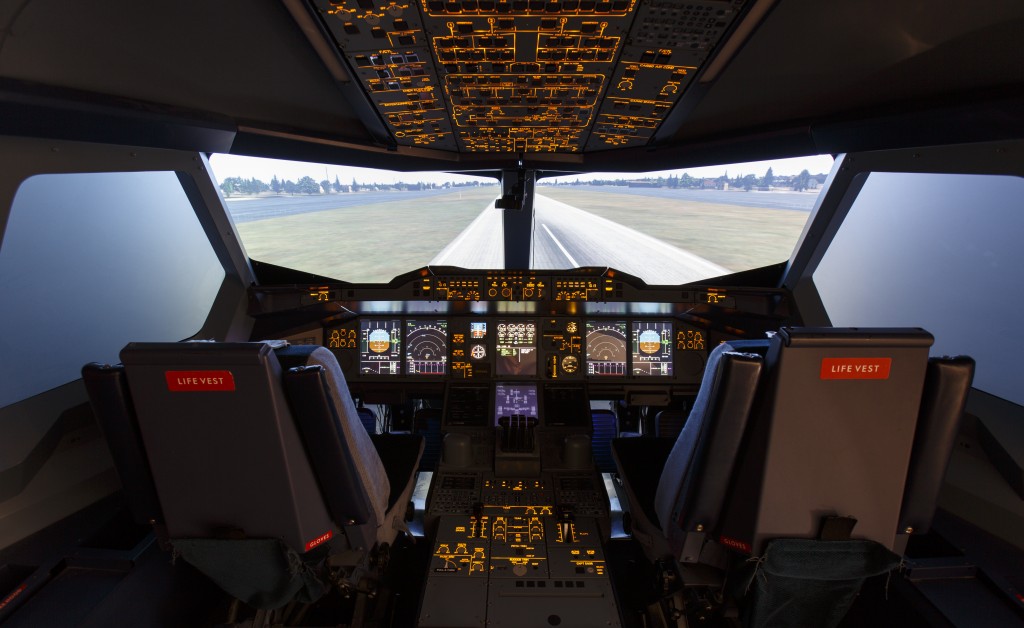 My verdict; although you have to take in a lot of information, it's not as difficult as you might think. It presents a great challenge and I can imagine older kids, maybe teenagers, would love it as much as grown-ups.
Strictly speaking you should be at least nine years old before using the simulator. Phoebe and Helen certainly enjoyed their short flight. If you're in London or plan on visiting the city, it would make for an excellent family day out to consider over the Christmas break, especially if you do what we did and combine it with a couple of other activities. It would definitely be a good stag or hen party activity or maybe a good Christmas present for the flight enthusiast.
For a stress free experience, I would keep the toddlers at home. It's not the kind of activity I would recommend for really little people.
After the simulator experience, we took the Emirates Air-Line cable car. This is adjacent to the Aviation Experience and carries you across the River Thames. The children absolutely loved this, Toddler Adams proclaiming it was "amazing." The view was much better than I expected (see this blog post for more).
After this it was time to go home. We decided to live a little and take the Thames Clipper boat service back into central London. When I worked in Canary Wharf I longed for the days when the Jubilee Line was out of action. It gave me an excuse to take the Thames Clipper, a superb way to travel through London. The kids absolutely loved it.
In one day we took a train, the Underground, flew an Airbus A380, went up in a cable car and caught the Thames Clipper some of the way home. That's quite a lot to pack in one day, yes?
The Emirates Aviation Experience has a £3 entry charge and the simulator experience is £45 for a group of four people. You can book online here. Expect to pay around £4.60 for a return ticket on the Emirates Air Line cable car per child/adult but be advised there are a variety of fare options and discounts for Oyster card holders.
Disclosure; I was provided with access to the Emirates Aviation Experience and Air Line for review purposes. Thoughts and opinions entirely my own.
Interested in this blog post? Well have a read of these...