There's one thing we all increasingly rely on to make family life operate smoothly: Tech. In particular, having a strong WiFi signal is essential. In most family homes, however, you will usually find a WiFi dead spot somewhere. I was invited to try out a NETGEAR Orbi mesh WiFi system to see if it could improve network coverage in a couple of spots in our house. Here's what happened.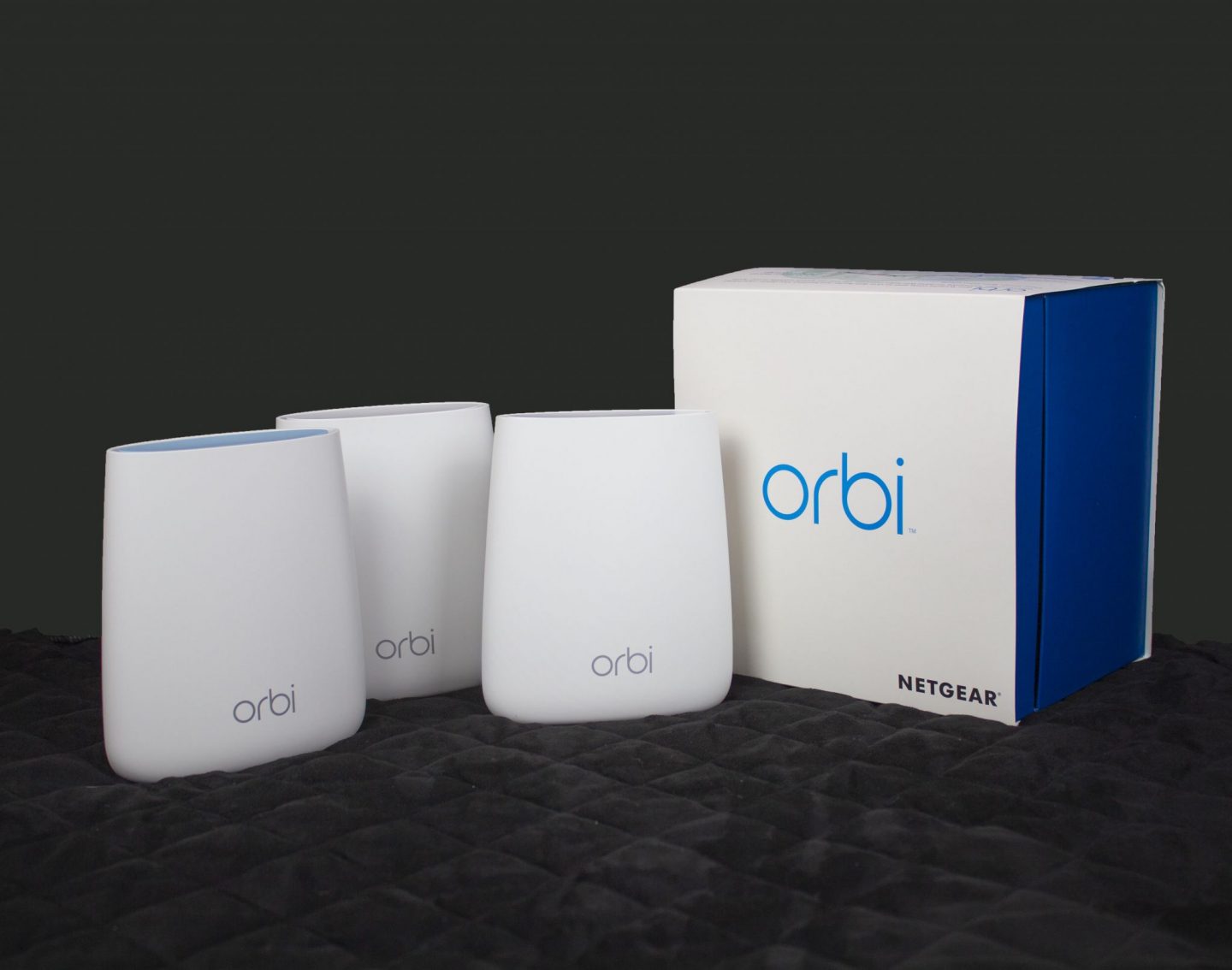 The NETGEAR Orbi RBK23 Tri-band Mesh WiFi system
First of all, what is a mesh WiFi system? The clue is in the name. A mesh system usually consists of one main router and a series of 'satellites' that you place around your home.
The satellites create a 'mesh' that extends coverage and ensures a strong WiFi presence around your entire property. I was trying out the NETGEAR Orbi RBK23 Tri-band system. This was comprised of one router and two satellites.
This isn't simply a range extender. Unlike many range extenders, the Orbi system allows you to pass between the different areas of your home without any performance drop or loss of strength to the signal and without having to 'log in' to each satellite individually. It's also a smart system so your device will automatically connect to the satellite or router with the strongest signal.
NETGEAR Orbi Voice
At the same time, I also tested the new to market Orbi Voice. This is a smart speaker that also doubles up as a satellite for the RBK23 system.
Not only does the Orbi Voice extend your WiFi coverage, but you can use it to play music. It's compatible with Amazon's Alexa system so you can use Amazon Music, Pandora, Spotify, iHeartRadio, TuneIn, and so on. I'll write more about the voice further on in this post.
Our WiFi issue
Since moving into our home last year, we have had a few issues. The main issue is in our garage where the WiFi signal is non-existent.
We have some exercise equipment in the garage and Mrs Adams and I work out several times a week. To pass the time, it can be good to watch a film or TV programme on an iPad while using our rowing machine or exercise bike.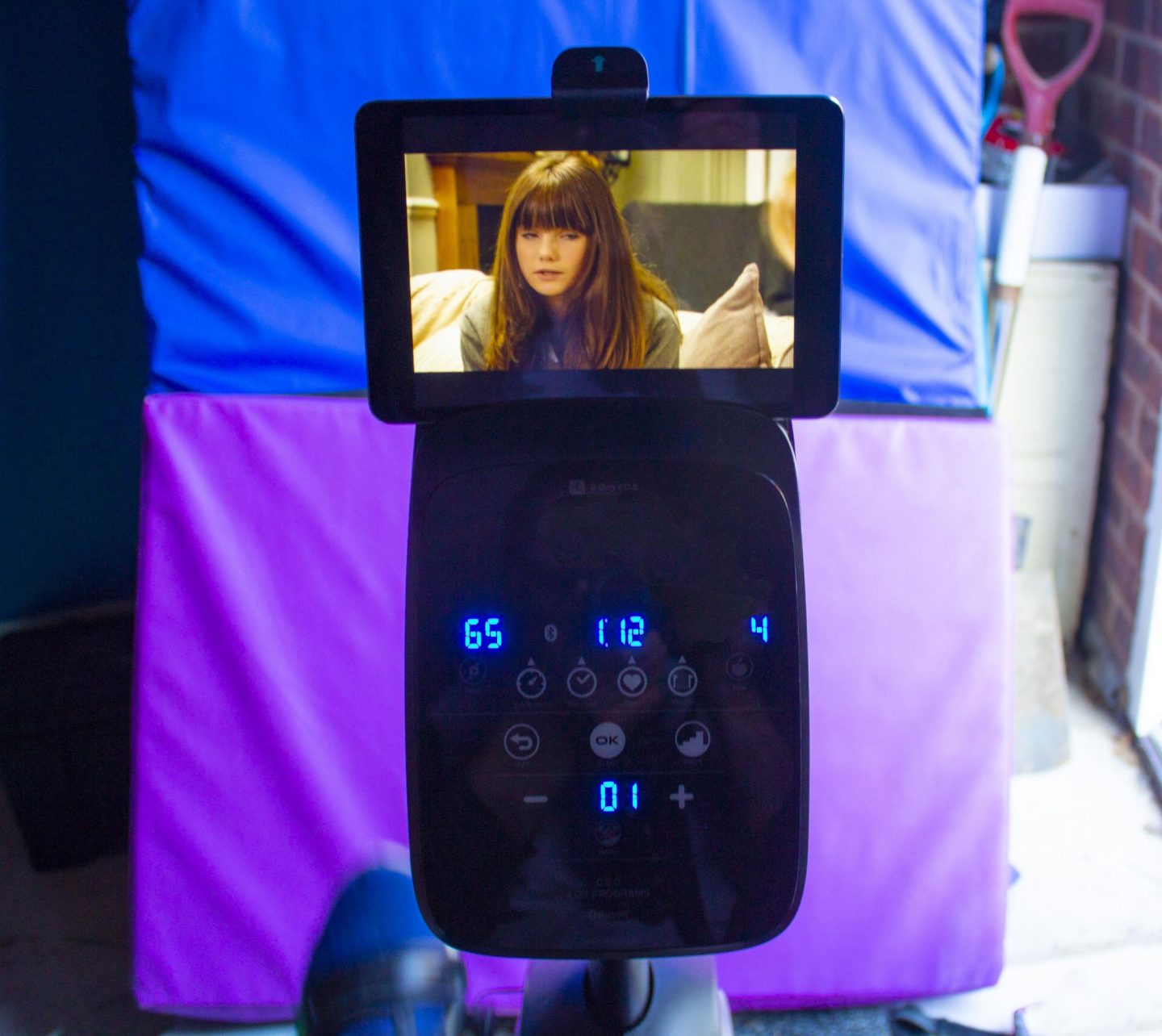 The challenge I set the Orbi system was to boost the signal so the iPad would work in there. Secondary to this, I was also keen to see if it could boost the signal in the garden as I have high hopes of sitting in the garden and listening to podcasts over the summer months.
Those are the issues I wanted to address. Here's how the Orbi system performed.
Technical information
The Orbi system arrived in a well-packaged box. When I took the lid off, I was presented with a router and the two satellites, all of them looking like they would melt into the background of any family home. You could easily place them on a book shelf and they wouldn't look out of place.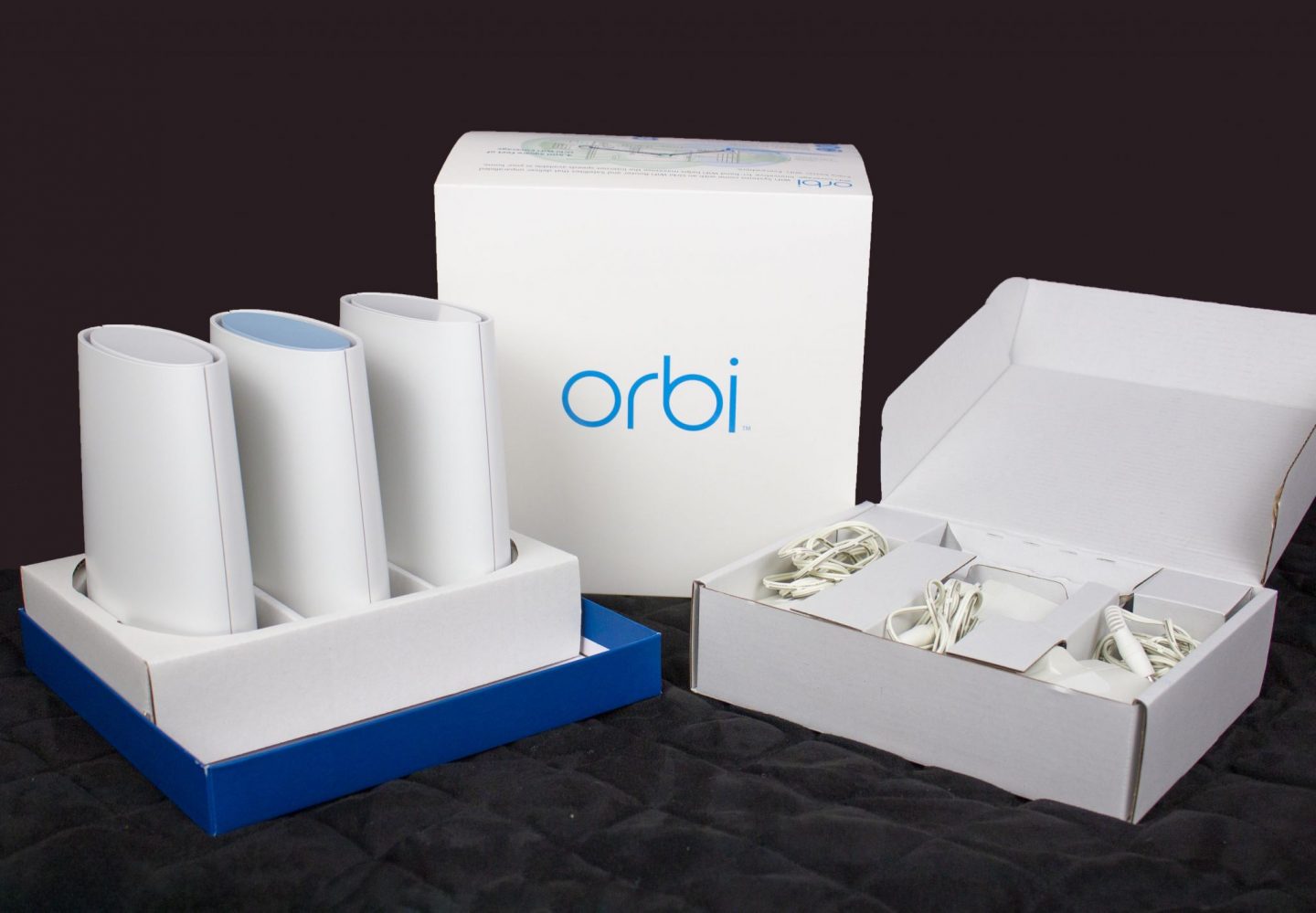 Here are the key bits of technical information:
The router and satellites provide both regular 2.4GHz and fast 5GHz WiFi connections for modern devices across AC2200 Tri-Band WiFi.
A dedicated 5GHz WiFi link transfers data between the router and satellites, meaning there's no loss of performance.
Regarding security, the system has Pre-Shared Key and 256bit WiFi Protected Access security (WPA and WPA2-PSK and secure guest networks, in other words, it's heavily protected!)
Circle with Disney Smart Parental Controls
There are two ethernet/LAN ports per device
The Orbi Voice system can be voice controlled by Amazon Alexa and Google Home.
Crucially, NETGEAR's Orbi RBK23 system and its satellites can provide coverage for a property of about 420 square metres (4,500 square feet). This is more than enough for a typical family home.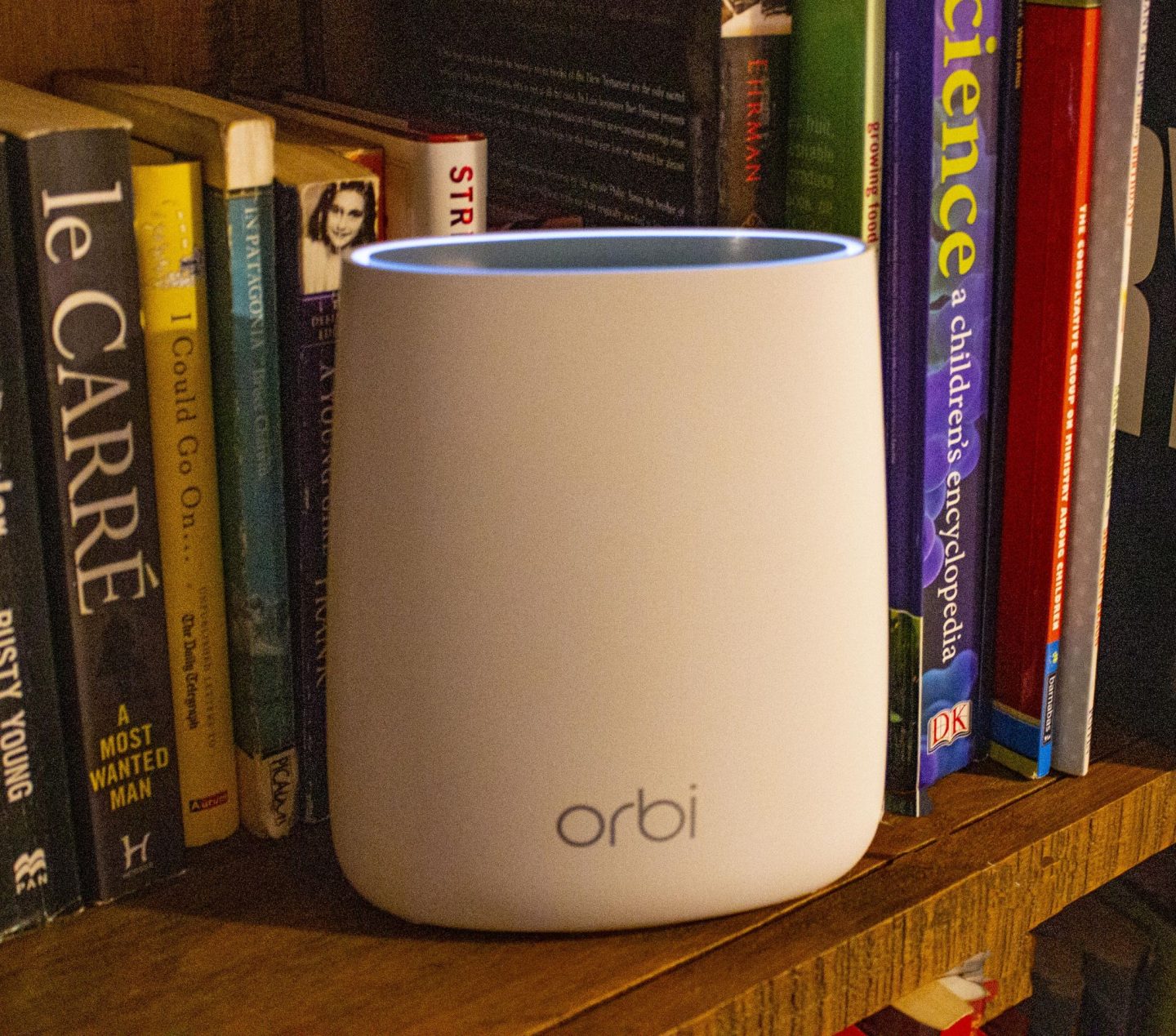 Setting the network up
Those are all the technical details, but you probably want to know about setting the system up. I was a first-timer at this, having never set up a mesh network before. I wasn't sure what to expect and didn't expect it to go smoothly.
I'm pleased to say it was relatively straightforward. The first step is to download the Orbi app, which is available at no cost on iOS and Android devices. You scan a QR code that comes with the Orbi system and it walks you through the process.
You then have to plug the Orbi router into your broadband provider's router using an Ethernet cable. Following this, you plug it in to the main and turn on the satellites.
Whenever you turn on a wireless device after this point, the Orbi network will be one of the WiFi options you can choose. As with any standard WiFi network, you'll need to sign in to the system, but it's no more difficult than signing in to any standard WiFi network.
The Orbi app
The Orbi app enables you to control the network. You can turn parental controls on and off, check internet speeds, manage devices and keep a log of how much data you have transferred. It's very straightforward and intuitive to use.
Internet speeds
Having introduced the mesh system and app, it was time to put it to the test. I won't deny it, I was nervous about plugging the Orbi router into our main router. It struck me as one more thing that could go wrong.
This didn't come to pass. Internet speeds were completely unaffected. It was a different story when it came to coverage. On this score, the Orbi system worked much better than I anticipated.
We had one router in the hallway of our house, satellites on the first and second floor and Orbi Voice in the garage. This covered the entire property and the download speed at the top of the house, furthest away from the router, was 45 Mbps, up from 4Mbps.
With the Orbi system turned on and a satellite placed in the garage, I noted download speeds of almost 50mbps and upload speeds of almost 19mbps. Prior to installing the Orbi system, there was no WiFi coverage whatsoever in that space. There were no issues listening to music or watching TV on the iPad. It filled in our WiFi dead spot and worked perfectly. I should add there are several walls between the Orbi router and the garage.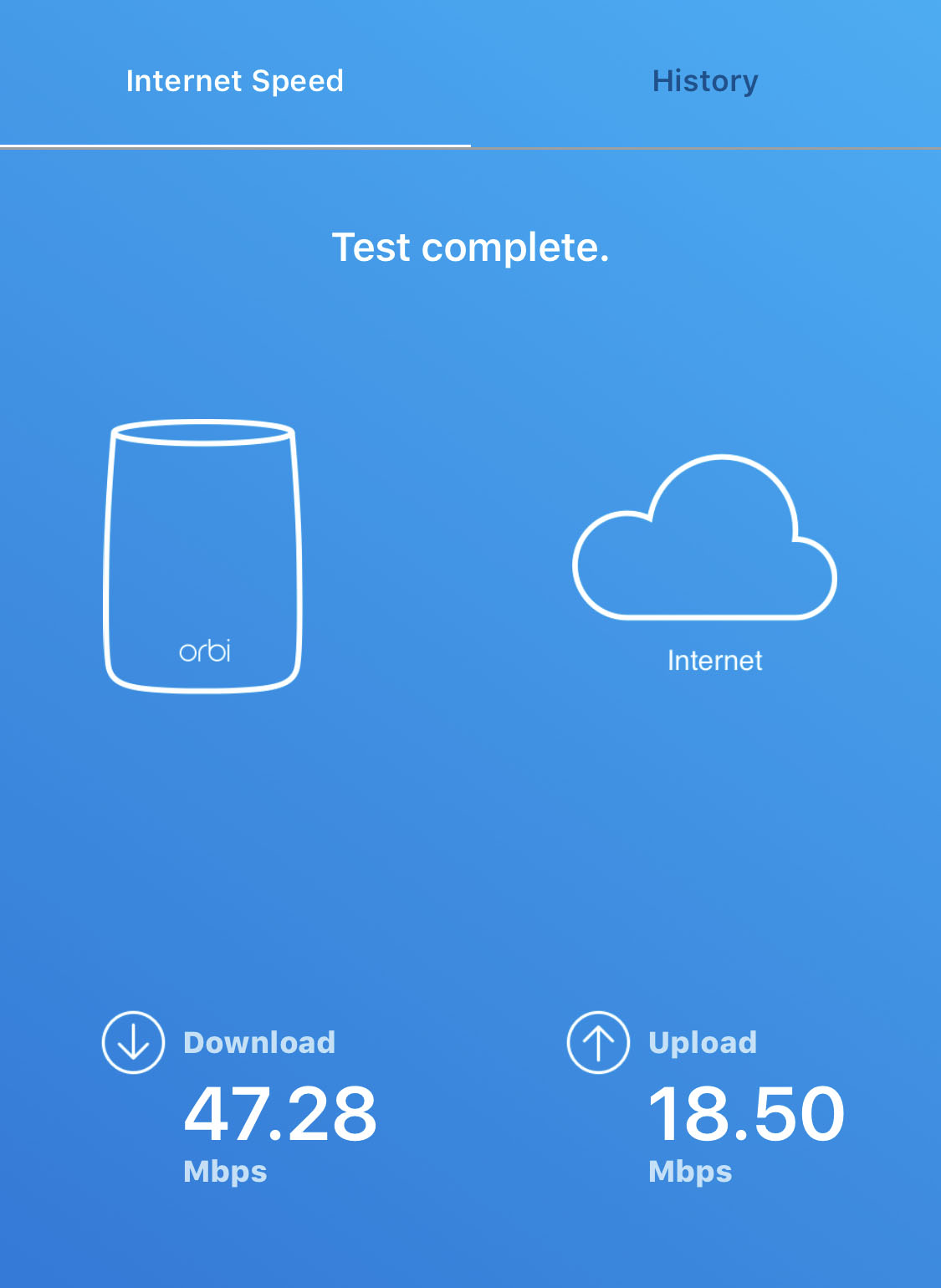 When I removed the satellite, we were back to square one. The Orbi app couldn't detect a WiFi signal at all.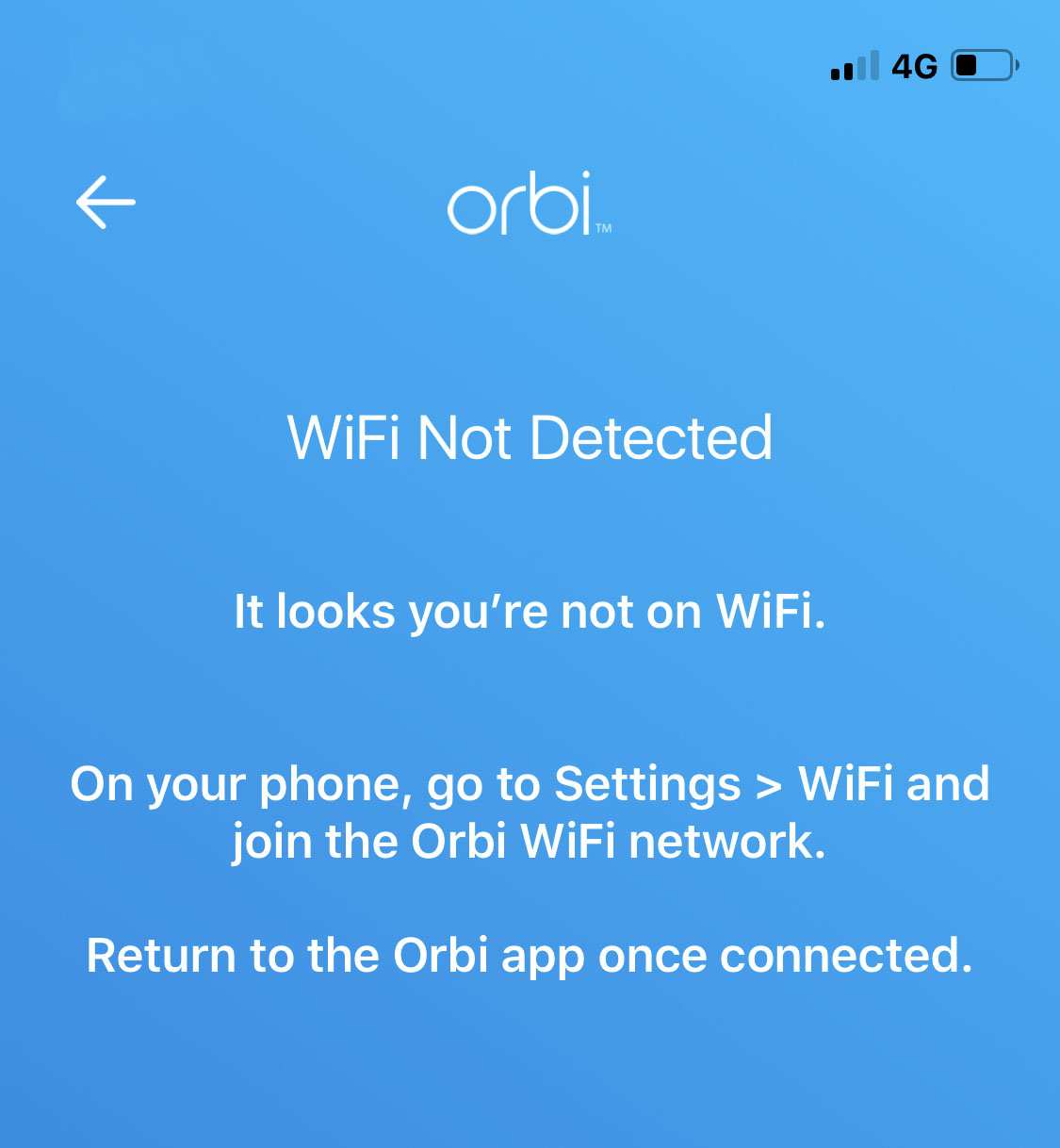 Orbi Voice
If you've used a Google Home or Amazon Echo, you'll get to grips with the voice very easily. You add it to the Orbi network as you would any Satellite. Instructions on the app walk you through the process.
Once added to the network, you link it to your Amazon or Google account and use it like any smart speaker or virtual assistant.
I used it with an Amazon account and it was totally seamless. I could play music, ask for weather reports and, just because I can't resist asking home assistants random questions, I also established the next solar eclipse in Iceland will take place on 12 August, 2026.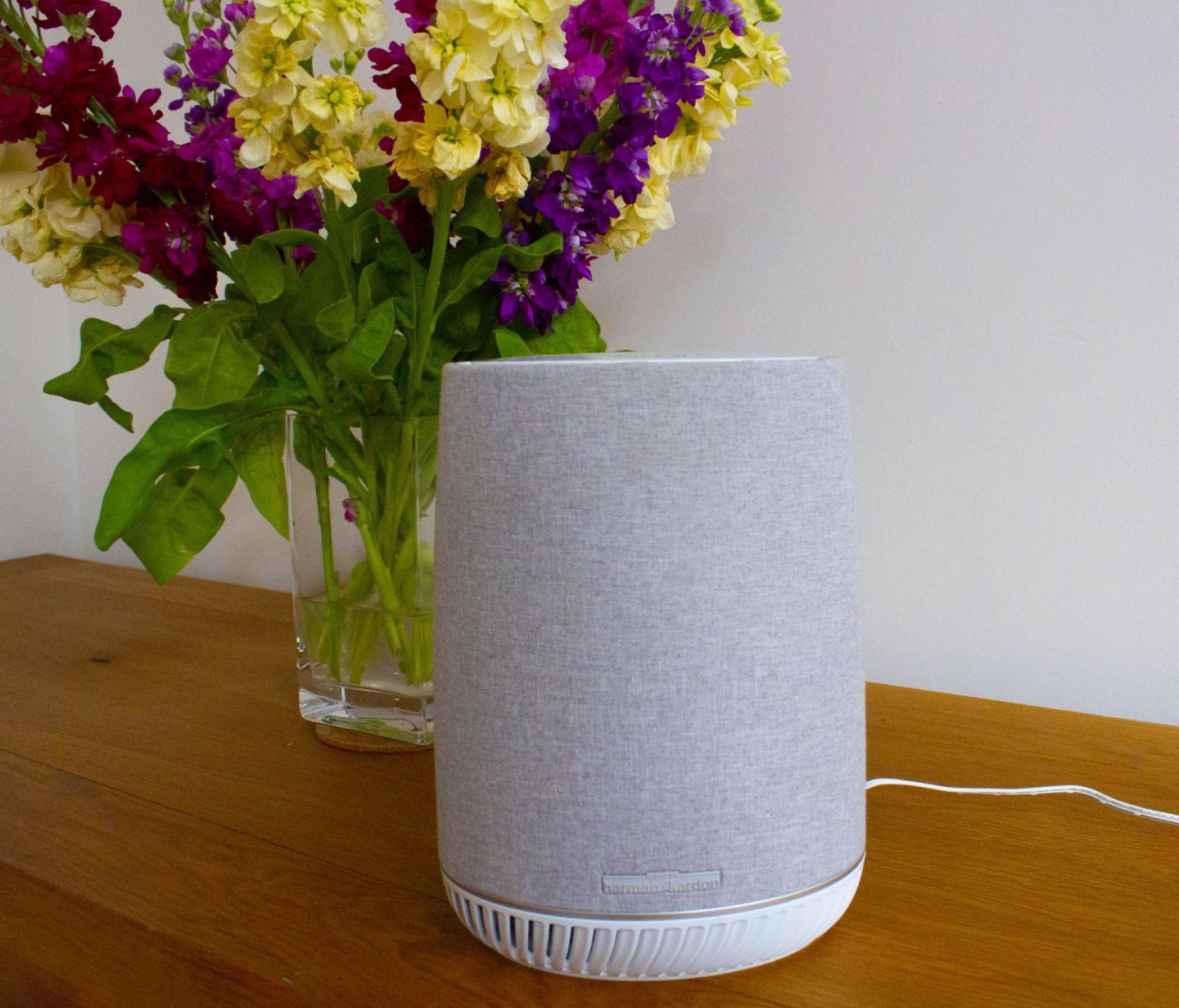 As 22cm tall, 17cm wide and 12cm deep, it is bigger than an Amazon Echo or Google Home. The Harman Kardon speakers, however, pack a mighty punch and deliver a sound quality better than you'll find in rival devices.
Just to show you how it works, here is a video of me using the Orbi Voice while working out on our rowing machine.
Disney Circle app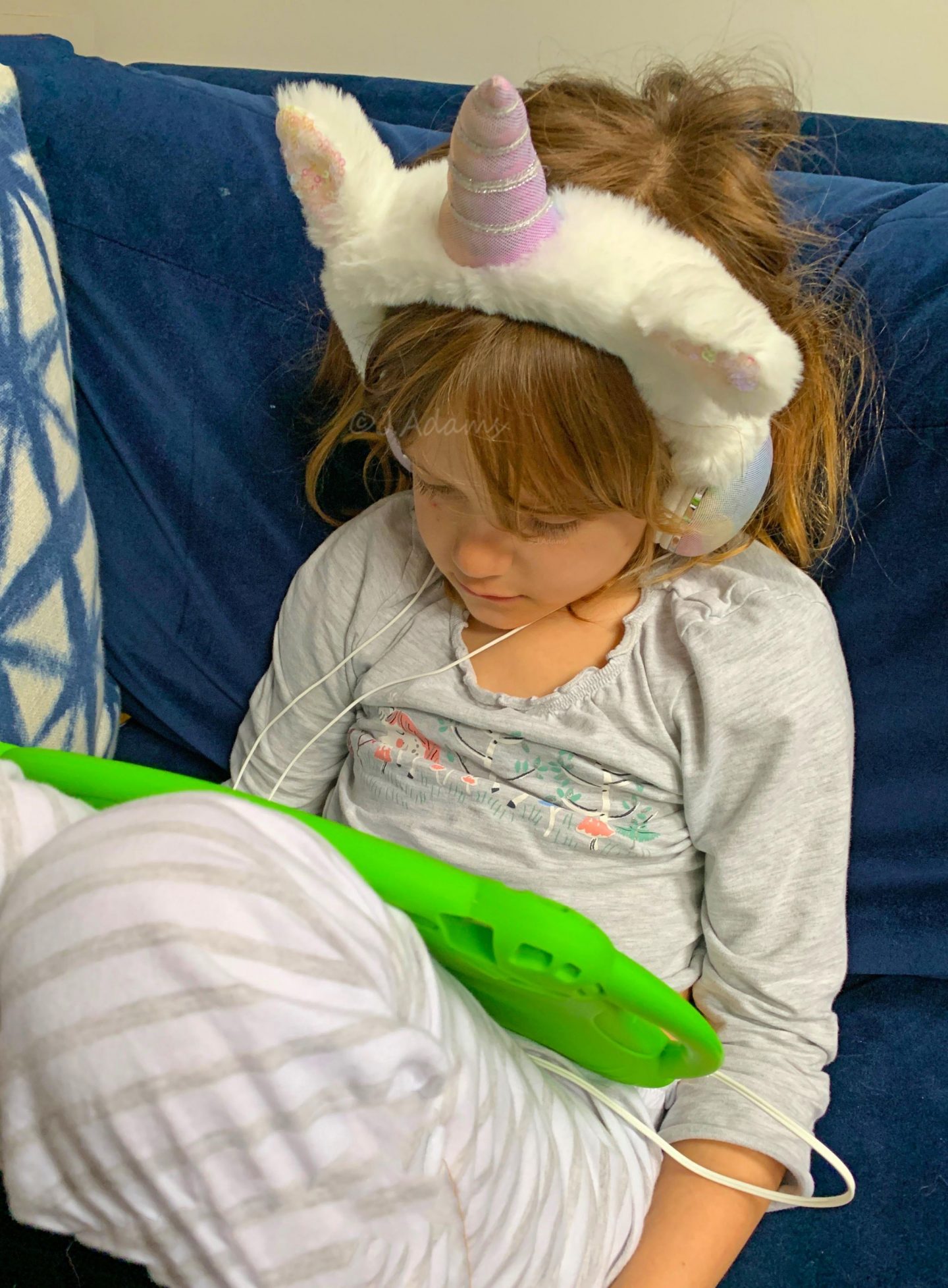 In addition to parental controls, you can download the Disney Circle App (more information online here). This enables you to build a profile for the younger members of your family and control what they're doing online.
There's one feature on here that I loved, capital L. Once you've set up a child's profile, you can assign them a wireless device. Once you've done that you can pause its internet connection at any time with the press of an icon.
If they're watching a video that's buffered, it may take a minute or so to take effect, but once it does, that's it, they're off line until you resume the connection.
I've used many online safety and screen management apps in my time, but I've never used one that has this functionality. Or rather, I've never used one that has this functionality and actually works as promised. Big thumbs up to Orbi and Disney for this functionality. I was impressed.
Issues to be aware of
The NETGEAR Orbi RBK23 Tri-band Mesh WiFi system has been produced with the aim of being easy to install. I think it has achieved this aim, although it did take me a week or so to really check out all its functionality, plus get the Disney Circle app up and running as I wanted to. If you haven't set up and used a mesh WiFi system before, just allow yourself a bit of time to get fully to grips with it.
The Orbi Voice was very easy to use once set up. I struggled a bit with the initial setup (though, admittedly, this was probably more down to me than the product!), but NETGEAR's support team were incredibly attentive and couldn't have done more to assist me. Once up and running, the product worked perfectly and has been operating perfectly ever since.
Availability AND FURTHER INFORMATION
The NETGEAR Orbi RBK23 Tri-band Mesh WiFi system is widely available from retailers including Amazon, Currys, PC World and Very. Expect to pay around £289.99. You can buy an Orbi Voice Kit (RBK50V) that contains the Orbi Router (RBR50) and Voice satellite (RBS40V) for £429. However, if you already own an Orbi mesh WiFi system, you can simply add the Orbi Voice WiFi Satellite and Smart Speaker (RBS40V) to your network for £279.99.
Conclusions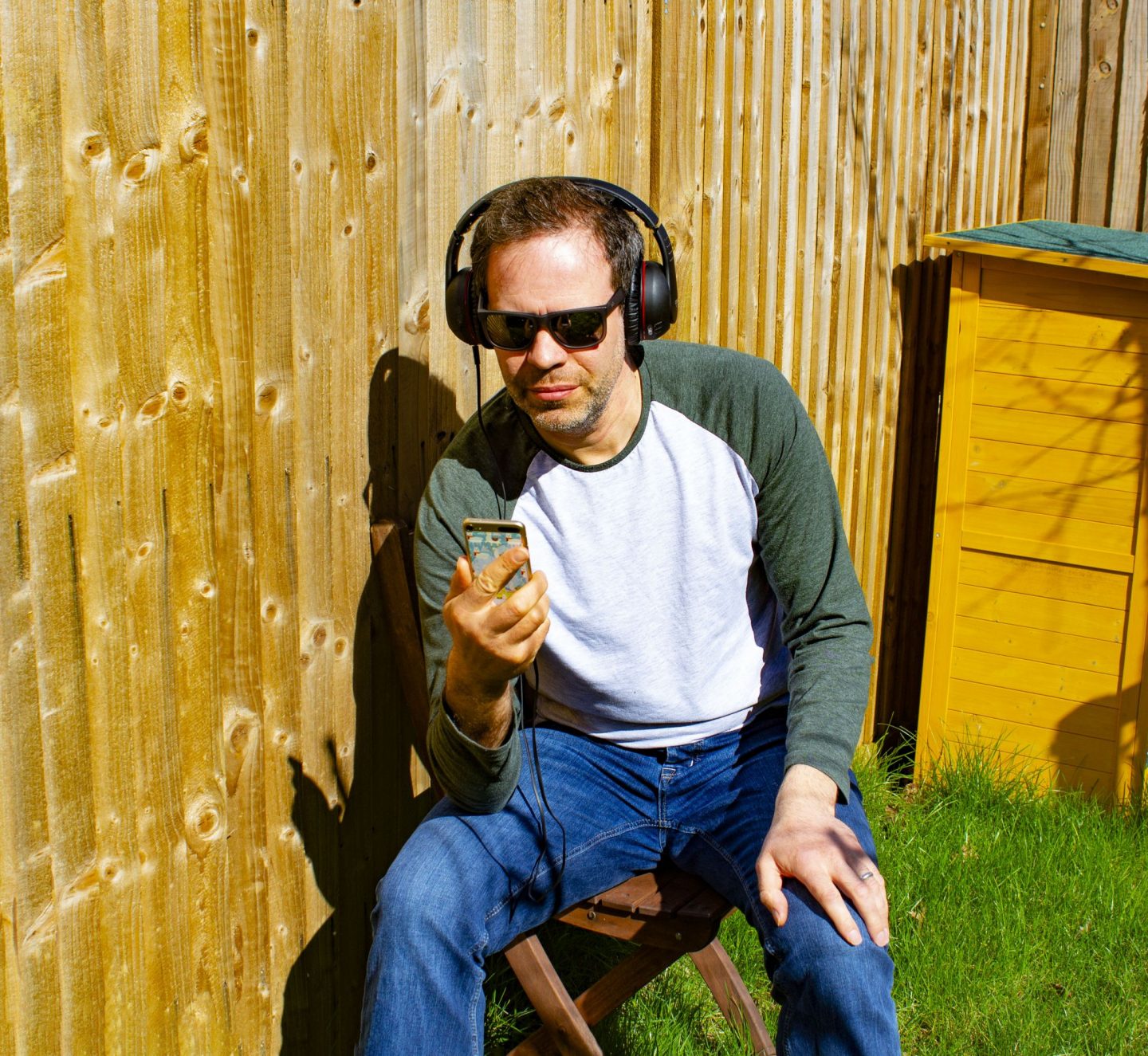 This particular system is not the cheapest. That said, I could not fault the mesh WiFi. It has proven to be fast, reliable and performed much better than I expected.
The Orbi app works very well. As you will have gathered, I was also very pleased with the performance of the Disney Circle app and Orbi Voice.
It was easy to set up and after a little practice, I got to grips with the system very quickly. There are cheaper systems out there, but I doubt they would perform as well as this one.
Disclosure: This feature was produced in association with NETGEAR. I was compensated for the time taken to test the product and was provided with an Orbi system for the purposes of producing this review. Thoughts and opinions are entirely my own.
Interested in this blog post? Well have a read of these...