The challenges and stresses of raising two young children present plenty of opportunities to moan about modern life. Sometimes these complaints are justified. For instance, I do not need to be taking calls from claims management companies wanting to check if I have made any PPI claims while on the school run.
Other times such complaints have no basis whatsoever. Is it, for instance, such a big deal that I can't get sterilizing fluid at the local Co-operative store? If I wanted the sterilizing fluid for baby's bottles that might be a justified complaint. In truth, I needed it for my home-brewing antics and so it was hardly vital.
TyresOnTheDrive.com asked me to participate in its #firstworldproblems challenge. The mobile tyre-fitting specialist asked me to keep a diary for a week. Could I stop myself from moaning in that time? If I did moan, could I make a note of it? I shot the following video documenting my experience.
It was an interesting exercise. As you will see on the video, I didn't whinge half as much as expected and only came up with three things that really bothered me. This, despite it being a challenging time when workmen were in the house fitting a new central heating system.
On the other hand, the media was full of stories about the town of Madaya in Syria where 40,000 residents have been held under siege without food since October. Those news reports put the whole exercise into perspective. Was my late train or the slightly cold weather really such a big issues compared to what was happening in Madaya? The answer is a big, fat, no.
Using social media as a guide, TyresOnTheDrive.com, has produced an infographic outlining what people complained about most during 2015. The list is, frankly, bizarre.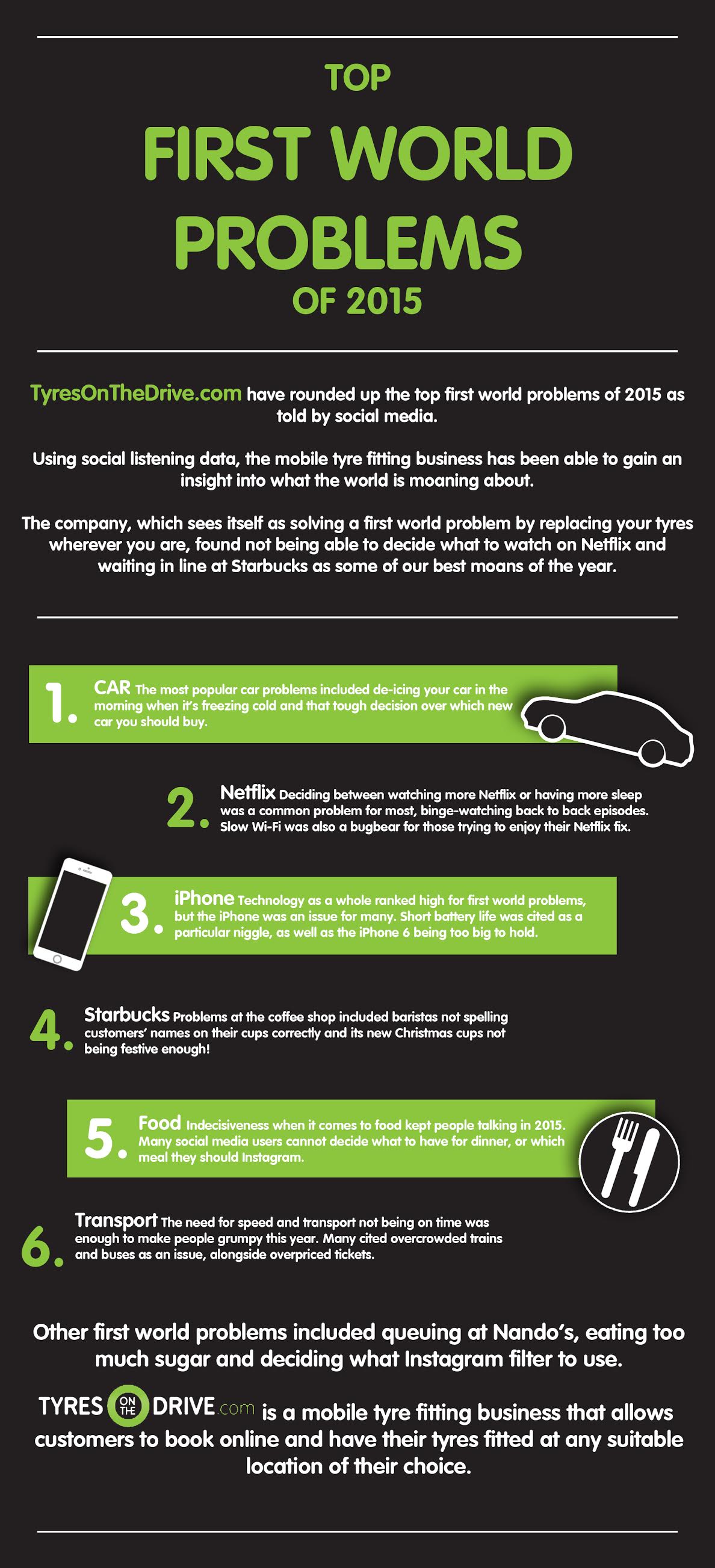 I think it shows just how pampered we have all become. Are we really so bothered about what film to watch on Netflix or how long a mobile phone's battery life is?
Please do watch the video and have a look at the infographic. What are your thoughts? Are we too pampered? What have you complained about in the past week? Anything serious or just mild irritations? Please do leave a comment below or on the video. I'd love to hear your thoughts.
Disclosure; this post was produced in partnership with TyresOnTheDrive.com.
Interested in this blog post? Well have a read of these...