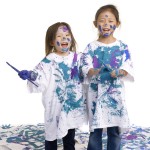 Like many children across the UK, my daughter will be starting school any day now and so has left nursery ready to make the leap into reception class. She'd been going to this nursery for three years and so knew all the staff and had made a number of friends.
Bizarrely, the experience of leaving nursery seems to have been much tougher on me than on Helen. When I picked her up on her last day I felt oddly bereft. It was like saying goodbye to an old friend that was emigrating.
There were no tears or upset from Helen. Just a casual "today was my last day" and the following morning she said "I don't go to nursery any more." It may be the reality hasn't sunk in yet and the tears and tantrums are yet to come. Thus far, however, all is quiet on the home front.
I've always felt a bit guilty that we'd sent Helen and latterly her younger sister to nursery (little sister goes to a different nursery). Helen used to go full time and it was discomfort with this situation that persuaded me to give up my job and become her main carer, at which point she became a part-time nursery brat.
Once Helen was in nursery, however, we could see the benefits she was receiving and there was no way we could deprive her of it. At the time she was an only child and so she got the opportunity to mingle and learned the importance of sharing and socialising with others of a smilar age.
My mother tells me I barely touched a pencil before I was five years old. Not so Helen. She's done her share of drawing and scribbling at home with mummy and daddy but it's the skill of the nursery staff that have got her writing the alphabet (well, selected bits of it anyway). As for her numeracy, she didn't get that from her innumerate parents.
The skill of these staff is something that should be recognised and it annoys me that childcare is an occupation with such poor status. I can think of one particular nursery worker that took Helen under her wing.
This individual originally came from a French-speaking nation. She picked up on the fact that Helen has some French heritage and started casually talking to her in French. It was all simple phrases; "ca vas", "bonjour" and so on. It had always been my intention to ensure my children spoke more than one language and when it became clear Helen was picking up the basics of French I arranged for Helen to have lessons and she's doing incredibly well.
I could, of course, make the odd criticism. The occasion I turned up at nursery to find two of Helen's little friends had got hold of some craft scissors and restyled her hair didn't go down too well. As my wife said at the time; "she looks like a German exchange student."  
Following this incident my wife and I had a Soprano's-style sit down with management and made clear that three year old children shouldn't have uninhibited access to scissors. They listened and scissor use was regulated from that point on. The fall-out was dealt with very well and there was no repeat performance. At the end of the day, children will be children.
I think the experience of Helen leaving nursery has made me realise just how important good quality childcare is. It's done a lot for Helen and I'm sure her little sister will benefit in a similar way. It's come at a price, but it's a price that's been worth paying.
Interested in this blog post? Well have a read of these...