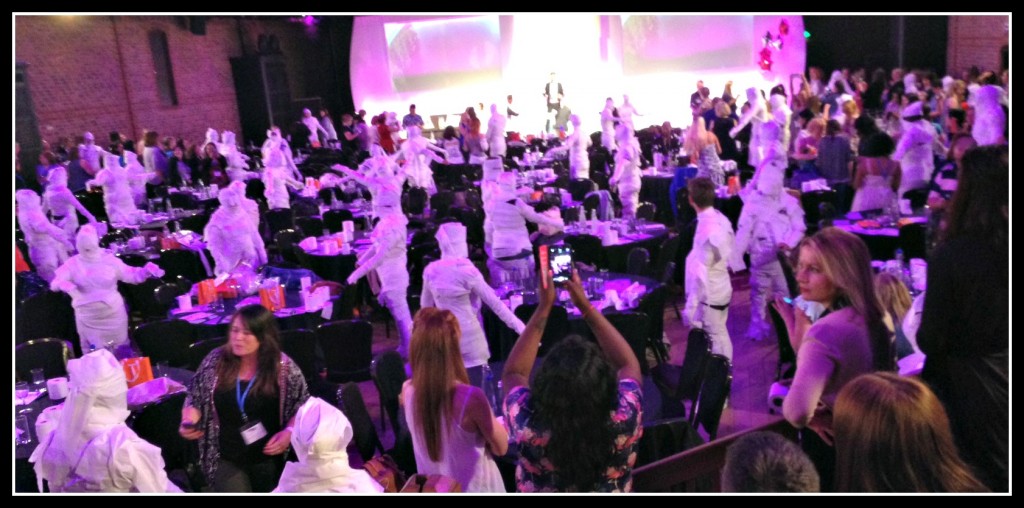 Okay, so the image is a bit blurred and the exposure a bit squiffy, but I just had to post this shot and link it to #MySundayPhoto. It was taken on Friday afternoon at the BritMums Live conference when all attendees took part in a successful Guinness World Record attempt. The record; to wrap as many people as mummies in three minutes in one go.
I think the image captures just how surreal the moment was. I thought the room looked very much like some kind of comedy horror film.
Pity Charly Dove of the PodcastDove blog. Charly was one of the volunteers from our table who was wrapped up in lavatory paper. A Guinness official had to go round and inspect every single mummy to ensure they met the criteria and, being at the very back of the room, Charlie was the last person to be inspected so was stood at the back getting very hot for a good 15-20 minutes!
I'll write more about BritMums Live in the next couple of days. For those interested in the Brilliance in Blogging Awards, however, I didn't win in the family category. That went to the WryMummy blog, a very well deserved win it was too.
Wishing you all a happy Father's Day!
Interested in this blog post? Well have a read of these...