Some weeks ago, I was travelling through London at night without my camera. I passed the Lloyds of London building and it looked magnificent and incredibly photogenic. I vowed to return to take some images of this very striking building.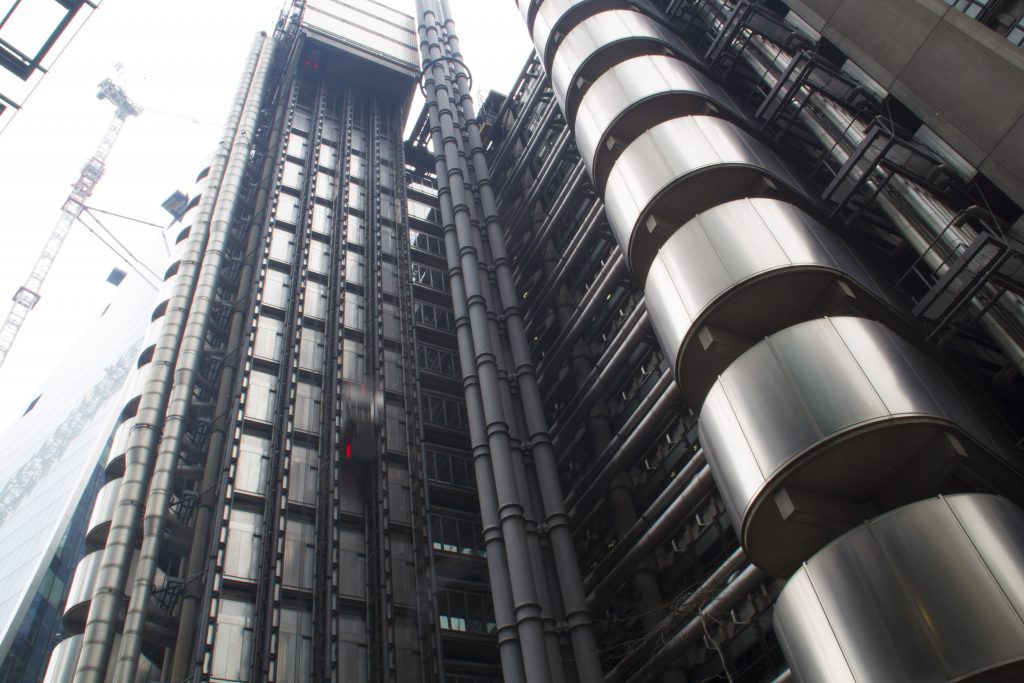 My wish is to go back at night time and take some long exposure imagery of both the Lloyds of London building and some of the other eye catching buildings in the city's famed financial district. Thus far, poor weather has thwarted my attempts to visit this part of London at night. Earlier this week, however, I found myself with a little time to spare during office hours.
It was a very grey day. The lighting conditions were terrible. I simply couldn't turn this opportunity down and so I went snap happy in the Square Mile.
I took numerous images of the Lloyds of London building. While I was n the right place, it was the wrong time. The lighting was dire. I had to mount my camera on a tripod and manually increase the exposure time. This picture was shot with the shutter speed set at 1/4 of a second.
I was fortunate enough some years ago to do a tour of the building. Inside the steel and glass skeleton is a board room that could be taken right out of a National Trust property. It's massive and has ornate plaster decorations running all around the ceiling. It's not what you expect to find inside such a modern building at all.
The Lloyds of London building is one that divides opinion. Some love it, some hate it. The question is, where do you stand? Is it a building you admire or one you consider to be a carbuncle? Leave a comment below with your thoughts.
I have added this image to a blogging linky I frequently participate in. it;s called #MySundayPhoto and is hosted by the magnificent Photalife blog. I thoroughly recommend clicking on the badge below if you like photography and want to see imagery produced by other bloggers.
Interested in this blog post? Well have a read of these...