I was first introduced to the Micro Scooter in New York City by a friend of my sister's. This guy commuted across Manhattan on an adult version and wherever he was going, would always turn up with a collapsed scooter under his arm.
Several years later, I become a father of two children, the eldest of which, Helen, started in Reception class last September. When Helen started school I was re-introduced to the Micro Scooter as I noticed huge numbers of kids either arriving at school on one, or scooting off home on one at the end of the day.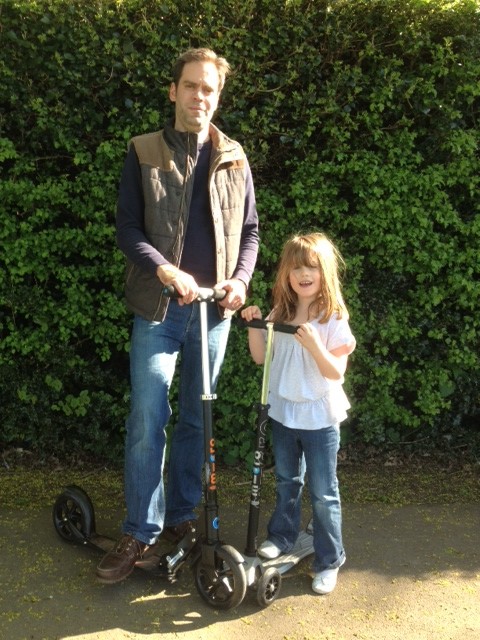 As a rather keen in-line skater, I looked on somewhat jealously. Out of the blue I was approached and asked if my daughter and I would take on the challenge of demonstrating that Dads do Scoot. I was only too happy to oblige.
Over the Easter Holidays Helen and I took a break in the Cotswolds and we were both armed with scooters; Helen had a Maxi Micro Scooter designed for those aged six to 12 while I used an adult scooter (to clarify, Helen is five but she's an exceptionally tall five). The weather didn't exactly work in our favour, but we had great fun tearing round on our respective machines.
Helen has used scooters in the past so took to it very easily. I had to keep reminding her to use the brake on the back instead of scuffing her shoes when she wanted to stop, but she was otherwise absolutely fine and thoroughly enjoyed herself.
This whole exercise, however, was more about proving adults (and dads in particular) can scoot. The adult scooters are slightly different from the children's in that they collapse to make them easier to transport.
Once I'd got over some initial confusion and managed to get the handlebars into the upright position, I had a superb time with my scooter. On this point, I have some advice. There are two lugs where the kickboard meets the bottom of the handlebars. Don't, as I did, spend 30-odd minutes pulling at the lugs in an attempt to get the thing working. Simply push them instead and all will be fine!
I also found the scooter to be a superb means of exercise. If I've been on it for any length of time then I can really feel it in my legs. It's a healthy feeling, as if using rarely-used muscles.
Granny happened to be with us while we were in the Cotswolds. She couldn't resist having a go on the adult scooter. She thoroughly enjoyed it but there were mutterings about a medical condition so I'm not sure that I shall buy her one for Christmas!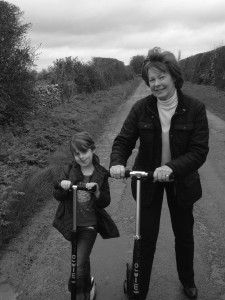 This may be a slightly geeky thing to say, but the brake system on the rear wheel of the adult scooter is an engineering feat. On the kids' scooters, you simply use your foot to push a plastic flap down on to the rear wheel. On the adults' scooter you push down on a metal flap, but nothing touches the wheel. There's clearly something very impressive hidden away inside this machine.
So what do these machines cost? Maxi Micro scooters, as Helen was using, start at £94.95. The adult versions start at £99.95. If you have younger children, there are cheaper options, such as the Mini Micro Seat and the Mini Micro. For more information,visit the Micro Scooters website.
Disclosure: Helen and I were very kindly provided with our respective Micro Scooters to demonstrate that Dads do Scoot. 
Interested in this blog post? Well have a read of these...