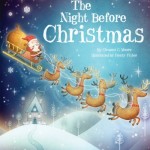 We've been reading a couple of books from the Paragon range over recent weeks. The most timely, bearing in mind the season, is Clement C. Moore's classic The Night Before Christmas (known to some as A Visit from St Nicholas).
You're probably familiar with the poem to a greater or lesser degree, but it tells the tale of St Nicholas as he is spotted by a dad. The dad gets to watch as Father Christmas delivers his presents on Christmas Eve and the tale has been bought to life with some great illustrations by Henry Fisher.
I'm not too sure who's enjoying the book more, my wife who asks my eldest if she can read it to her every night or my daughter who has started quoting parts of it!
The other book we've been reading is Wakey Wakey Big Brown Bear. This story is written by Tracey Corder and illustrated by Rachel Swires. As the name suggests, it features a big brown bear.
The bear doesn't want to hibernate because he doesn't want to miss out on all the winter fun. Eventually he does drop off to sleep and his friends come up with a plan so that he can have his own special winter-time experience.
Bother books are £5:99 and can be purchased from Amazon.