This high-end machine has a remarkably minimalist design. One thing that stands out immediately is how smooth the ride is. Each wheel has its own independent suspension system but they work together beautifully taking out all the bumps in the journey.
Another good feature is the extendable handlebars. They pull right up to chest height which is ideal for a tall person lik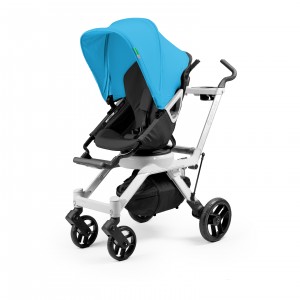 e me. On the subject of handlebars, the G2 can be steered one handed, a feature I'm always in favour of. 
Like many travel systems, the G2 has a chassis which the seat, for children 6 months and older, clips into. For younger babies there is a detachable basonette so for all intents and purposes the G2 can convert into a pram. Our youngest was a bit too large to try out the basonette but it looks great and comes with a rockable cradle so you can use it entirely independently if you wish.
The child's seat itself is worth a mention. It tilts into a number of positions and has a fantastic canopy. The canopy is described as a paparazzi screen and you can see why. It can be used in two positions, one that lets the child see the world around them and in the second it can be pulled down right over the front of the infant leaving only their legs visible.
I wasn't entirely convinced about this feature at first. We then spent a particularly windy day in London and the screen proved its worth as it kept baby shielded from some big gusts of wind. It's also worth noting the screen is also sun proof so your child would be protected from the sun's rays.
The G2 has another fantastic feature; the seat can spin round into a number of different positions and can be locked in place at 90 degrees. This means you can go to a café or restaurant and have baby sitting alongside you at the table.
You know underneath most pushchairs and travel systems there is a fabric tray for storing any items you may need for the day? Not so the G2. Instead of a fabric tray you will find the detachable cargo pod. This is essentially a bag that you pull out and take with you which is a very nice touch. Just be advised the cargo pod has been designed for quick access (you know, those moments when you need to quickly grab a tissue, baby's bottle or baby wipe).  It is, therefore, possibly not the best place to store your wallet or mobile phone but it works fine as a changing bag.
If you have a toddler or pre-schooler, you might want to consider getting the Sidekick attachment that clips on to a back wheel. It's designed to look like a skateboard and your youngster jumps on and holds on. Our eldest loved it and it doesn't have any great impact on how the G2 performs.
The G2 collapses down very easily and quickly and it isn't heavy. The child's seat isn't the smallest but even so we have packed it into the back of a small Renault Clio with ease.
There are a few minor points that could be improved. Although panniers are available as an accessory, some kind of basic, secure storage for wallets, keys and phones such as a zip-up wallet wouldn't go amiss. The canopy over the seat also has no lift-up window so if you want to check on your child you have to walk round to the front and see what they are up to.
All things considered, however, this is a brilliant machine. With an RRP starting at £620 the G2 does not come cheap but it is a very high quality product. Well worth considering.
See the video I made of the Orbit Baby G2 in action on YouTube.
For more information visit the Orbit Baby website.
Interested in this blog post? Well have a read of these...