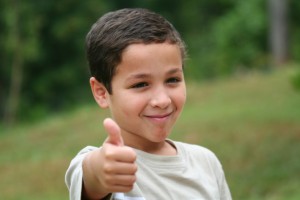 I was at a thought provoking round table discussion the other day. The discussion was about fathers and what they can do to promote healthy body image.
The event was hosted by the Equalities Minister Jo Swinson and I found myself in incredibly impressive company. In addition to the Minister there was a Cambridge professor and the founders and chief executives of several charities.
The nature of the discussion dictated that, with one exception, the participants were all male and most of us fathers. I won't go into detail about what was said during the discussion but I picked up on something very quickly. Almost as soon as the conversation got underway, several of us dads admitted we hadn't given much thought to body image issues. I'm afraid to say I was one of them.
My thoughts had been limited to the misogyny my two daughters will face. I believe there's an insidious and creeping misogyny in the media and I'm very concerned about the increasingly sexualised images that my children will inevitably face as they grow up.
There's an important point to be made here. I only have daughters but body image issues are increasingly affecting men and boys and we musn't forget this. Indeed, one of the participants was from an organisation representing men with eating disorders.  
I came away from the meeting full of questions:
·         What can I do as a father to ensure my children are confident with their bodies?
·         What can I do as a father to ensure my daughters lead a healthy life?
·         Should my wife and I shield our children from misogynistic advertising and music videos?
·         At what age should we start speaking to them about these things?
·         Should we be speaking to our eldest already (she's four)?
The point was rammed home to me yesterday when I drove past a primary school. Walking along the road was a young girl of around eight years of age in school uniform. She was being followed a few paces behind by a woman, presumably her mother, pushing a toddler in a pushchair.
To my amazement the young girl had a Playboy-branded satchel over her shoulder. I tried not to be judgemental but I found it desperately sad that a child so young could open to the influence of a brand that promotes sex and perfect bodies.
So tell me mums and dads, what do you do with your children to promote positive body image? Do you do anything? I'd be interested to hear.