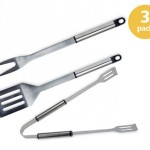 If there's one thing that never ceases to amaze me, it's how Aldi offers such superb value for money. On this occasion, we have a three piece barbecue set retailing at £3.99.
The set comprises of a fork for piercing and turning burgers, tongs for turning barbecued meats and a spatula for flipping burgers and other foods. The set is made form stainless steel and seems to be very high quality. In fact, on inspecting this set, my wife and I decided it was time to place our old and battle-scarred barbecue set in the recycling.
There isn't a great deal more to tell you about his kit. It's good quality, comes in at under a fiver and is on the shelves now.
If you do enjoy cooking on coals during the summer months, you might want to explore the the other items in the Aldi range. In addition to this three peice set, the store is also selling various different barbecues, firelighters, a cool bag and so on.
Interested in this blog post? Well have a read of these...