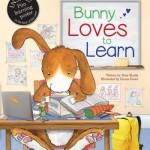 Of all the Parragon-published books I've reviewed to date (and there have been quite a few!) Bunny Loves to Learn stood out from the reaction it got from my daughter.
She really enjoyed this title and clearly found it engaging. I think this is possibly because she could relate to the subject matter i.e. going to school.
You won't be too surprised to hear this is a book about a bunny rabbit, called Buster, who enjoys going to school. It follows the adventures of Buster and his school friends as they work on a history project that involves dressing up in costumes from past eras.
The school friends have to undertake research for the project. This involves using the computer and reading books, all activities that kids do at school. I think this is why it's so easy for youngsters to relate to it.
The book is written by award-winning author Peter Bentley and illustrated by Emma Foster. In a change from the other Parragon books I've read, the illustrations are a mix of hand drawn and computer generated images.
It's an ideal title for young school children and costs £5.99. I think we'll be reading this one at bed time for some time to come.
More information is on the Parragon website.
Brilliance in Blogging Awards (BiBs) – Please vote Dadbloguk in the Commentary and Campaigns category! I have been shortlisted for a BiB award and need your vote to make it on to the finals. If you like my blog please follow this link and vote for me in category 17: https://www.surveymonkey.com/s/BiBs2014Shortlist. Your support is appreciated and thanks to everyone that has voted to date. Voting ends at midnight on16 May.
Interested in this blog post? Well have a read of these...