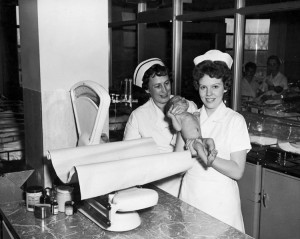 When I was made aware of the Fatherhood Insititue's #DadsExcluded campaign, an example instantly sprung to mind. It's a place where most men spend very little time; the maternity ward.
The majority of men only spend a day on the ward so they probably don't notice just how dad-unfriendly these places are. I didn't really notice until my youngest daughter was born 18 months ago and before the memories fade, I think it only correct I make a record of them.
Let me start by saying that I have absolutely no issues whatsoever with midwives. I've never, and I wish to make this totally clear, had an issue with a midwife or a health visitor. I'm also not going to question the way care is provided in maternity wards. They exist to help women after giving birth and by-rights must be a predominately female focused environment. To argue otherwise would be moronic.
Before I go on, allow me to give you a little back-story. When my youngest daughter, Elizabeth, was born it was a text-book delivery. We went home as a family soon after the birth. Complications arose a couple of days later when a visiting midwife noticed symptoms of possible eclampsyia and my wife was re-admitted to hospital for further checks and to stabilise her blood pressure.
Thankfully it was all a false alarm and she was discharged a few days later. It was, however, a disappointing and very stressful start to our life as a new and expanded family.
Being re-admitted to hospital was the last thing my wife needed after the birth. It was very hard for her emotionally. She needed support and so I spent every possible minute I could with her on the maternity ward.
It was during this elongated stay I noticed bad planning and poor policies that discriminated against us dads. I'll list a few of my observations here:
No gents' lavatories on the ward
This may seem a very petty complaint, but every time I needed the lavatory I had to leave the ward. This was the easy part. The difficult bit was regaining entry on my return. I had to press a buzzer and wait for a midwife to let me back in. They were generally very good at this, but sometimes you could end up waiting ages to for someone to notice you. I don't question the need for the tight security, but is it really too much to install a male WC on the ward?

Men, Do not look after your new born child!
Each lunchtime and dinner time, all women capable of walking had to make their way to a communal dining hall to eat. Men were not allowed to accompany their partners. The policy was that women must take their baby(ies) with them, even if the father was visiting.
This sends a message to men that they aren't capable of looking after their own child. As this was my second child, I found it incredibly patronising because I knew how to look after a new born.
I totally understand that some men would struggle with this (as do many women), but if you are not put in a position where you have to look after your offspring, you'll never learn. Also, where's the harm in giving mum 30 minutes without baby while she eats?

Men, do not eat!
Whenever I wanted to eat, I was rusticated to the hospital restaurant. This involved walking quite a long way through a hospital in the midst of a norovirus outbreak. Every time I ate I wondered if I was brining horrible germs back with me and, you guessed it, a midwife had to stop what she was doing to let me back on to the ward.
Men, do not drink!
A couple of times a day, a midwifery assistant would come around the ward with tea and coffee for the women. Woe betide any man who inadvertently asked her for a drink. You would receive nothing but a mug full of attitude in response.
Purely by luck, I found a way around this. My wife doesn't drink tea and didn't like the coffee on offer. Every time drinks were offered, she asked for a tea that I then drank in the privacy of our own little cubicle.
The solution to both these issues is simple. This is the NHS, I don't expect to get food and drink for free. Just allow us guys to pay for food and drink that we can then consume in the communal dining room (or equivalent). This way we can stay with our partners and new born children, won't have to burden a midwife with the responsibility of playing bouncer and letting us on to the ward and the NHS can make a profit on what we buy.
NHS trusts are superb at making money from numerous sources; car parking, Bounty franchises, fast food restaurants, baby scan pictures, clay models of your child's feet. Hospitals are a bit like souks these days! This would simply add to the commercial mix.
In summary
In isolation, none of these points may seem terribly serious. Imagine, however, that you're a man keeping his partner company. She's just given birth, there are complications and she is clearly upset, possibly depressed. Every time you go off for lunch she asks you to come back as quickly as you can because she doesn't want to be on her own.
Dad has a very important role to play in these circumstances. Mum needs you and so does the new born child. Sadly, my experience suggests this role isn't recognised on the maternity ward and so we don't get the chance to fulfil it.
The Fatherhood Institute is collecting examples of fatherhood exclusion as part of its Dads Excluded twitter campaign. For more information, follow the #DadsExcluded hashtag.
Photo Credit: Library and Archives, Canada. Reproduced under Creative Commons License
Interested in this blog post? Well have a read of these...