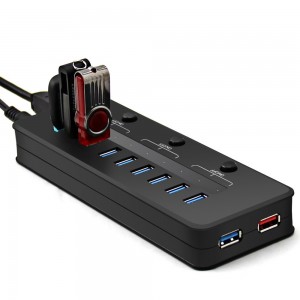 Personally speaking, I find that using a multi-port hub can be very useful. I may have images on one data stick, Word documents on another, a mobile phone to charge and soon. Having them all plugged into the one device can be very useful.
Perhaps it's because I have slightly Luddite tendencies, but it never actually occurred to me that a 10-port hub might even exist. Who actually needs access to so much data in one go? More to the point, surely you'd need some kind of special license for operating such a piece of machinery?
I can confirm that the Eteckcity Super-Speed USB 3.0 10-port hub is such a device. Having used it, I'm pleased to say you don't need a licence for it!
It's very simple. You plug it into the mains and it connects to your computer via USB. You have nine different USB ports. They're grouped in threes and each group has a separate on/off switch so you can turn some off the ports if they're not in use.
But that's only nine ports. What about the tenth? In fact there's an additional two ports. One is simply a charging port for a mobile device. The final one is a USB 3.0 interface.
Does this beast work? In simple terms, yes. If you're looking to use a large number of data sticks and charge a phone or an iPad at the same time, it works and is very easy to use. I also noticed no impact on the performance of my lap top.
One afternoon, however, I decided I'd really put it through its paces and connected two cameras, an external hard drive, iPhone and several USBs. When I did this, the device objected, as did my PC.
In summary, it's a very easy to use device and one that performs well if you simply want to use a large number of data sticks. If you're looking to use other devices, you may need to use something else.
Expect to pay around £30.  You can buy this device from Amazon.