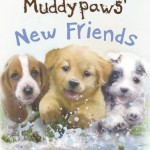 This arrival of Muddypaws' New Friends was very timely as Helen, my eldest daughter, has been banging on about wanting a pet dog for some weeks. I think it has something to do with a school friend that has a dog.
Anyway, with her new found interest in all things dog-like, Helen sat and listened very intently as I read her this tale. After a term at school, she even read some of it herself.
Written by Steve Smallman and illustrated by Simon Mendez, this is a delightful tale about Ben and Muddypaws, his pet dog and best friend. Both are separated during the school day but in a change to the schedule, Ben surprises Muddypaws one day by taking him to puppy school where he meets and makes friends with other animals.
At my age, I can't quite believe I'm writing a review of a book about a puppy that makes friends. I guess that's what having children does to you!
As with all Parragon's picture books the illustrations are of a high quality. The story itself, is ideal for children of five or six years of age.
Muddypaws' New Friends is published by Parragon. It is available on Amazon and iBooks and costs £5.99.    
Interested in this blog post? Well have a read of these...