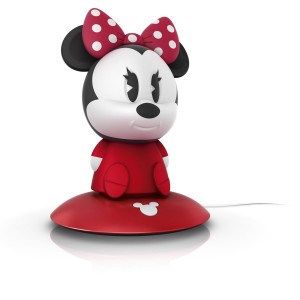 Philips' SoftPals lighting is a new range specifically designed for children. It provides a little light so your child isn't left completely in the dark at night time.
To produce these lights, Philips teamed-up with Disney and so they come in the form of classic Minnie and Mickey Mouse dolls, as well as Sulley and Mike from Monster's Inc. We tried out a Minnie Mouse light and it was obviously the correct choice as Helen, our five year old, couldn't wait to rip it out of the box as soon as she saw it.
The light comes in two parts; a base unit that charges the light and the light itself, which detaches from the base and can placed elsewhere if required. Both halves seem quite indestructible, a good thing bearing in mind the product's intended market.
Quite how the light gets charged is beyond me. The lighting unit is made of some kind of rubber material and it doesn't plug into the base. Something very clever makes this thing work but I've given up trying to figure it out!
To turn the light on, you have to shake it. At first this had me completely baffled. I was trying to find a button to press but eventually I figured it out.
As for size, it's ideal for a bedside table (22cm tall x 16cm wide x 14cm deep). The light is not powerful, it gives off an atmospheric, comforting glow but not enough to read a book.
To my mind the real benefit of this product is that it's tough. I genuinely think a child will struggle to do serious damage to one of these lights.
The recommended retail price is £24.99. As it's new, it's not yet in the shops but is available on Amazon and Ebay. More information about the SoftPals range can be found here.

Interested in this blog post? Well have a read of these...