Over recent weeks I've posted quite a bit of long-exposure photography. These are images that often require patience, practise and time to set up. On this occasion, however, I'm posting something entirely different: The moment an RNLI rescue boat was launched right in front of me.When this kind of unexpected event happens, you simply have to point, shoot and hope for the best.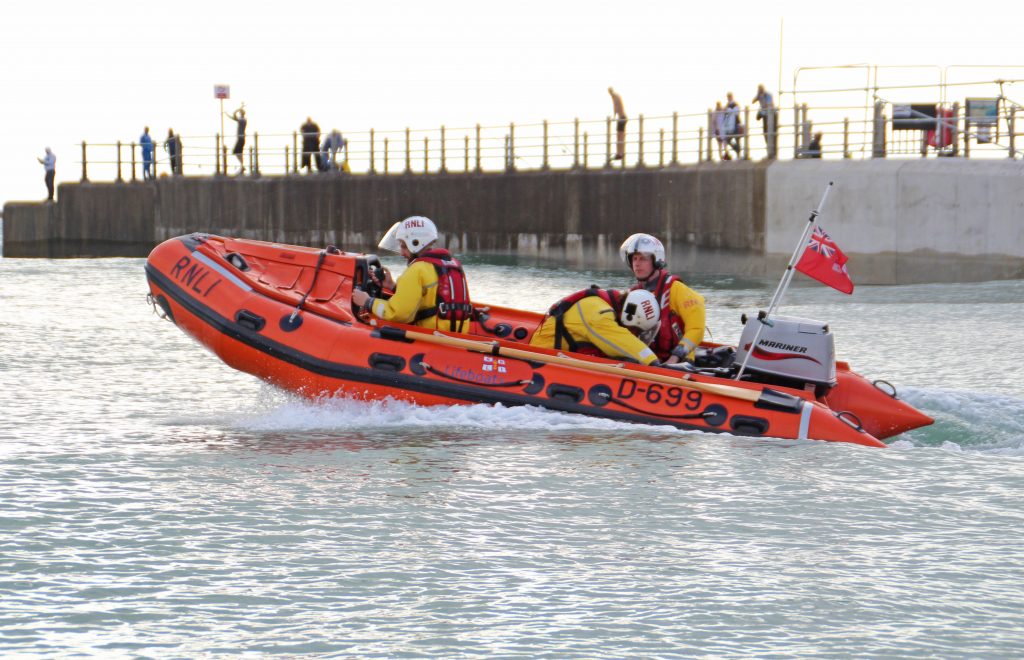 It was an exciting moment. There was an announcement over a public address system and then a small bulldozer appeared from the RNLI Lifeboat Station (that's Royal National Lifeboat Institute for any non-British readers) pushing the boat into the water.
I simply put my camera into burst mode and fired off shot after shot. With no notice this was going to happen, there was nothing else to do.
This action all happened on a recent visit to Hastings (when I took this image). The shot was taken just as the dinghy's propeller entered the water. In fact, in the previous frame, you can still see the propeller as it hasn't yet been submerged.
I like to think the image conveys a sense of excitement. The crew are obviously all concentrating very hard and you can see the wake in the water as the dinghy speeds off.
I'd be curious to know, do you think it conveys a sense of excitement? Do you think it works as an image as it all happened so fast I had no time to plan or take practise shots?
This is one of many images linked to the #MySundayPhoto linky hosted by the Photalife blog. I recommend clicking on the badge below and visiting the linky as it always features some great images.
Oh, and while I hate to burst the bubble, I later found out this launch was drill. Nobody was being rescued but it was still a very impressive event to witness.
Interested in this blog post? Well have a read of these...