I have never been a huge fan of undertaking DIY tasks that involve working at heights. Now I am a father and, I can't deny it, getting older, I get increasingly nervous about climbing ladders.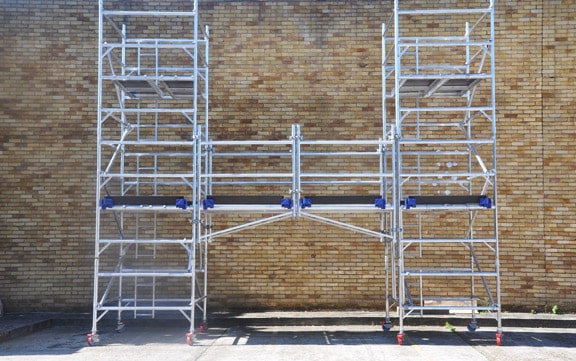 In our old house we had an enormous hedge. I struggled up a ladder many a time during the summer months to trim it, but I often wondered about buying a scaffolding tower because it was such an awkward job to undertake.
The hedges were absolutely massive and I didn't miss them when we moved to a new property. They were about five metres tall and a metre and a half wide. More than once I nearly toppled off the ladder while dealing with unruly twigs and branches. If I had noticed a neighbour or someone with a scaffold tower for sale on Gum Tree, I would probably have invested in it.
A lightweight scaffold tower is a lot safer than a ladder. I have relied upon towers in the past when undertaking home improvement projects. On one old house of mine (long before I became a dad) some of the guttering had to be replaced and a scaffold tower was the ideal way to get to the appropriate height to do the job. I've also seen them used when ceilings have needed plastering, insulation has been installed in new buildings and many a time when the exterior of a building has been decorated.
I think towers have a huge benefit over ladders when working in stairwells. For safety reasons I just wouldn't consider using a ladder when decorating a stairwell.
Safely getting to the appropriate height is just one benefit to using a scaffold tower. They also make it easier to move items from one part of a wall or ceiling to another. As they provide a platform, two people can work together on a platform and they also have space for placing tools or building materials.
Some towers even have wheels at the bottom. This makes them very maneuverable. Yes, there is still a place for the good old-fashioned ladder, but sometimes a tower makes very good sense.
I have seen on DIY websites people express concern about the amount of storage space required for scaffold towers. It's true, you will need a bit more space compared to a ladder, but you can get folding scaffold towers which can easily be stored in a corner of a garage. Tower components are also very lightweight so can be moved around with ease.
Those are a few thoughts on using scaffold towers. Fatherhood has made me much more safety conscious and I think that's reason enough to use a tower if you can!
Disclosure: This commissioned post was produced in association with Scaffold Towers.
Interested in this blog post? Well have a read of these...