What toys are going to be popular in 2019? Will there be any new board games to hit the market and will you struggle to find age-appropriate birthday presents to give to nieces, nephews and so on? I spent a morning at The Toy Fair at London Olympia to try and get some answers to these questions.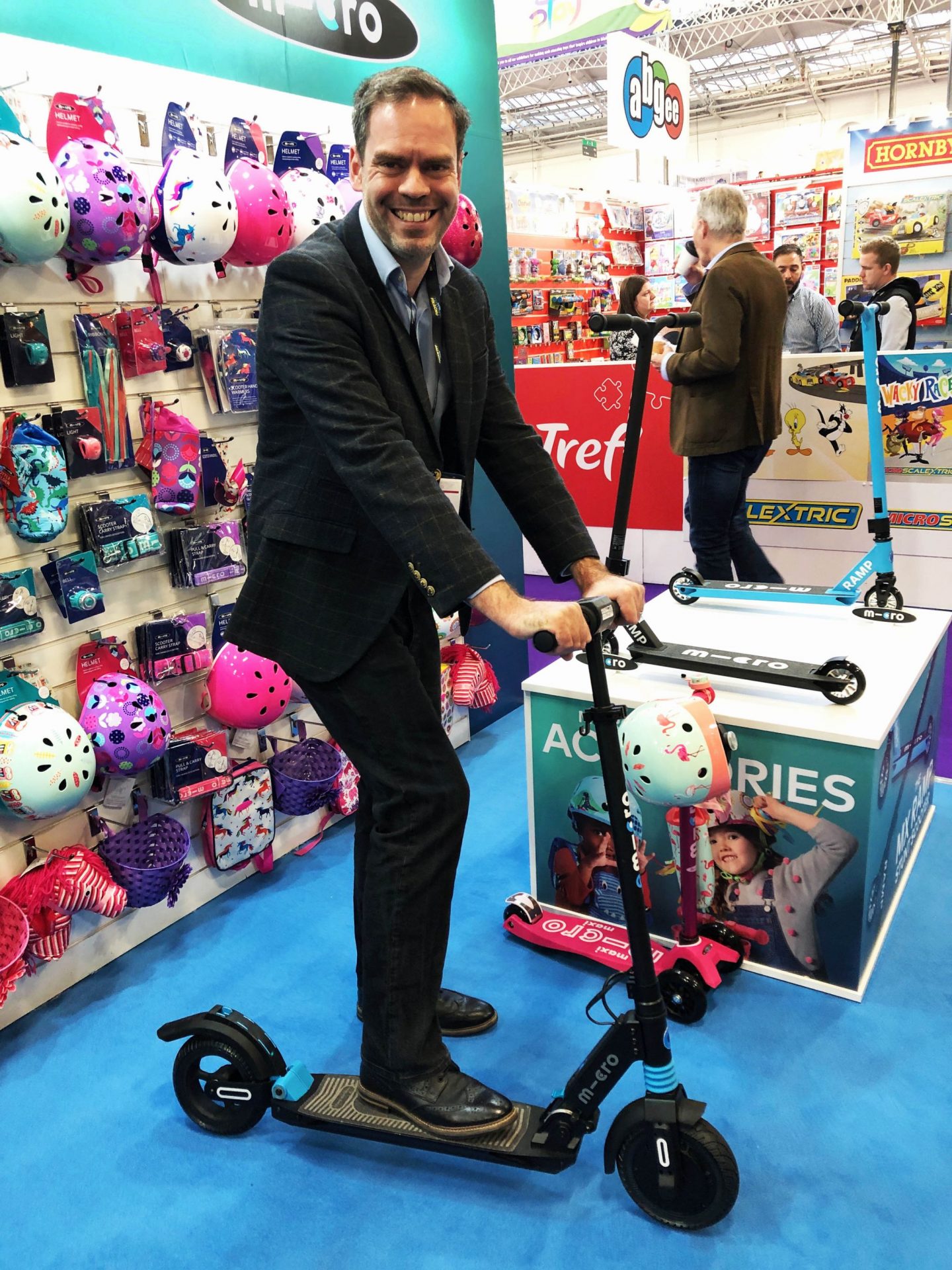 If you have never been before, The Toy Fair is massive. Toy manufacturers, promoters and importers in every conceivable sector display their products. The items also cover every age group from newborns, pre-schoolers, tweens, teens and, yes, a liberal smattering of items for us adults as well.
I personally found it a great introduction to the many toys that will be on the market in 2019. One thing in particular stood out for me and that was the number of boardgames on display.
Although we are partial to playing boardgames in this family, I had sort-of assumed the bottom must have fallen out of the boardgame market because of the popularity of video games. I think I may have jumped to completely the wrong conclusion as there were a huge umber of boardgames on show and many of them were very creative.
Based on what I saw at The Toy Fair, I have picked out a handful of items. They come from a variety of sectors and have various price ranges. Here's what impressed me.
Botley and Artie from Learning Resources
I have come to the conclusion there are two types of screen time you can give your children: Rubbish screen time when they watch unboxing videos on YouTube or creative, educational screen time, when they learn coding or undertake a similar activity.
Learning Resources produces a number of items that fall into the latter camp. Two were causing a stir at The Toy Fair: Namely Botley and Artie. Both are robot-style toys that you can control using coding commands.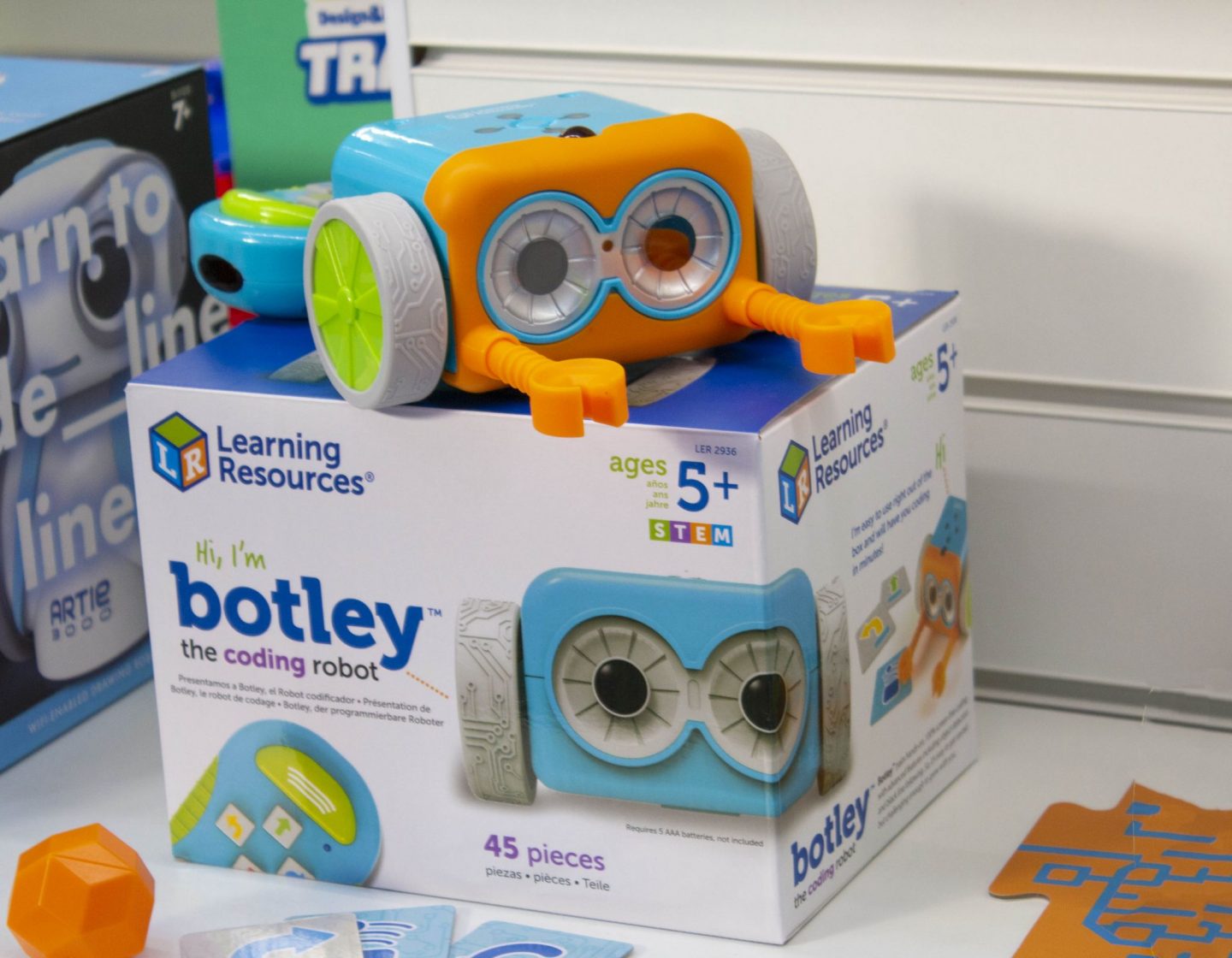 Botley is aimed at children between five and nine years of age. Using coding commands, Botley can be given directions, make noises and follow sequences. With an entry-prince of £59, it comes with a controller so can be used screen-free.
Artie is a higher specification model aimed at children who are aged seven years and older. Using drag and drop coding (similar to Scratch), Artie can do everything Botley can, but it can also be programmed to draw pictures.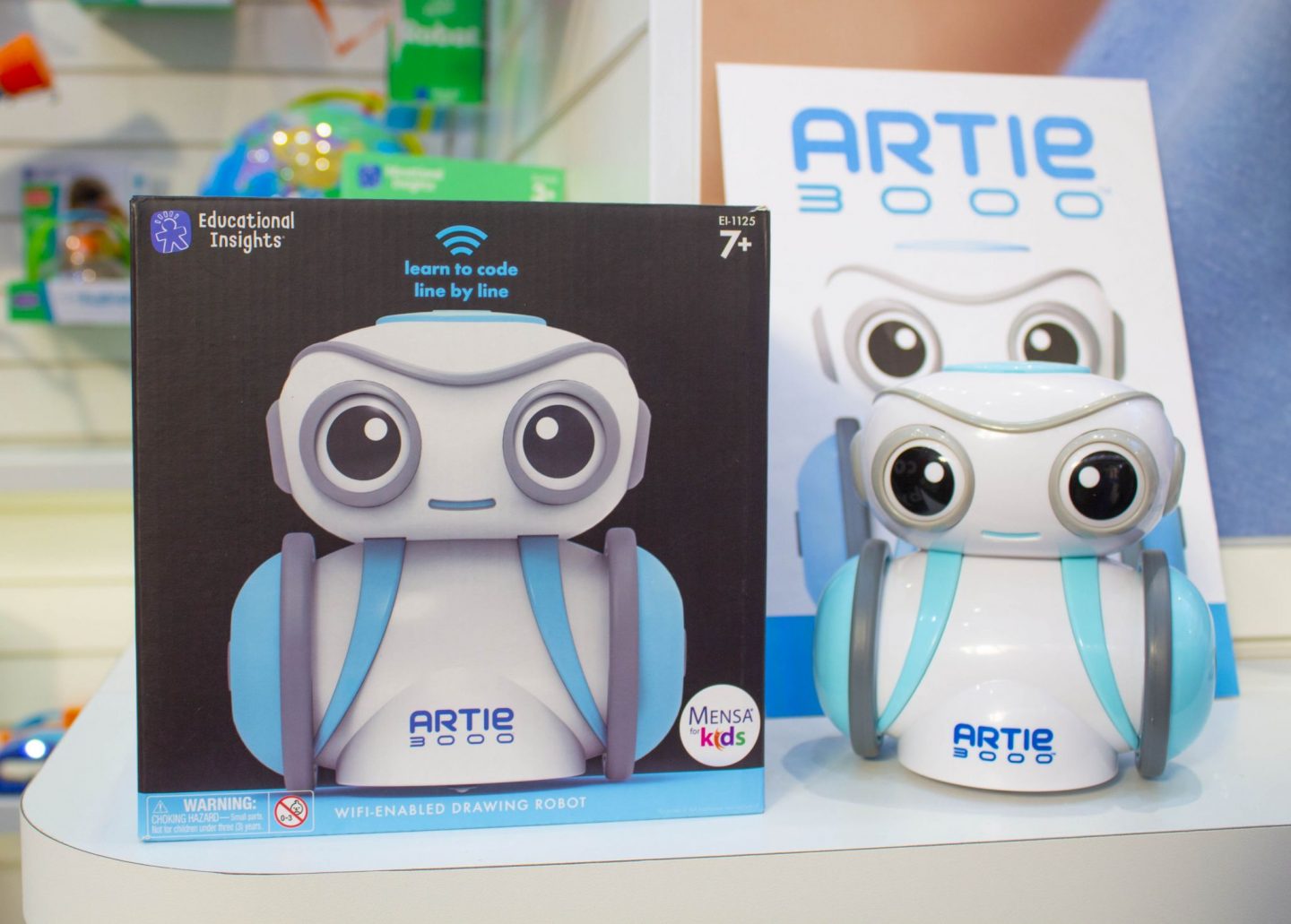 Artie looks like great fun and I would consider this as a toy for my own kids as I am encouraging them to get into coding. The entry price for Artie is £79 and I think this is definitely a toy to look out for in 2019.
Stockists of Learning Resources products include Debenhams and Amazon.
Web trampoline and colours range from plum
I was slightly confused when I first arrived at the Plum stand. I was led away to see its new web trampoline and I found myself thinking; "What's so special about this?"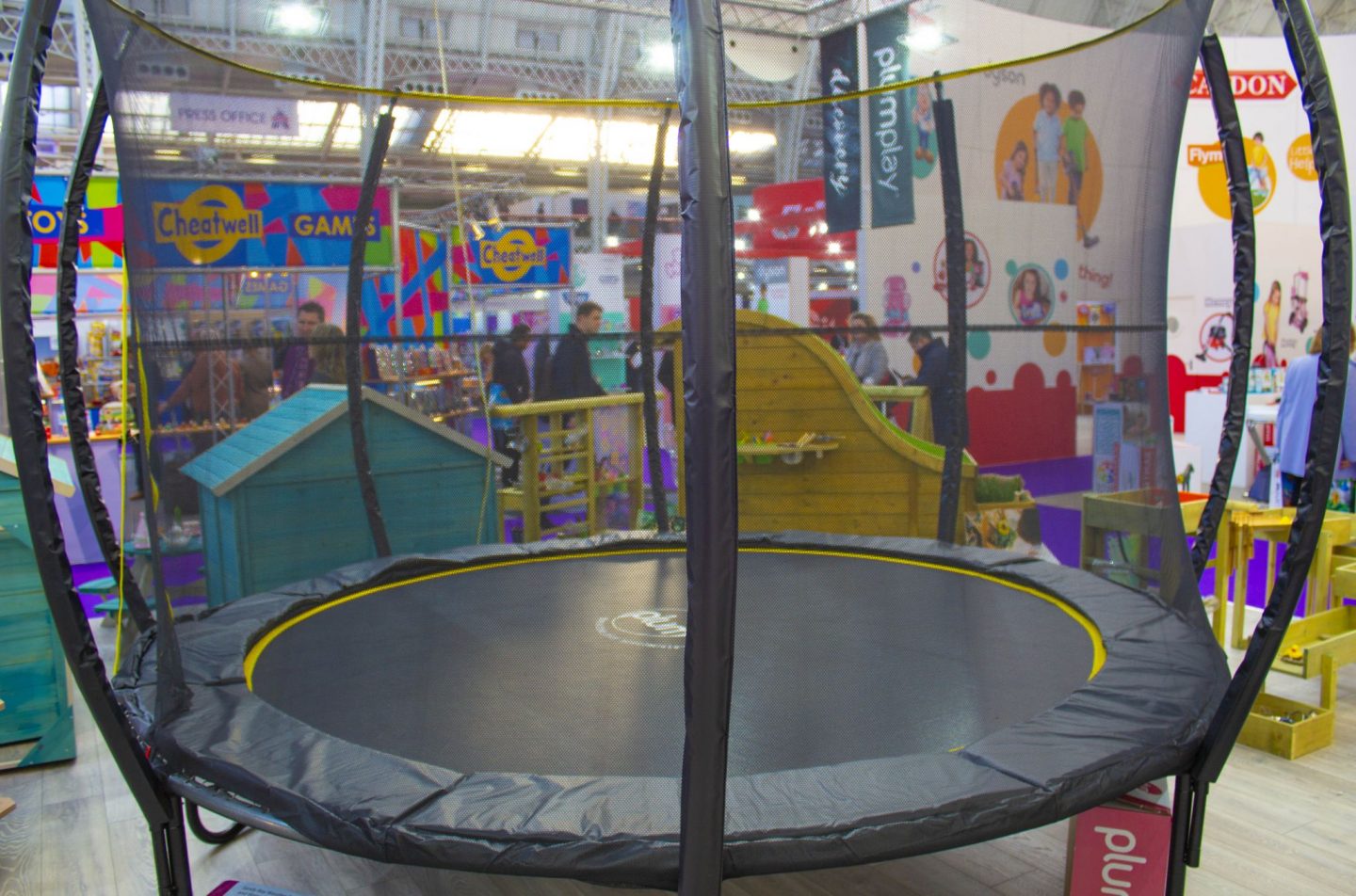 Plums is, after all, synonymous with trampolines. I could see no significant changes to the design of the trampoline whatsoever. Until, that is, the safety padding around the edge of the trampoline was lifted up so I could see what was underneath.
You know those rock-hard springs that hold the trampoline elastic in place? The kind of thing you worry about your child landing on badly? On Plum's web trampoline they've been replaced with elastic webbing.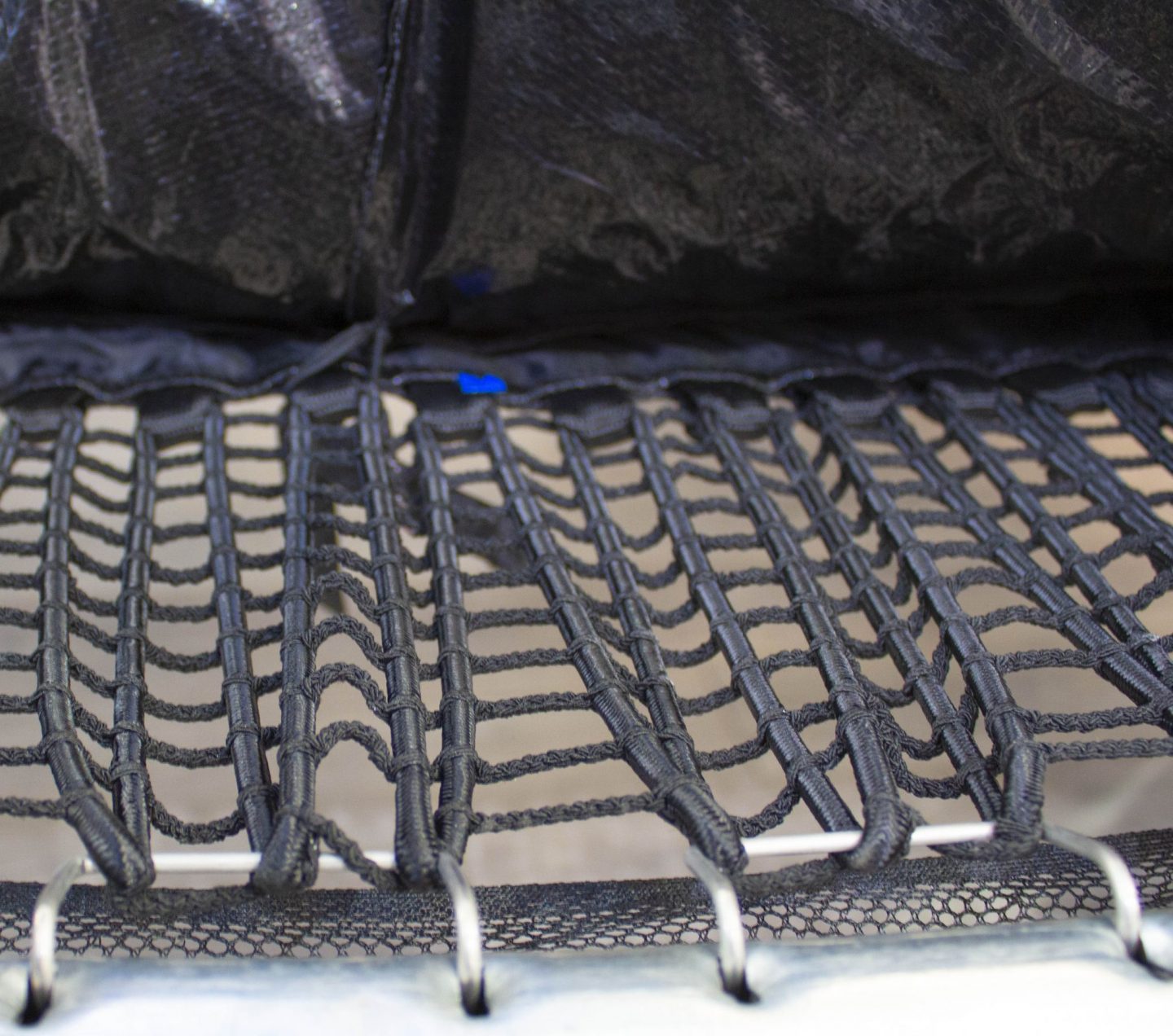 I think this is a genius move. Not only does it remove hard-metal components that could cause injury, but the elastic webbing is closer together so there are fewer gaps for young arms and legs to fall through. Added to this, the trampoline makes less noise.
Also from Plum is a new range called colours. This features wooden summer houses plus water and sand tables etc. It looks very appealing in you have younger children.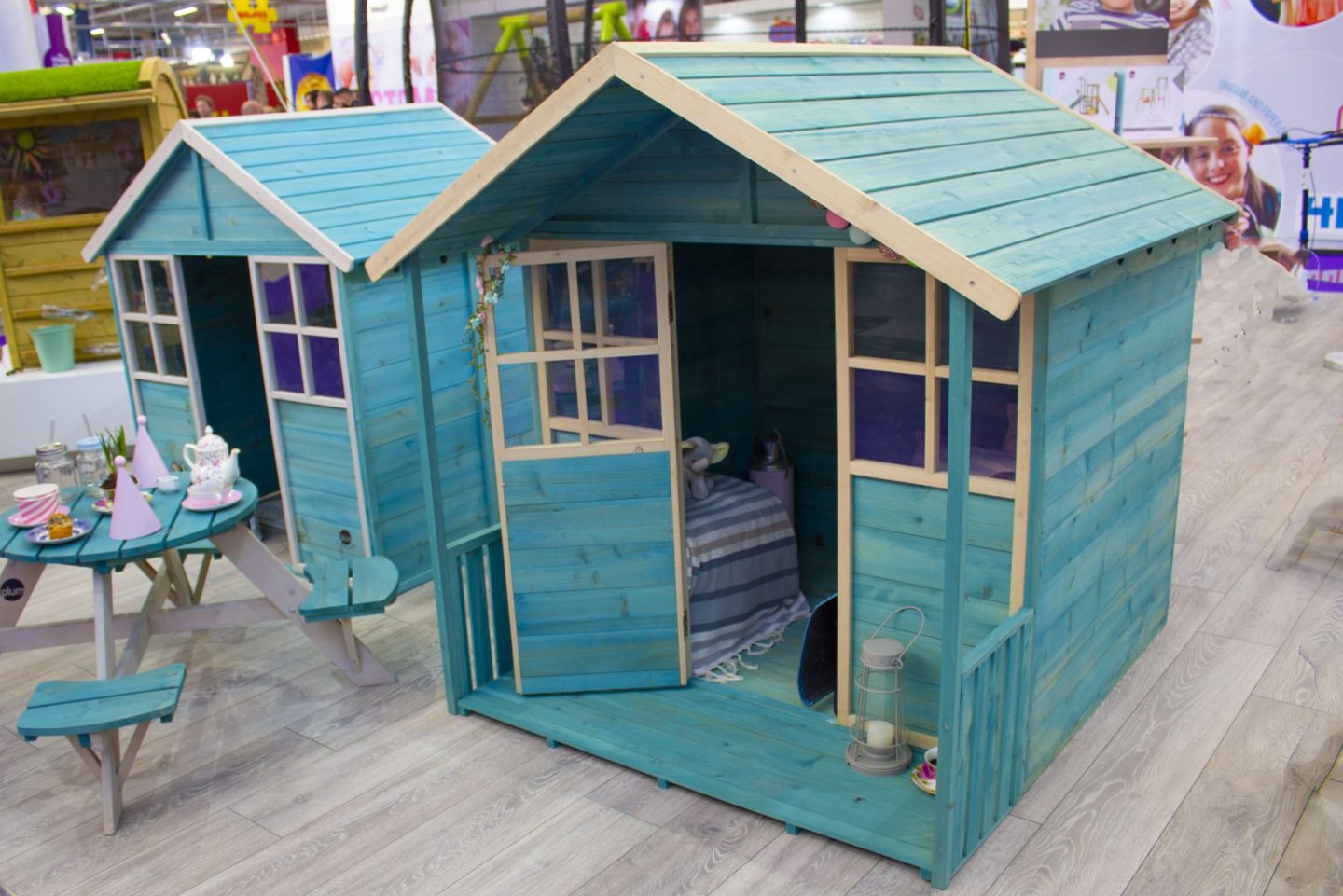 The web trampoline is retailing for £449.99. Items in the colours range have various prices but the summer houses start at £199.99.
Plum products can be purchased from B&Q, Argos, Homebase, Costco and a a wide variety of other outlets.
Various items from Micro Scooters
Small confession: I am a fan of Micro Scooters. The adult scooters are brilliant and Izzy, my youngest daughter, is also a huge fan.
For 2019, Micro Scooters is pushing its range of stunt scooters. These retail for around £124.99 and they have smaller wheels and a solid metal frame that isn't collapsible that provides greater strength.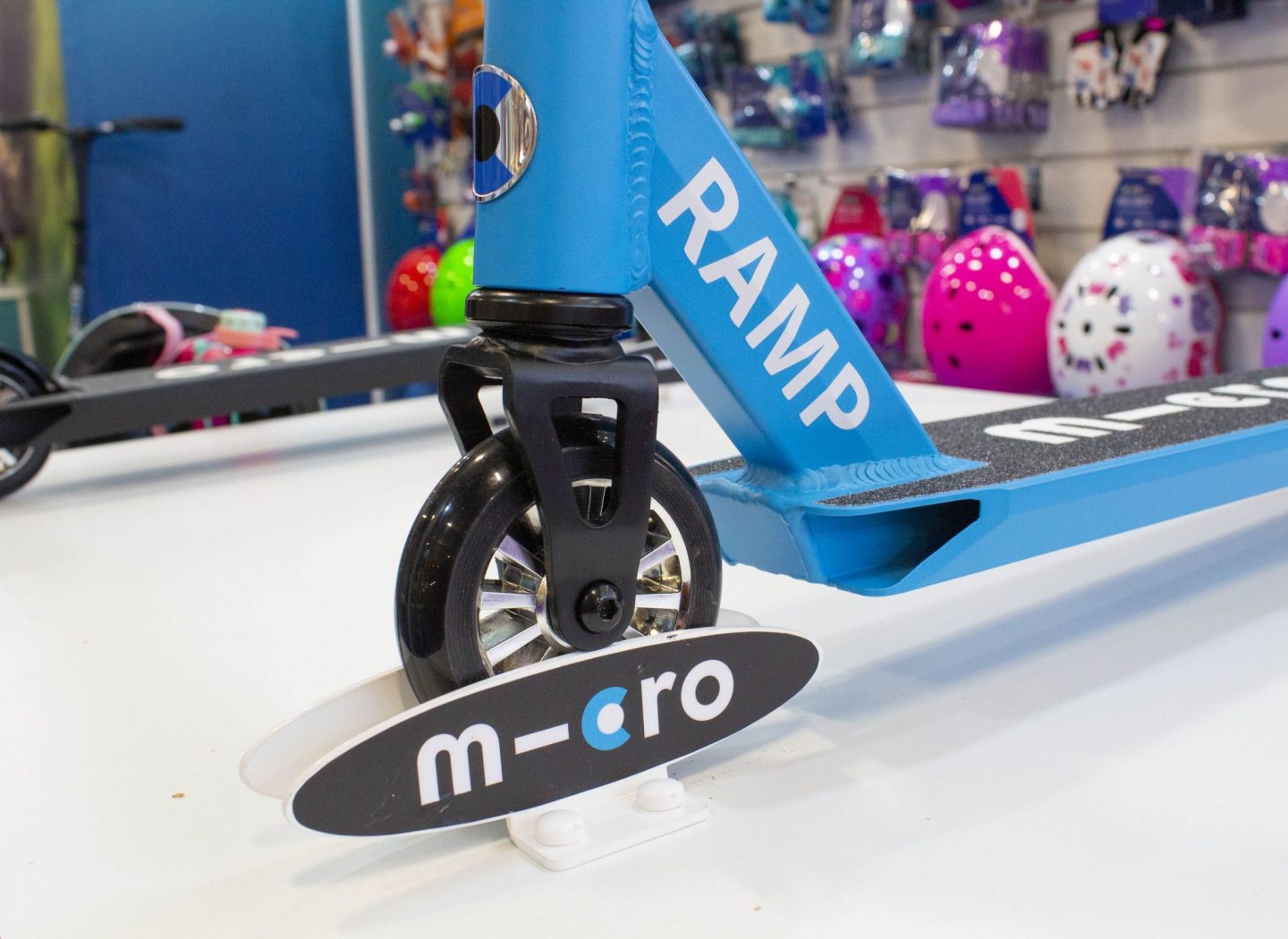 Also for 2019, you can get LED lights in the wheels. You can also have your scooter personalised by having your name added to the grip tape.
Micro Scooters has introduced a range of electric and hybrid scooters. The Power Up Playtime range is aimed at those aged 12 years and older. Powered by a lithium battery, it has five-mile range and a top speed of 11mph. Alternatively, it can be used in the usual way.
Don't think us grown-ups have been missed out. The Falcon and Condor scooters have, I think, huge potential in the commuter market.
The Condor is the higher-specification model with a twist grip accelerator and lever-brake mounted on the handlebars. It has a 20 kilometre range, can travel at an impressive 25kmh and charges in three hours.
The Falcon has a button accelerator and brake. It has a 10 kilometre range, can also hit 25kmh and charges in an hour.
Both models feature regenerative braking. This level of tech does come with price tag to match so you won't get much change out of £800.
I'm pictured at the top of this article with one of the Falcon models. I can see them rivalling the Brompton bicycle. Even for non-commuters, I fully expect to see grown ups racing around parks on these in the not-too-distant future.
Micro Scooters products are widely available. They are available at John Lewis, Smyths Toys and so on.
The Green board Game Co.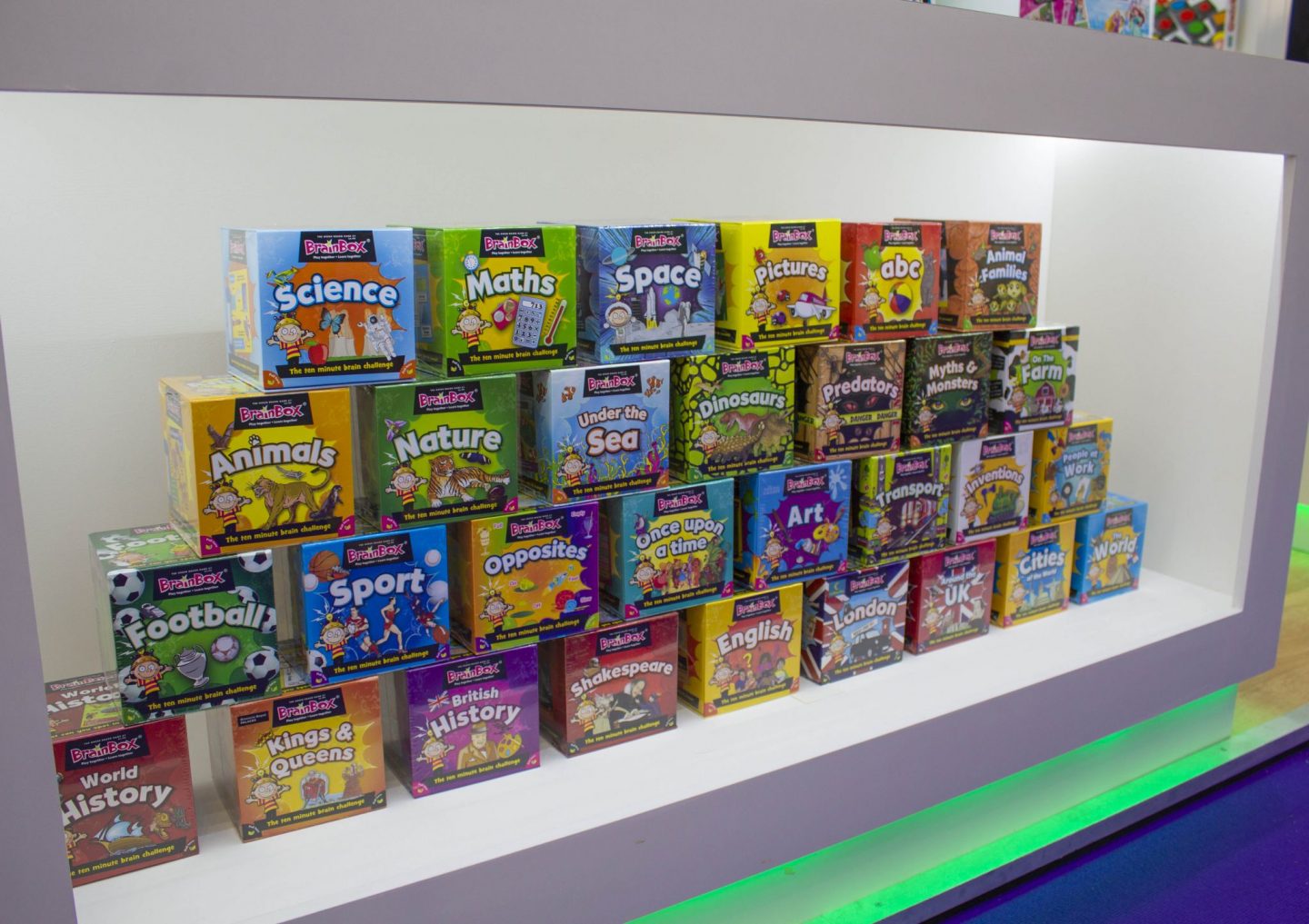 I mentioned there were a lot of board games on display. The Green Board Game Co. had a very impressive range. What stood out for me was the educational nature of the games.
They focused on everything from history and science to mathematics and spelling and travel. Games started at a very reasonable £12. Well worth checking out if you want to get your offspring away from screens for a while.
You can buy The Green Board Game Co.'s range at a variety of retailers including Argos and Amazon.
Other things that caught my eye
I naturally had to go to the John Adams stand. You can expect a Strictly Come Dancing boardgame to hit the market soon. Something else that may prove popular is an arts and crafts toy called a Bookeez.
Set to hit the market soon, Bookeez enable your children to make their own books. The components are reusable so they can keep making books. As I say, it's not on the market yet, but I saw a demonstration and I think it's one to look out for.
I also spent a little while perusing the Horrible Science range from Galt. My eldest daughter has used one or two of these kits in the past and they are a fun way to let your children develop and explore an interest in science subjects.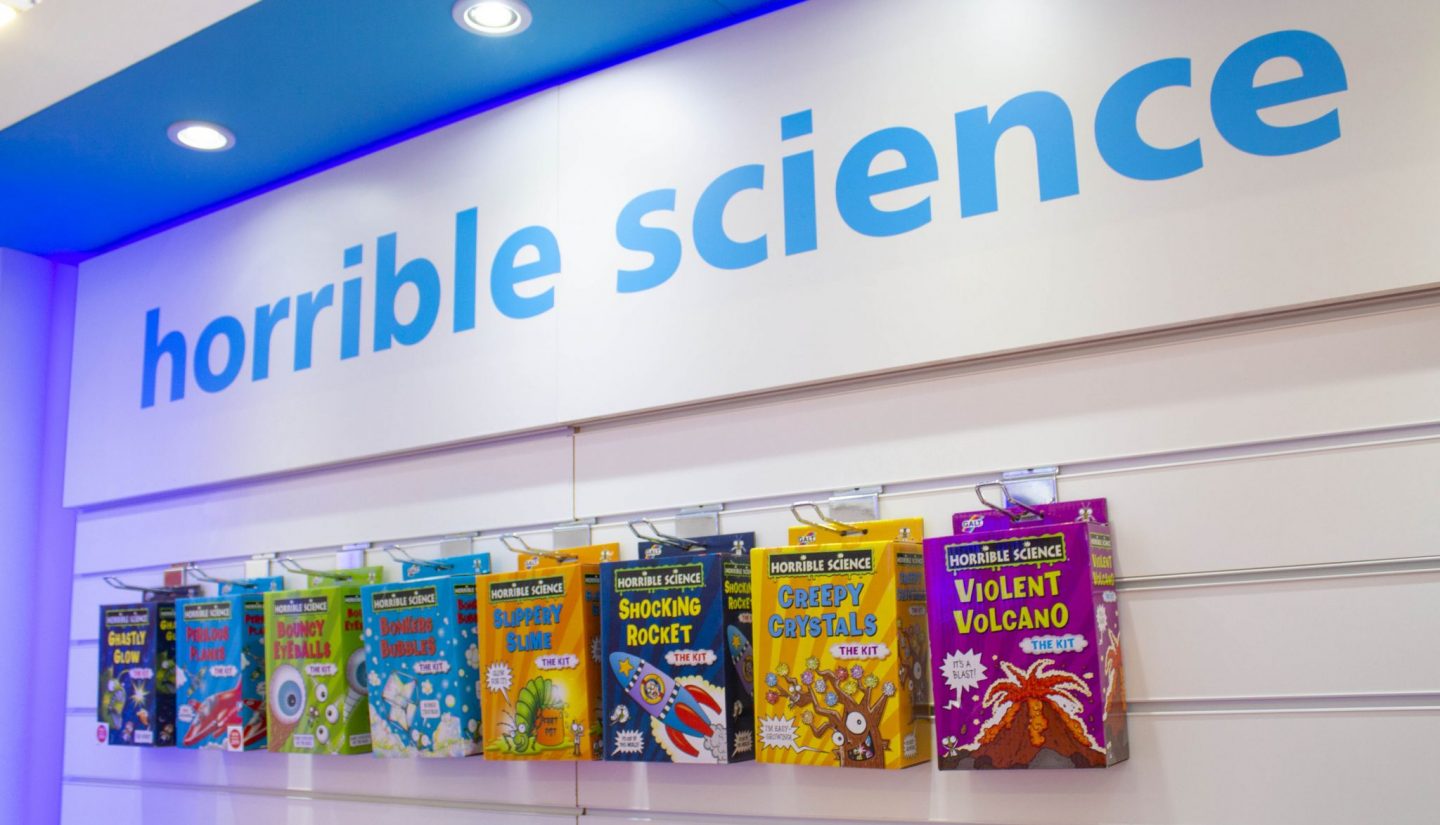 All the fun of The Toy Fair
I simply couldn't write about everything I saw because there was so much! I hope you've found that round up useful and that it may give you some ideas if you are buying gifts and toys for children or indeed adults, later in 2019.
Disclosure: I was invited to attend the press day of The Toy Fair 2019 by the event organisers. Thoughts and opinions are entirely my own.