Imagine the story of Robin Hood, reworked for a modern, young audience. That's exactly what YouTube Premium has done with the launch of its latest series Sherwood.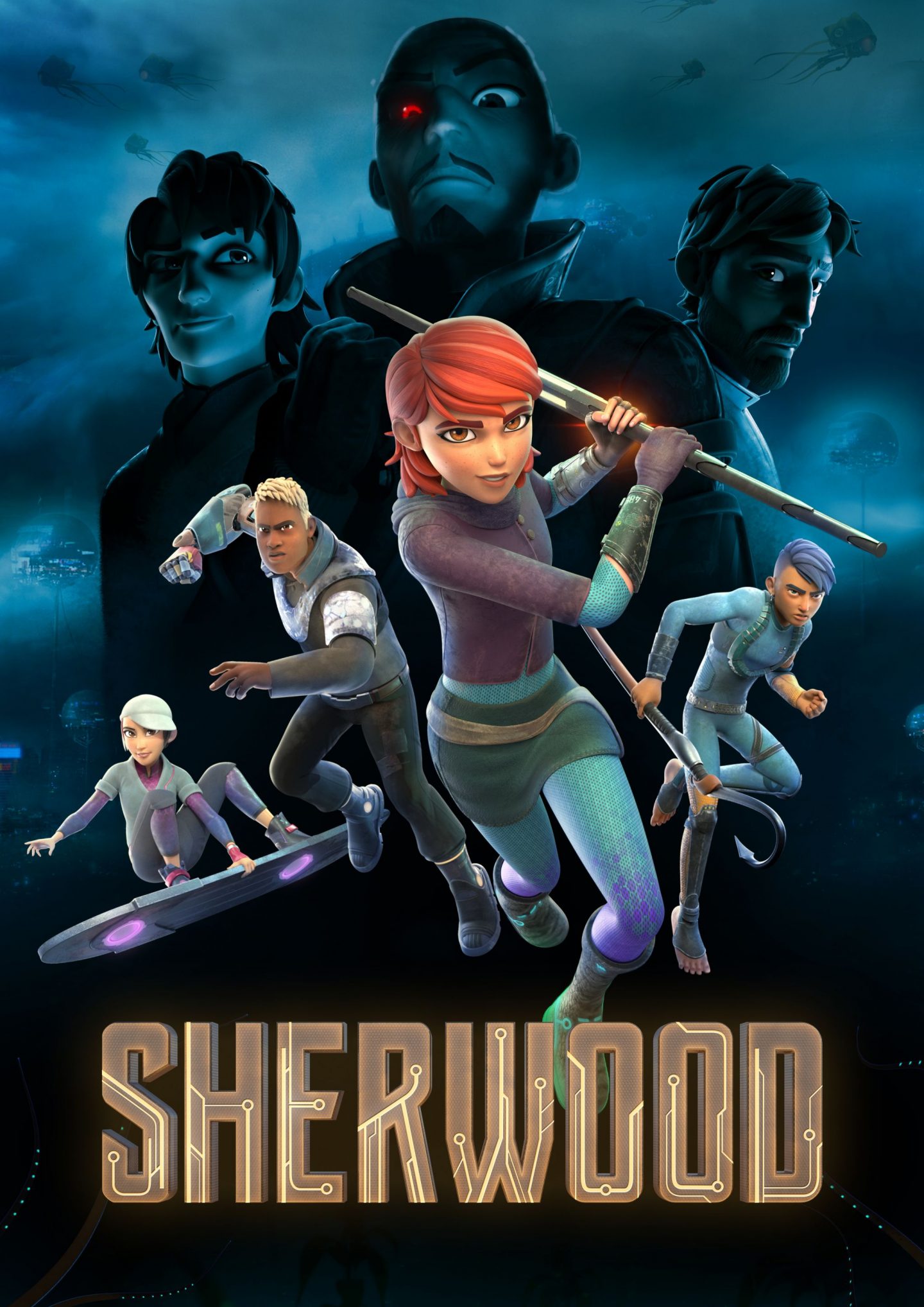 The reworked animated series is set in the twenty third century in a world beset by environmental problems. One individual fighting against this is none other than Robin Hood, but there are a couple of big differences between the Robin Hood of old and the new character.
In Sherwood, Robin is played by a teenage girl. While she is a skilled fighter like the traditional character, she is also a skilled hacker. This is a talent Robin puts to good use as she and her gang of renegades fight the Mad Sheriff of Nottingham.
I was given the opportunity to interview Diana Manson and Megan Laughton from Sherwood's production team. I was keen to find out more about why the character was changed and why Robin, who is voiced by Anya Chalotra who has previously had roles in The ABC Murders and Much Ado About Nothing, fights social and environmental injustice.
People expecting to watch a traditional Robin Hood tale will be in for a surprise with Sherwood. What was the inspiration for setting it in this apocalyptic, future world?
Diana Manson: We wanted to set this interpretation of the legend of Robin Hood in a plausible future after the polar icecaps have melted and give kids an opportunity to glimpse into the future that they're already working to change. For example Grete Thunberg.
Having watched the one episode, I think Robin Hood is very much a loveable rogue. Is that a fair comment? She certainly seems to be very endearing and get away with a lot!
Megan Laughton: We would agree with you. Most of the portraits of the legend of Robin Hood have a hero with these characteristics, which makes them likeable and able to rally others to their cause and fight the good fight. For Sherwood we wanted a young girl with these abilities, but who has her flaws, also to let our audience know that she's not always sure of herself or her actions, but she perseveres and finds a way forward. That aspect of her character appealed to us greatly because it lets our audience know that Robin is fallible, but ultimately capable to bring about needed change.
Sherwood has some strong messages: From gender equality to the environmental message that runs through the entire show. What do you hope viewers will take away from it?
Diana Manson: Obviously the first two meant a lot to us. Many of the shows we've worked on have major lead characters who are girls because, as Geena Davis says, "If she can see it she can be it". We worked with Google engineers to imagine a realistic future and they encouraged us to make Robin a tech savvy coder (or tinkerer as they call it), to hopefully inspire our audience to do the same. And we hope the audience enjoys the adventure and comedy and comes along for the ride.
Why re-imagine Robin Hood as a girl? What was the thinking there?
Megan Laughton: We thought it was time. Why should the guys have all the fun??
There's a link with Google being involved with the production. Can you explain what the link is?
Megan Laughton: YouTube Premium, which is part of Google, commissioned the series and gave us all-round assistance via the committee of engineers and futurists who helped us discover the place and time we'd settled on. We also received brilliant input from YouTube's amazing Production team on all aspects of the show from scripting to casting to music and much more.
What might we see in future episodes? I have a sneaky feeling Robin may be reunited with her father who is rumoured to have died in prison. Anything you're happy to reveal about future episodes?
Megan Laughton: There are ten episodes in all and a lot happens across the series! We were glad to be able to stretch the storytelling and have it all appear at once. There are several things to look for and Tom Loxley, Robin's father, is definitely one to look out for, but also the possible return of the Sheriff of Nottingham. For Episode 10 there's a bit of a cliffhanger, which sets up the second season.
With climate change and plastic use being very high in the news, this was an ideal time to produce Sherwood. Do you think youngsters will appreciate the environmental message most, or focus more on this being a tale of good and evil?
Diana Manson: We hope they'll have a good time with the adventure/comedy and appreciate the characters and storytelling, but also look at a stark potential future if the world doesn't stir itself on climate change. There's even a grab of President Obama's speech to the United Nations about it in episode 3. Our heroes are Greta Thunberg and the kids who march each and every Friday, around the world, for action.
Watch Sherwood yourself
If you want to watch Sherwood, you'll find the series online by following this link. It's worth mentioning that in addition to Chalotra the cast includes well known names such as Tyler Posey (Teen Wolf, Truth Or Dare), Jamie Chung (Gotham, The Gifted).
You can also find Sherwood on all the usual social media channels by going to @SherwoodSerries. Alternatively, check out the hashtag #SherwoodSeries
If you are familiar with the series or have an opinion on Robin Hood become a girl, please do leave a comment below with your thoughts.
Disclosure: This commissioned post was produced in association with Sherwood.
Interested in this blog post? Well have a read of these...