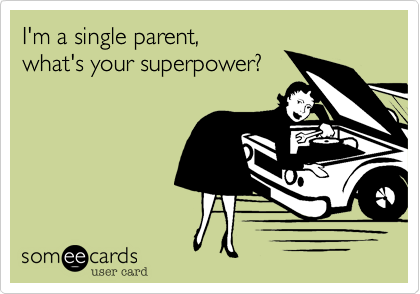 I've always had the greatest respect for single parents. My experiences over recent days have further proved to me that single mums and dads must be superhuman.
Mrs Adams, you see, went away for a couple of days with work. To be precise, she was only away for the one night but she left at 6am on Wednesday and didn't get back until 10pm last night. This was enough to have me run ragged.
As a stay at home dad, I am quite used to running the household. My wife works long hours and so the early morning routine, lunch (for the toddler) school runs and most of the bed time routine are usually my responsibility.
I'm also quite used to keeping things running in Mrs Adams' absence. Every few weeks she will spend a night or two away with work and I keep things moving. I won't tell you I do it calmly or efficiently, but the kids are fed, their clothes are clean, homework is completed and so on (okay okay, the eldest went to school yesterday with uncombed hair but the world kept on turning, right?).
On this occasion, however, I really noticed my wife's absence. It may simply be that I've gone down with a dreadful cold and therefore feel miserable, but it's been very hard going. In a bid to keep on top of the housework, I took the kids to the library so they could select a film, thereby giving me time to tackle the messiest rooms.
Doing this caused me pain. Regular readers will know how much I hate using screen time to pacify the kids.
Even if I say so myself, I've actually done a pretty good job on the housework front, apart from the living room. I had to let something slide, and that was it. It presently looks like downtown Baghdad, circa 2003.
I also really missed having someone to put at least one of the kids to bed or to help with the evening meal. It's amazing how much of a difference it makes having another person to do just a little bit of washing up or to sit down and do homework with the eldest while I sort the toddler out on the potty. I have ended the days feeling absolutely knackered, much more so than usual.
I like to think I don't take Mrs Adams for granted. Oh I'm sure I have my moments where I fail to recognise her efforts, but she does a lot for our family. These past few days have made me realise just how important her contribution on the domestic front can be.
At this point I'd like to make a causal observation, one that may get me in a little trouble. Every now and again I see mums on social media making fun of their other half's domestic abilities (I occasionally hear it in the playground too). This always makes me feel uncomfortable, it's as if they're fair game because they're men.
Are their abilities so bad they deserve to be humiliated in front of thousands of people they don't even know? I always think it's incredibly disrespectful, even if the intention was to be funny. I can honestly say I've never witnessed a stay at home dad do the same. I'm not naïve enough to assume it doesn't happen, but I've never seen it.
So anyway, back to the original point of this post; how do single mums and dads do it (eight per cent of single parent households are headed by men)? I've had to run this household solo for two days and it's almost done me in. I really don't know how I'd cope if I had to do it all the time.
Now if you'll excuse me, I'm off to make a Lemsip.
Pic credit: someecards.com.
Interested in this blog post? Well have a read of these...