I hope you'll forgive me for admitting this, but this photograph is one of my all-time personal favorites. It's an image of Spitfire PS915, a part of the Battle of Britain Memorial Flight, as she passed over our house.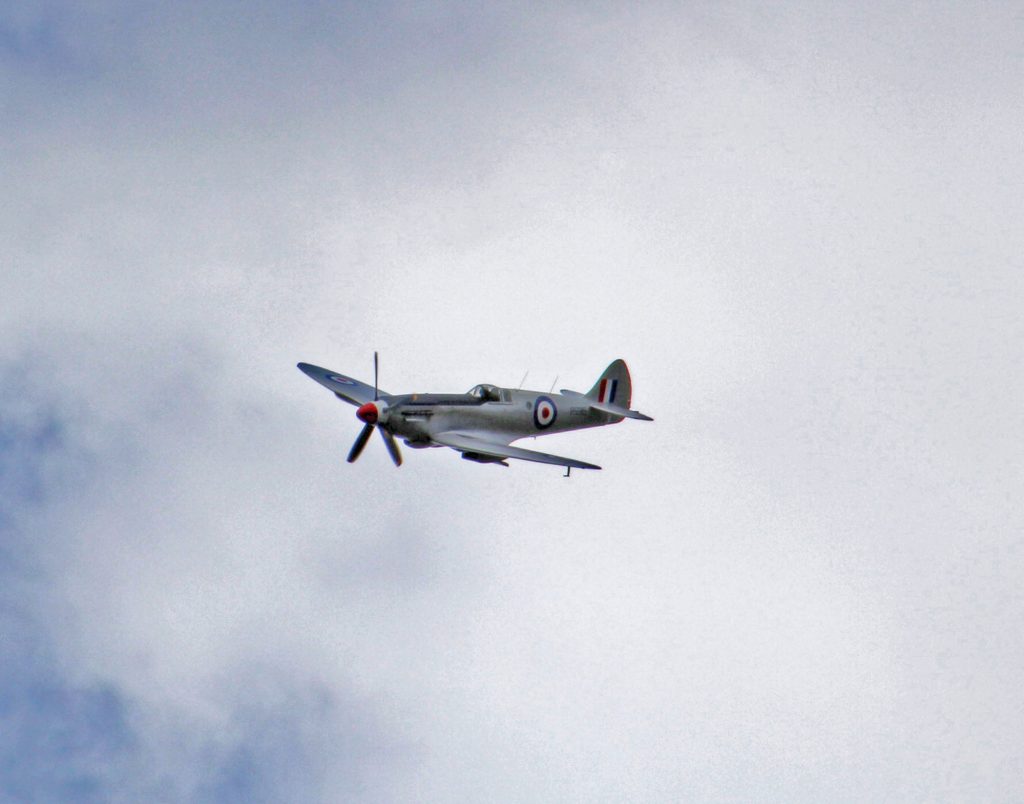 As we live quite close to a couple of WWII airfields, these fly pasts happen from time to time. I've become accustomed to the incredibly distinctive engine noises these aircraft make, something that gets my father-in-law very animated. This isn't too surprising as he served in the RAF shortly after WWII.
Last Sunday I heard the all-too-familiar noise in the distance and ran out into the garden with both my daughter, Helen, and my camera. Purely by chance I had my telephoto lens mounted on my camera already and fired off a number of shots in burst mode as the Spitfire went past.
I had to adjust the shadows and contrast slightly. Once tidied up, this was the image I was left with. If there's one thing that stands out for me, it's the position of the propeller which could almost be still. I think I was also lucky to catch the Spitfire against the cloud, its neutral colour providing a great background.
In some of the other images I took, the identifying code number, PS915, was visible on the rear half, just behind the red, white and blue circle. This enabled me to do a bit of research on this particular aircraft and I discovered she came into service in June 1945, just after the end of WWII.
Even so, she has a fascinating history, seeing service in Germany on reconnaissance missions during the Cold War. She was also used during the Berlin airlift of 1948/9. Eventually returning to Britain, she spent thirty lonely years, effectively decommissioned and standing as a monument outside the camp gates at RAF West Malling. After refurbishment, she came back into service with the Battle of Britain Memorial Flight in 1987 and received another major overhaul last year.
I hope you like the image. It was one of those occasions where I simply had to take the shot and while I wish I had a more powerful lens, I'm please with the result and it gave me an opportunity to discuss WWII with my daughter, something that is vitally important to ensure the sacrifices of so many aren't forgotten.
I've linked this post to the #MySundayPhoto linky hosted by the brilliant Photalife blog. Please do take the time to click on the badge below and explore the photography on offer form other bloggers.
Interested in this blog post? Well have a read of these...