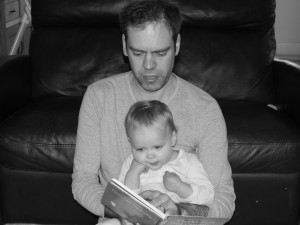 What you see here is possibly a bit misleading. That's Elizabeth, my youngest, and I reading a book. She's developed a real love of books and will trot over with one in her hands before crawling into your lap and insisting you read it to her.
I love the look on her face in this image. I'm hoping she'll always love books and learning as much as she seems to right now.
What you're actually looking at, however, is an experimental shot I took with my new camera. Keen to improve the quality of images on my blog, I've invested in a better camera and a tripod. I was experimenting with the various settings and this image was taken in black and white mode with a timer.
Spending serious money on this equipment has re-ignited an interest in photography. I learned how to use a camera back in the old days on 35mm film. Although I've owned digital cameras in the past, I now want to take it more seriously as a hobby. Wish me luck!
Speaking of wishing me luck, I've been shortlisted in the Commentary and Campaigns category of the Brilliance in Blogging Awards. There are some superb blogs on the shortlist and I would strongly encourage you to vote. If you would consider voting for me, I'd be delighted. Simply follow this link to participate.
Interested in this blog post? Well have a read of these...