Lego has been a firm staple in this household ever since we embarked on a family trip to LegoLand Windsor earlier this year. It's become so popular with our eldest daughter that we've abandoned all the nice packaging the various models came with. It's now just stored in an old Jacob's Cracker box and models are built completely freestyle.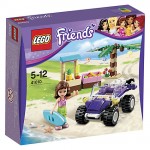 The challenge has become keeping the Lego bricks away from our baby. I'm sure anyone with an infant can relate to this as the brightly coloured bricks are just baby magnets and she'll make a bee-line for any little blocks she happens to notice. It's not just the safety issue that concerns us, it's having to deal with a despondent child when her younger sister has trashed her latest Lego creation!
The models we have come from a number of different sources but a firm favourite is the Lego friends range which is best suited to children of our daughter's age (i.e. five to 12 years old). We find that she can generally do the basics but may need a little help to do the more intricate bits.
It is funny watching my own child playing with Lego. As a child I loved the stuff but hadn't been anywhere near it myself for years, decades if I'm being really honest. Now my eldest has reached an age where she's playing with this iconic toy, well, it's like being a kid again!  
This sponsored post was produced in association with John Lewis..
Interested in this blog post? Well have a read of these...