With Christmas on the horizon, I have been given the opportunity to try out some toys from Kiddicare. Well, I say I've been given the chance to try them out, in reality my kids did the hard work (apart from the building blocks which I've become very attached to).
The nice thing about the selection below is that they're all made of wood. It was great to add some non-plastic toys to the collection. For those on a budget, it is worth pointing out that Kiddicare is running some three for the price of two promotions on the run up to Christmas.
Without further ado, here's what we've been test-driving: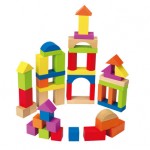 Buzzing Brains Wooden Blocks
The classic child's toy; 50 brightly coloured building blocks of various different designs, sizes and shapes. I've spent time with both my five year old daughter and one year old playing with these blocks.
Our eldest child is interested in building things. The youngest just wants to knock them down. I'm happy to help them both.
Price: £7.19, recommended for children aged 12 months and older.   
My First Shape Puzzle
This toy represents superb value for money. It is very well constructed and very colourful. As a stocking filler you can't go wrong.
Price: £6.99, recommended for children aged six months and older.
Buzzing Brains Click Clack Track
This is a simple track with four cars. The aim so to teach children how to share as they must take it in turns to send their car down the track.
It wasn't quite that simple as our eldest picked this up and carried it off to her bedroom declaring it was hers and hers alone as soon as it was unpacked! We soon ironed this out, however, and it was swiftly returned and shared with our one year old.
Our younger daughter was very quickly enthralled by this toy. I didn't think she'd understand how to use it but I was pleasantly surprised to see she understood exactly how it worked. Yes, I'll also admit to having a few sneaky goes myself, which is quite sad to admit to!
Price: £15, recommended for children aged 12 months and older.
For further information go to kiddicare.com.
In the spirit of openness and transparency, I have to do a quick disclaimer. I am a regular contributor to the Kiddicare blog but no payment was involved for this review.
Interested in this blog post? Well have a read of these...