Some months back I wrote about positive body image and what fathers could do to promote it in their children. It's always great to receive feedback on the things you write and so I was very pleased to be contacted by Stephanie Rosillio who, amongst other things, is the co-founder of Be Real Talks.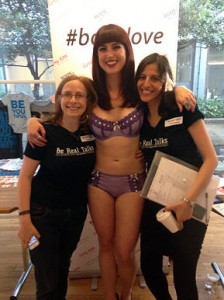 If you haven't heard of Be Real Talks, the first event took place in London in June. It was a sell-out and the theme was "why size doesn't matter, explode the beauty and diet myths."
I confess I wasn't there, but it was marketed as a "feel good" event that was a cross "between a theatre experience and comedy club with a funky workshop element." In other words, it wasn't a formal lecture.
Speakers at the event came from a diverse range of backgrounds; comedian Deborah France, performance poet Hollie McNish and Dr Linda Papadopoulos, a psychologist who is famed for speaking out against the practice of airbrushing were among those who took part. A second event is on the horizon, but more about that in just a moment. 
With two young daughters, the issue of positive body image is one that's particularly close to my heart. I have real concerns about increasing misogyny in the media and the pressure my children will face to confirm to some unachievable ideal. It's an area where, sadly, I feel society is moving backwards not forwards.
Needless to say, this isn't an issue that solely affects girls and women. Men are increasingly having body confidence issues and this is something that can't be ignored.
As I said, a second event is on the horizon. The Be Real team is keen to hear of the experiences of parents, particularly fathers:
·         If you're a father, what do you do to promote positive body image among your children?
·         If you're a mother, does your partner do anything to address this issue? If not, why do you think that is?
·         As a father, what are your concerns about positive body image and do you think your children are under pressure to confirm to certain ideals?
·         Have you heard of any examples of your children coming under pressure to look a certain way?
Please leave a comment below and keep an eye on the Be Real website for more information about the next talk.I'll say no more, but there may be plans afoot to get one or two men involved in the next event.

Before signing off I'm going to leave you with one final thought; there are more regulations governing how you can airbrush a car in an advertisement than a human being. That Toyota's headlights; airbrush at your peril but that woman's breasts; do your worst. It's a shocking fact but sadly one that doesn't surprise me.
Interested in this blog post? Well have a read of these...